Ted Nugent On Neil Young: "Stoner Birdbrain Punk"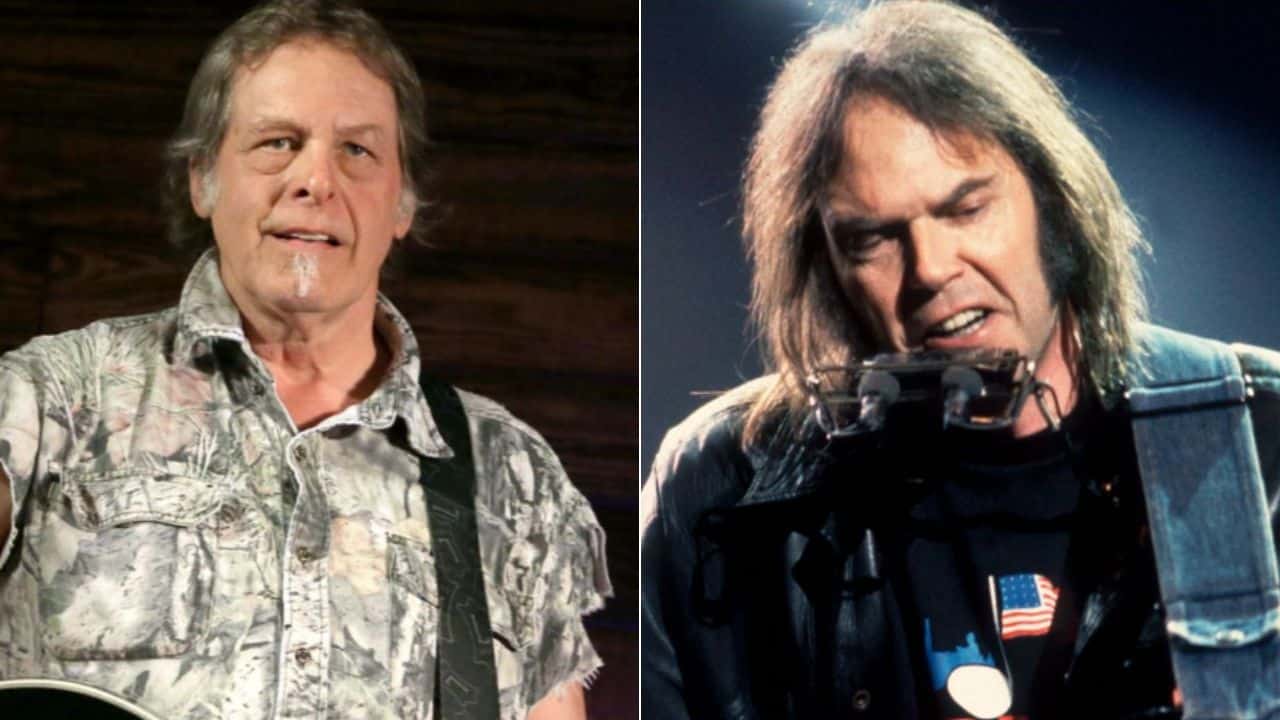 Ted Nugent slammed the music star Neil Young after he pulled out his music from Spotify in protest of the world-known comedian Joe Rogan and said that Neil Young is a stoner birdbrain punk who delivers misinformation.
As some of those fans might agree, Ted Nugent is one of the most respected musicians in the rock community. He has been contributed to the community with his numerous successes, including 17 solo studio albums and his works under the name of The Amboy Dukes. At press time, Ted Nugent toured and recorded great musicians such as the late Meat Loaf, Brian Howe, and Charlie Huhn.
On the other hand, Neil Young is a 76-year-old musician who has received several Juno and Grammy Awards. The Rock and Roll Hall of Fame-inductee musician has tons of material in his discography. 41 studio albums, 8 live albums, 3 compilation albums, 4 soundtrack albums are some of those releases of the musician.
However, in late January 2022, Neil Young had delivered an ultimatum to Spotify to remove his music from its platform in protest of Joe Rogan who gave fake information about vaccines during his The Joe Rogan Experience podcast. After that discussion, the music community was divided into two. While some of them supported Neil Young because of his remarks, some of them supported Spotify.
Recently, during his The Nightly Nuge podcast, Ted Nugent has blasted Neil Young. At first, Nugent said about Young that he is not a huge fan of him but he respects what he has been doing. After he praised Young, Nugent said at the end of his sentence that Young is a complete punk.
"Well, Neil Young, God bless him," Nugent says. "I'm sure that there's many people that appreciate Neil Young's creativity and his talents and his creation of wonderful music for those people who love that kind of music. I'm not a big fan. I happen to know that he's got a lot of soul.
"But now that I've praised him for all the positives, the guy is a complete punk."
Ted Nugent Calls Neil Young A 'Stoner Birdbrain Punk'
Later then, Ted continued his bad remarks about Neil Young. Branding Neil Young a stoner birdbrain punk, Nugent added that it was funny that Young gave an ultimatum to Spotify. According to him, Neil gave a pretty good decision. He also mentioned Joni Mitchell who alongside Neil Young on his decision. Nugent blasted Mitchell as well, saying both musicians are saying stupid things.
"If you've done that much mind-altering chemicals throughout your life, then you can proudly claim in one moment that you should be rocking in the free world but then in the next moment witness all the evidence supporting everything that Joe Rogan's been saying, that I've been saying, the truth, logic and common sense, the indisputable evidence to support it, and then claim that we're guilty of misinformation when actually the stoner birdbrain punk, he delivers misinformation," he continued.
"So this is a funny moment because he made an ultimatum to Spotify — whatever that big tech is — and he said, 'If you don't take Joe Rogan off Spotify, then you have to take my music off Spotify.' That's a pretty decision, Neil. Thanks for making it so simple, because Neil Young on Spotify — adios, mofo.
"Now Joni Mitchell's doing the same thing, and, again, God bless her. I can't stand folk music, but I know there are a lot of people that love that kind of stuff and I salute them and thank them.
"And I appreciate any music that makes people happy and fortifies their American Dream, or whatever dream they might have. Is there another dream? I don't think so. The Mexican Dream is to get the hell out and go to America.
"Young and Mitchell are saying things that are just stupid. And again, with all due respect… I'm sure Joni… I've seen Joni Mitchell do interviews; she's a smart gal, and her musical dreams she literally has perfected.
"And on behalf of those people that love that kind of music, I can only salute them and celebrate the happiness that Joni Mitchell and Neil Young's music brought them."
Back on February 4 this year, Ted Nugent had talked about his upcoming shows. Saying that there will be no mask mandates, he added those rules are bullshit.
"Tickets go on sale tomorrow, I think, for this gonzo beach party rock and roll concert headlined by Ted Nugent in Panama City [Florida] on April 29th," Nugent said. "Write that down. That's confirmed. There'll be no mask mandates; there'll be no bullshit.
"And the next night, the headliner is my buddy Kid Rock. I'm not promising anything except we're gonna rock your brains out, but on the 30th when Kid Rock is headlining Panama City, the big beach party concert, he always plays [Nugent's classic song] 'Cat Scratch Fever' every night, so maybe I'll stick around and go up there and show him how to play it. It's a possibility."