Brian May, Slash, Scorpions, And More Pays Tribute To Meat Loaf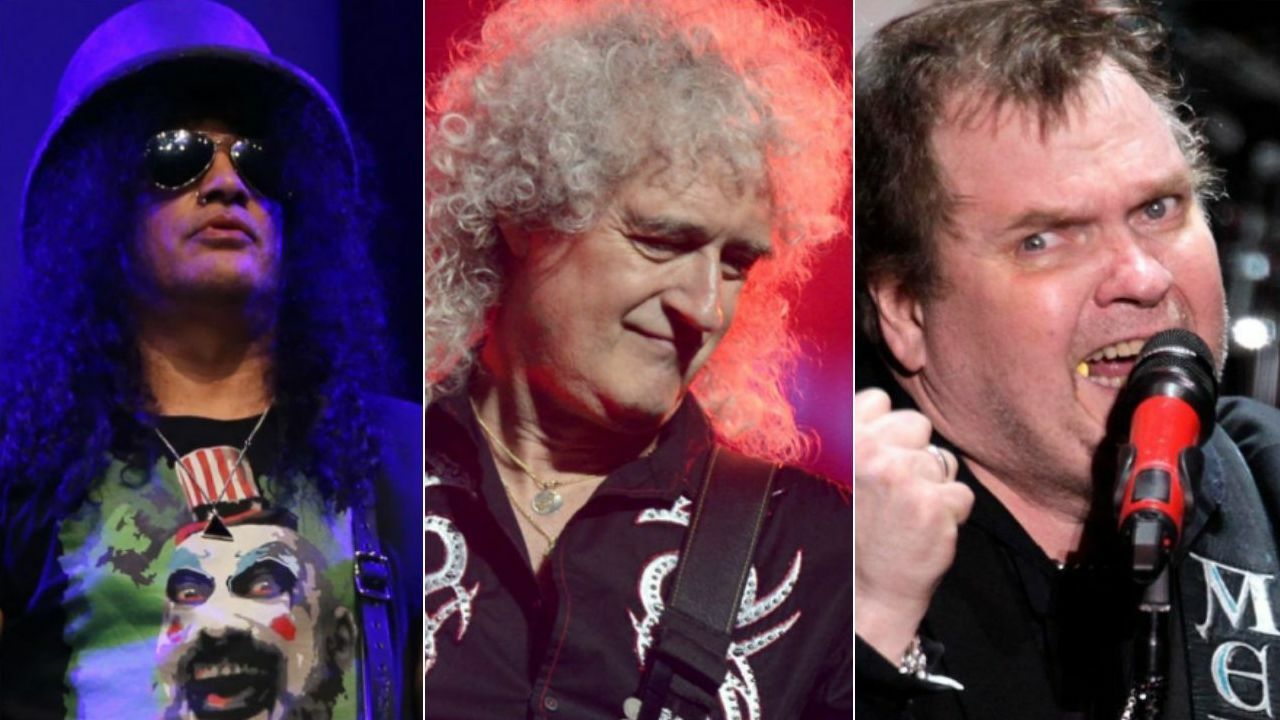 Queen guitarist Brian May, Adam Lambert, Guns N' Roses' Slash, the rock band Scorpions, Disturbed's David Draiman, Fear Factory's Dino Cazares, Queensrÿche's Todd La Torre, KISS' Bruce Kulick, and Anthrax's Frank Bello have paid their tribute to the rock legend, Meat Loaf.
Meat Loaf was an American singer who gained international fame with his wide-ranging and powerful voice. Debuted in 1977 with his Bat Out Of Hell, Meat Loaf's discography included 12 studio albums, 5 live albums, 7 compilation albums, and more. The musician had released his latest solo studio album in 2016, titled Braver Than We Are.
Having sold more than 65 million albums worldwide, Loaf had reached commercial success thanks to his Bat Out of Hell trilogy, which includes Bat Out of Hell, Bat Out of Hell II: Back into Hell, and Bat Out of Hell III: The Monster Is Loose. Earning a Grammy Award for Best Solo Rock Vocal Performance for the first single of the sixth album, I'd Do Anything for Love (But I Won't Do That), Meat Loaf is one of the best-selling music artists of all time.
However, on Thursday night (January 20), it was reported that Meat Loaf has unfortunately passed away. According to the sources, he was seriously ill with COVID-19 days before his tragic passing. Also, as some of you might know, Loaf, who shared Eric Clapton and Van Morrison's anti-lockdown song Stand & Deliver back in May, had reportedly been outspoken about vaccine mandates.
Meat Loaf's family had confirmed the musician's passing with a post they shared on the musician's social media account, reading: "Our hearts are broken to announce that the incomparable Meat Loaf passed away tonight surrounded by his wife Deborah, daughters Pearl and Amanda and close friends."
After the death of Loaf, the rock world saddened deeply. There were numerous artists and fans who have reacted to the passing of the musician. While Slash, Scorpions, Frank Bello, and Brian May sent Instagram posts, David Draiman, Todd La Torre, Dino Cazares, and Adam Lambert have sent Twitter posts.
Brian May's Meat Loaf Tribute
Paying his tribute to the rocker Meat Loaf, Brian May said he felt like his brother. He also said that the world will miss him forever.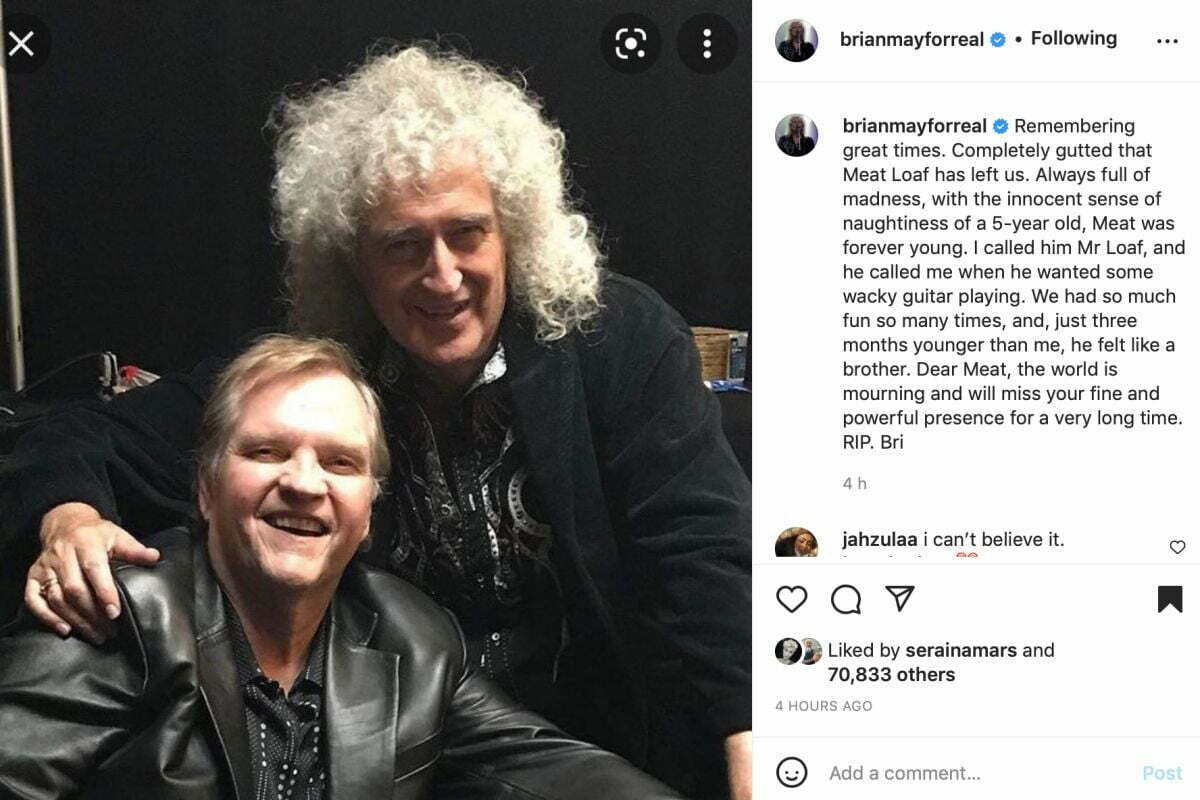 "Remembering great times," Brian said. "Completely gutted that Meat Loaf has left us. Always full of madness, with the innocent sense of naughtiness of a 5-year old, Meat was forever young.
"I called him Mr Loaf, and he called me when he wanted some wacky guitar playing. We had so much fun so many times, and, just three months younger than me, he felt like a brother.
"Dear Meat, the world is mourning and will miss your fine and powerful presence for a very long time. RIP. Bri."
Slash
Slash was one of those who paid his tribute to Meat Loaf. Writing his iconic smiley emoji to every post he's ever shared, Slash did not send his smiley to the post. He also looked very sad after the passing of him.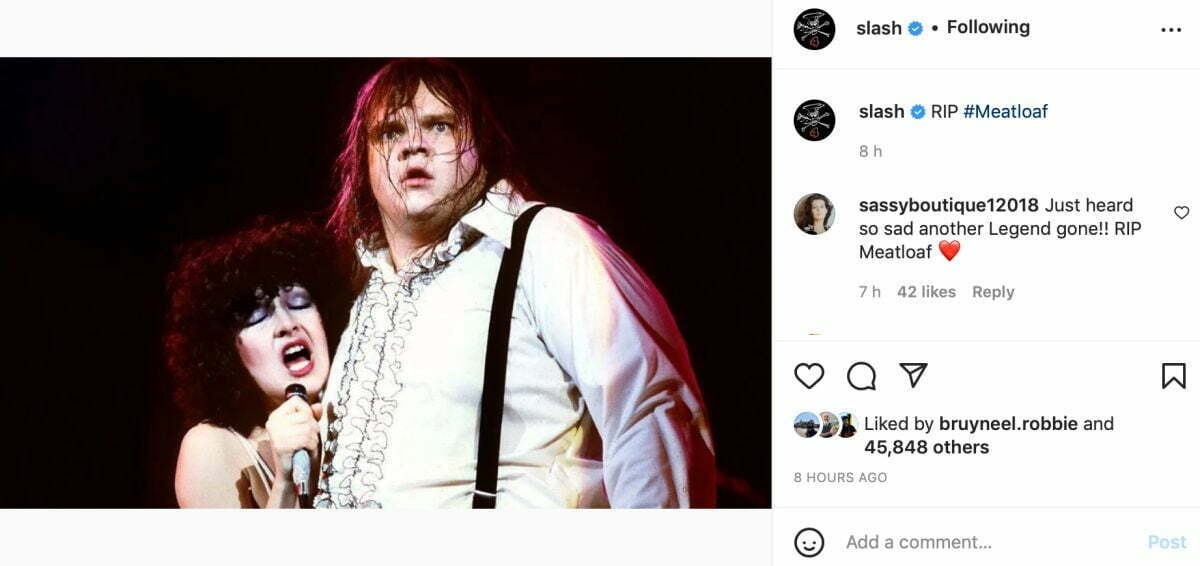 "RIP #Meatloaf," Slash writes.
Frank Bello
Frank Bello was devastated after the passing of Loaf. Sending his condolences to his daughter Pearl Aday and Scott Ian, he said he feels sad to hear the news.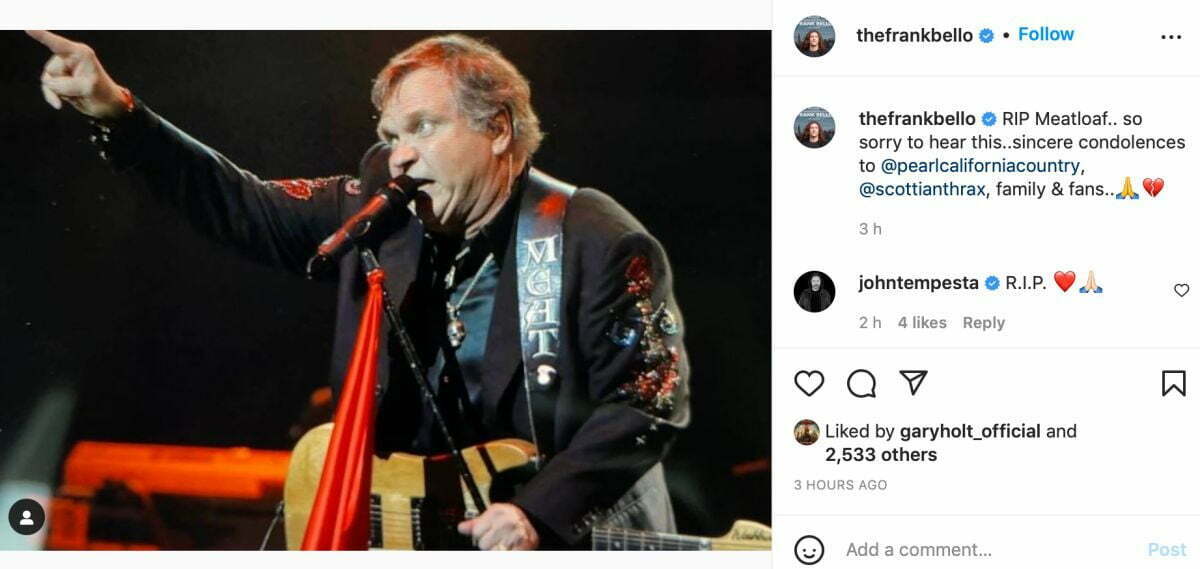 "RIP Meat Loaf," he said. "So sorry to hear this… sincere condolences to @pearlcaliforniacountry, @scottianthrax, family & fans…"
Scorpions's Meat Loaf Message
"Heart-breaking news this morning… the legendary Meat Loaf, singer and actor has passed away," Scorpions writes. "He was a hard rocking Icon with a wonderful Voice who will be missed greatly …. RIP Meat Loaf. Scorpions."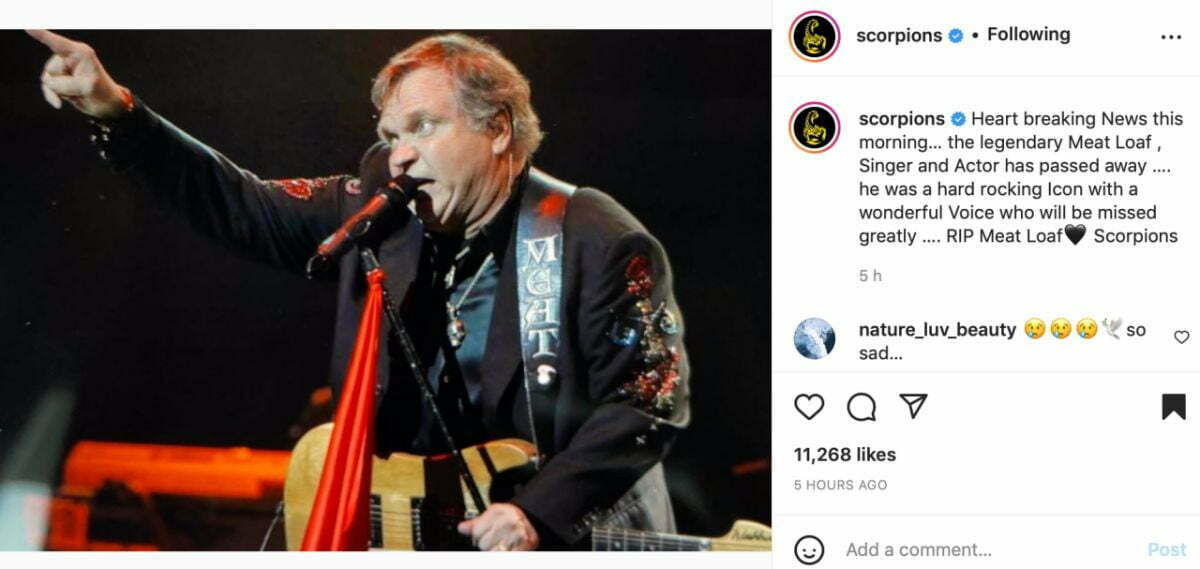 Bruce Kulick Meat Loaf Tribute
"Meat Loaf, passed away last night at the age of 74," Kulick captioned. "Bob and I had the unique pleasure of performing with him, supporting the incredible 'Bat Out of Hell' album.
"He was a uniquely brave and passionate man and a talent that I will miss. #meatloaf #meatloafsinger #batoutofhell #bobkulick #brucekulick #rockyhorrorpictureshow."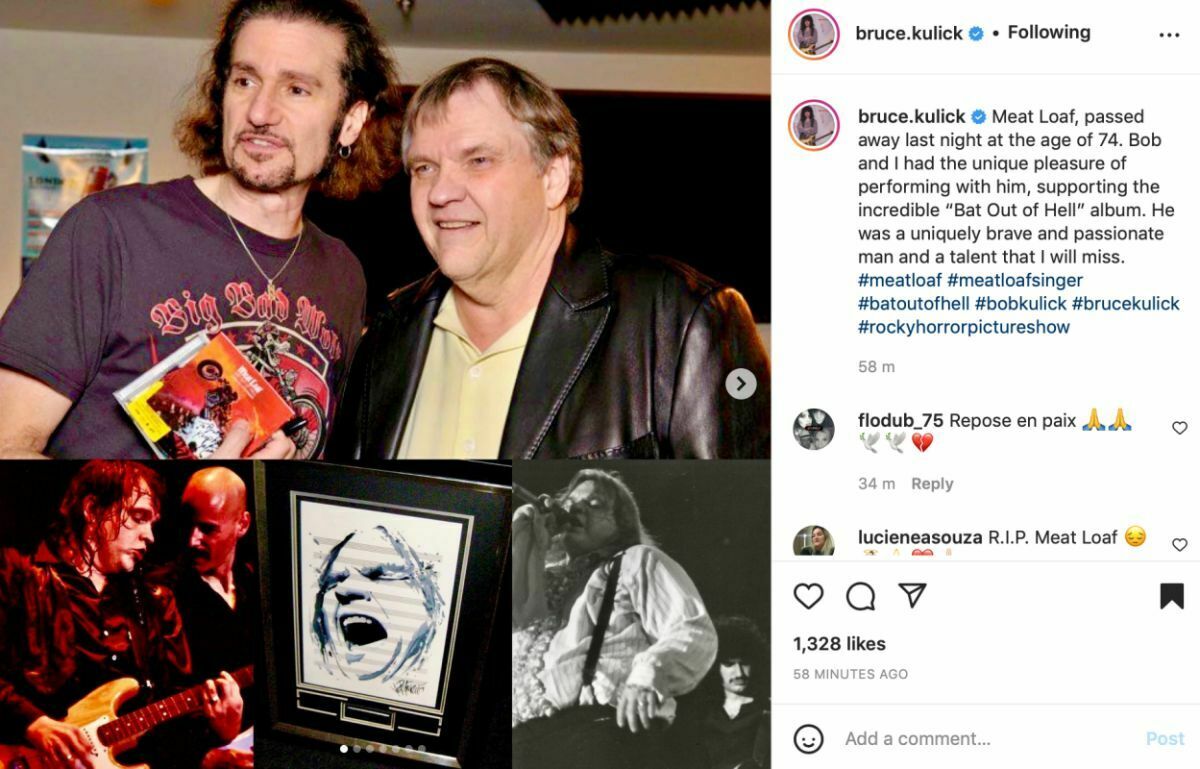 David Draiman
Damn it. That's quite enough 2022. #MeatLoafRIP
💔💔💔https://t.co/UXgiJensdb

— David Draiman (@davidmdraiman) January 21, 2022
Todd La Torre
Very sad news.https://t.co/sgPsgX9ynR

— Todd La Torre (@ToddLaTorre) January 21, 2022
Dino Cazares
Rest In Peace Meatloaf pic.twitter.com/s5GhrfU0RQ

— Dino Cazares (@DinoCazares) January 21, 2022
Adam Lambert
"A gentle hearted powerhouse rockstar forever and ever," Adam Lambert tweeted. "You were so kind.
"Your music will always be iconic. I'm sure you're singing concerts in the great beyond. Rest In Peace sir. ##Meatloaf #Meatloaf."
A gentle hearted powerhouse rockstar forever and ever. You were so kind. Your music will always be iconic. I'm sure you're singing concerts in the great beyond. Rest In Peace sir. #MeatLoafRIP #Meatloaf pic.twitter.com/9twdJcOeP1

— ADAM LAMBERT (@adamlambert) January 21, 2022