Slipknot's Corey Taylor Comments On Eminem's 'Canceling Culture'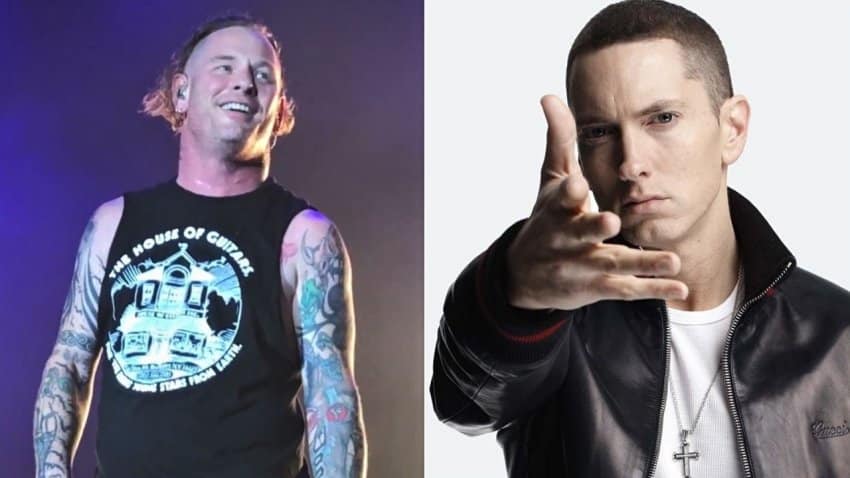 In a new interview with LA radio station KLOS, Corey Taylor, the frontman/singer of the heavy metal band Slipknot, has spoken out about concerns regarding Eminem's "canceling culture."
As some of you might know, Eminem has recently criticized harshly by TikTok users due to a piece of lyrics of his song with Rihanna, "Love The Way You Lie," reading, "If she ever tries to fucking leave again, I'ma tie her to the bed and set this house on fire."
Recently, Corey Taylor is the latest rocker who has spoken out about the issue. The talented musician told some strong words to comment about Eminem's war against generation Z.
"I was just reading about how Gen Z is trying to cancel Eminem because of one line that was in a Rihanna song that he did with her," Corey Taylor said. "And I'm just like 'Is that where we are right now?' I mean, at this point, you're talking about the Salem witch trials. You're talking about America in the '20s where the KKK was like a political force. You're talking about complete condemnation without context or any rationalization for an action like that."
Corey Taylor added his words that 'it's just all outrage.'
"To me, that's the most dangerous — when the mob decides that you're gone. I mean, that is Caesar at the Colosseum, for God's sake. That's when it's dangerous. The level of censorship that we're starting to see — and I'm not saying that certain things haven't been said that easily offend people. However, the flip side of that is that you can't even make a joke anymore, even in the cleanest of situations. I mean, they completely turn on you. And there's not one hint of satire, no hint of irony — it's just all outrage."
Previously, Corey Taylor has also interviewed with Cutter's Rockcast to talk about the new artists. Slipknot singer blasted new artists.
"I look at some of these bands that sound like this or sound like that or sound like the other guy, and it's just, like, well, they obviously listened to two albums that have been out for a minute," he said.
"But the ones that really frustrate me are the ones that they take something that's been around forever and then just basically rework it and call it new – even though it's completely derivative. You know the band they're ripping off – they're not even trying to rip off a bunch of bands; they're ripping off one band.
"But the younger generation picks them up and says, 'This is our blah blah blah', because they're tired of old people telling them that the music that came before them was better. And I don't know who's right, but I know both are wrong, because we should be encouraging everything.
"I'm just as bad. I'm the worst old fogey dude shaking his cane ever. And I hate everything. I hate all new rock for the most part. I [hate] the artists who failed in one genre and decided to go rock – and I think he knows who he is. But that's another story. I'm the worst. And I hate everything."
Corey Taylor has released his debut solo album, "CMFT," on October 2, 2020.