The Top 5 Albums That Corey Taylor Listed As His Favorites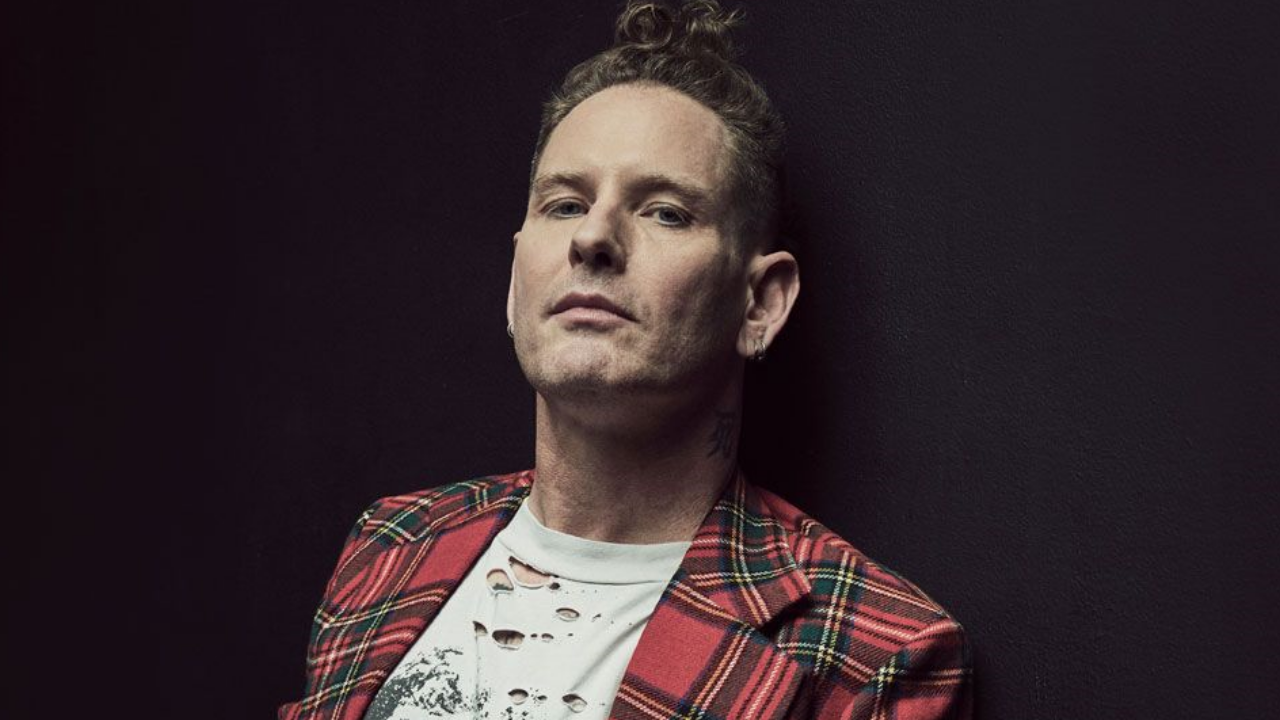 Corey Taylor has been a prominent figure in the metal music scene. He is known for his contributions to both Stone Sour and Slipknot. In this article, we will bring you the albums that Corey Taylor picked as his favorites ever.
Taylor's odyssey took a remarkable turn when he assumed the role of lead vocalist and lyricist for the masked marauders of sonic chaos known as Slipknot. A band that transcends the conventional boundaries of metal, Slipknot became a seismic force under Taylor's vocal command. His guttural roars and haunting melodic refrains became the heartbeat of the nine-headed beast, leaving audiences simultaneously terrified and captivated.
But Taylor is not a one-trick pony. As the lead singer of Stone Sour, he showcased a more melodic side, proving that his vocal arsenal is as diverse as the genres he effortlessly traverses. The juxtaposition of Slipknot's primal aggression and Stone Sour's melodic introspection paints a vivid portrait of Taylor's musical dexterity.
In addition to his works with Slipknot and Stone Sour, Corey Taylor also embarked on a solo journey in 2018, unleashing "CMFT," an album that peeled back the layers of the enigma, revealing a raw and unbridled musical spirit. It's a testament to his refusal to be confined within the sonic walls erected by others. Taylor's solo venture is a kaleidoscopic journey through rock, metal, and beyond, a testament to his unwillingness to be tethered by genre norms.
During his ongoing career in rock music, Corey Taylor collaborated with legendary musicians, such as Dave Grohl, Zakk Sabbath, Steel Panther, Korn, and Slash. He has also made appearances on various tribute albums and live performances.
The Albums Corey Taylor Picked As His Favorites
Corey Taylor has picked favorite albums of all time during his interview with Rolling Stone magazine in 2017. He has sent respectful comments for his favorite albums and showed off his admiration for them.
#5. Anthrax – Worship Music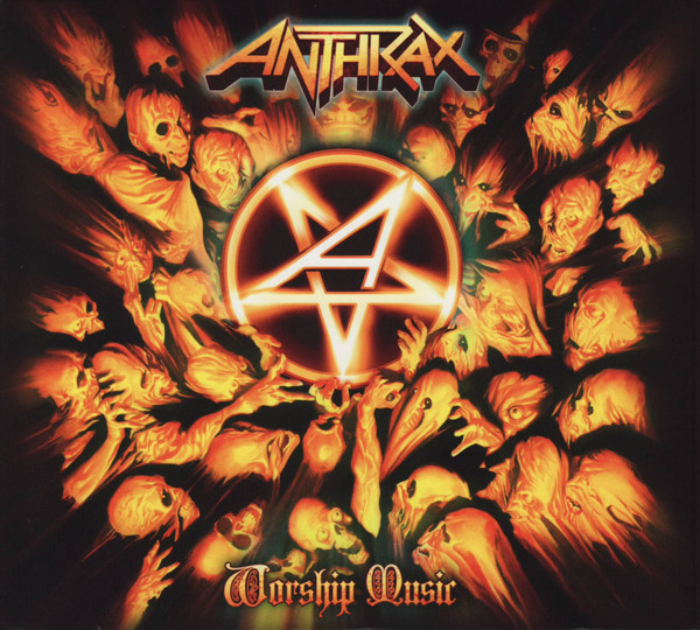 "Worship Music" is the eleventh studio album by the American thrash metal band Anthrax. The album was released on September 12, 2011, in Europe and on September 13, 2011, in North America. It marked a significant moment in Anthrax's discography, as it was their first studio album in eight years, following "We've Come for You All" in 2003.
Originally, the album was set to feature singer Dan Nelson, who had joined the band in 2007. However, due to creative and personal differences, Nelson left Anthrax in 2009. This departure led to the return of the band's classic lead vocalist, Joey Belladonna, reuniting him with the Anthrax lineup for the first time since the "Persistence of Time" album in 1990.
One of the standout tracks on the album is "I'm Alive," which became a fan favorite and a staple in Anthrax's live performances. Other notable tracks include "The Devil You Know," "In the End," and "Fight 'Em 'Til You Can't," each showcasing the band's ability to deliver powerful and memorable thrash metal anthems.
During the interview, Corey Taylor recalled the time Anthrax released the album, saying: "When it came out, it was Anthrax with Joey with a modern production, which just kicked the shit out of everybody. "Fight Em 'Til You Can't" is still one of my favorite fucking songs that they've ever written."
#4. Iron Maiden – Somewhere in Time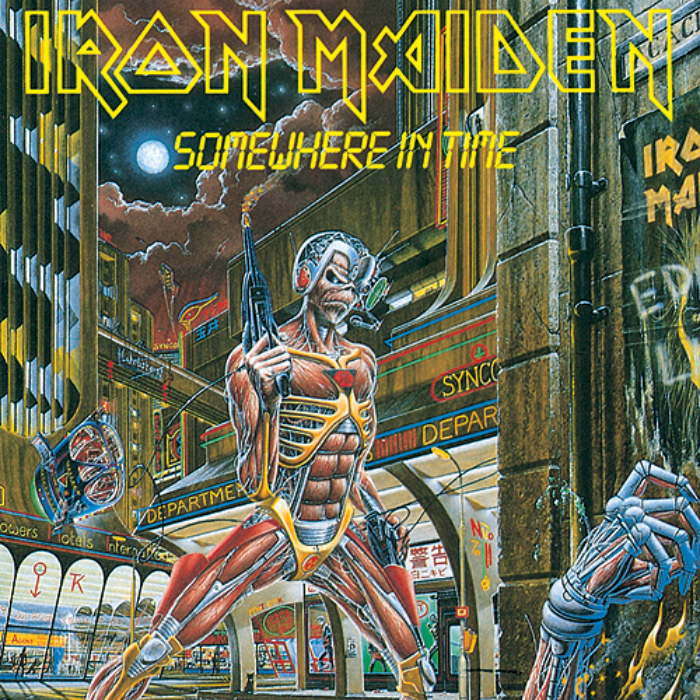 Released on September 29, 1986, "Somewhere in Time" stands as the sixth studio album by the iconic British heavy metal band Iron Maiden. It consists of eight tracks, each contributing to the album's overall sonic landscape. Notable tracks include "Wasted Years," a melodic and introspective piece written by guitarist Adrian Smith, and "Stranger in a Strange Land," which features distinctive lead guitar work and showcases the band's evolving musical style.
One of the notable aspects of "Somewhere in Time" is the band's use of synthesizers, played by guitarists Adrian Smith and Dave Murray, which added a new layer of complexity to their sound. The album was also a pioneer in the use of guitar synthesizers, particularly the Roland guitar synthesizer, contributing to the futuristic atmosphere.
According to Corey Taylor, "Wasted Years" from the album is one of the greatest songs of all time: "That was my favorite Maiden album, because that was my Maiden album. Obviously, I went back and I got into [their 1982 album] Number of the Beast and the first two, and [1984's] Powerslave, and all that shit. But [Somewhere in Time's] "Wasted Years" was my fucking soundtrack for years, and I think it's probably one of the most perfect heavy-metal songs ever written – just from a song standpoint, not riffage or anything like that."
#3. Sepultura – Roots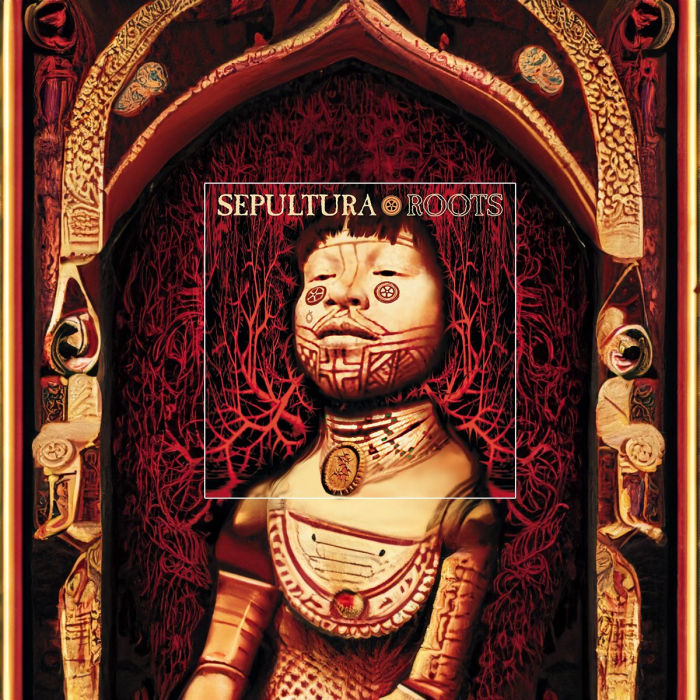 Corey Taylor also gave the name of Sepultura's classic album, Roots, as one of his favorite albums of all time. Released in 1996, the album reshaped the very landscape of heavy music. The opening track, "Roots Bloody Roots," serves as a war cry, a proclamation that the band is delving into unexplored realms.
Focusing on the album's sound, Max Cavalera's guttural roar pierces through the tribal drumming like a thunderclap, setting the stage for an auditory odyssey. The album's title track is a mesmerizing blend of Afro-Brazilian percussion and crushing guitar work, a sonic ritual that transports listeners to a mystical realm where metal and tradition coalesce.
Moreover, the album's beloved songs "Attitude" and "Ratamahatta" showcase the band's versatility, seamlessly blending heavy metal with elements of punk and industrial music. The latter, featuring guest vocals by Jonathan Davis of Korn, is a cacophony of percussive mayhem that exemplifies the experimental spirit coursing through the album.
To reveal how much he liked the album, Corey Taylor said: "Besides Iowa, that album is probably one of the thickest-sounding, heaviest-sounding albums that I've ever heard, from a production standpoint. It's so gross and yet so fucking awesome."
#2. Pantera – Far Beyond Driven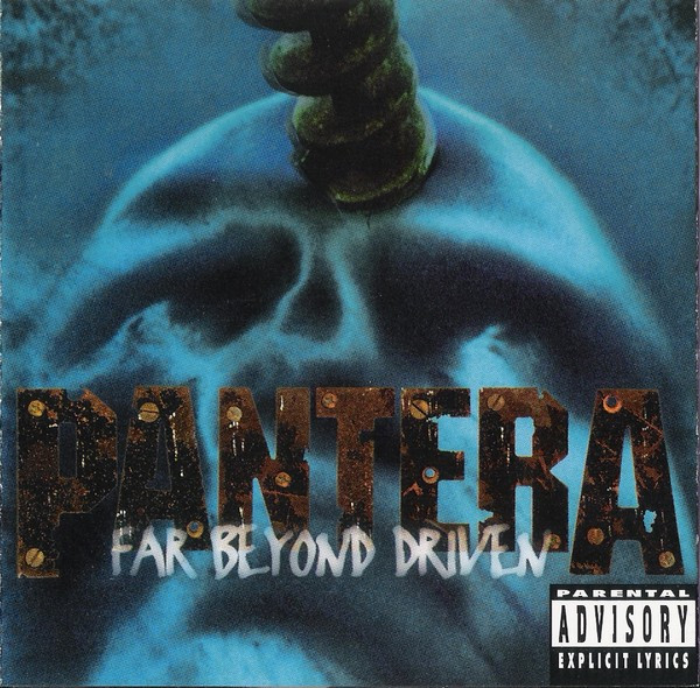 From the opening chords of "Strength Beyond Strength," the album declares war on the senses. Dimebag Darrell's razor-sharp guitar riffs, Vinnie Paul's relentless drumming, Rex Brown's bass playing, and the visceral roar of Phil Anselmo converge into a sonic storm that engulfs the listener. The band's sonic assault is relentless, creating an auditory experience that is as cathartic as it is unapologetically aggressive.
"Far Beyond Driven" was Pantera's declaration that they were not interested in playing it safe or adhering to expectations. It was an audacious move, considering the commercial success of its predecessor, "Vulgar Display of Power." Instead of succumbing to the pressure to replicate that success, Pantera ventured further into the realms of darkness and aggression, crafting an album that is a sonic embodiment of raw, unbridled power.
There is a song that became an anthem for a generation that found solace in the cathartic release of metal, named "I'm Broken." The unrelenting heaviness of tracks like "5 Minutes Alone" and the bone-crushing groove of "Becoming" showcased Pantera's mastery of their craft, leaving an indelible imprint on the ears and souls of listeners.
Corey Taylor first thought the album was "so sludgy," adding, "To me, 'Far Beyond Driven' was the first example of what a modern metal production could sound like. It was so thick and the mix was a little angrier. To me, it was the first time that you could really hear how heavy they could go and how willing they were to just drive that shit home."
#1. Metallica – Master Of Puppets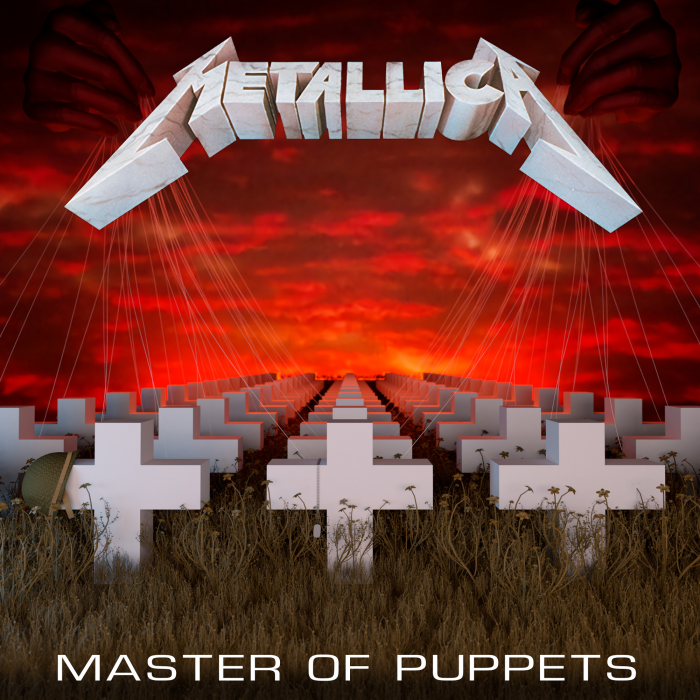 The American heavy metal band Metallica's "Master of Puppets" album is one of the greatest albums of all time. Like most metal fans, Corey Taylor picked the "Master of Puppets" album as one of his favorite albums of all time.
The album was released in 1986 as the third album of the band. From the haunting acoustic intro of "Battery" to the onslaught of the title track, the album's sonic diversity is a testament to Metallica's ever-expanding musical palette. James Hetfield's rhythm guitar, Kirk Hammett's searing leads, Cliff Burton's bass lines, and Lars Ulrich's drumming converge into a sonic tapestry that transcends the confines of traditional metal.
The album's title track, Master of Puppets, was a magnum opus of musical storytelling. Its intricate composition, seamlessly weaving between melodic interludes and breakneck thrash, showcased Metallica's ability to craft a narrative through sound. The lyrics, penned by James Hetfield, delve into themes of control and manipulation, adding a layer of depth to the sonic onslaught.
The tragic loss of bassist Cliff Burton shortly after the album's release added a touching layer to its legacy. Burton's intricate bass lines and musical prowess were integral to the album's sound, and his untimely demise marked the end of an era for Metallica. "Orion," an instrumental track on the album, serves as a poignant tribute to Burton's musical legacy, showcasing his influence on the band's sonic tapestry.
Corey Taylor said the album was his all-time favorite one: "It's my favorite metal album. It is the perfect metal album. There is no fucking way that you could improve on that album. Ever."
Corey Taylor's Favorite Albums:
Sepultura – Roots
Pantera – Far Beyond Driven
Iron Maiden – Somewhere in Time
Anthrax – Worship Music
Metallica – Master of Puppets