Michael Anthony Crushes David Lee Roth On Van Halen: "Sammy Hagar Brought A Whole New Element"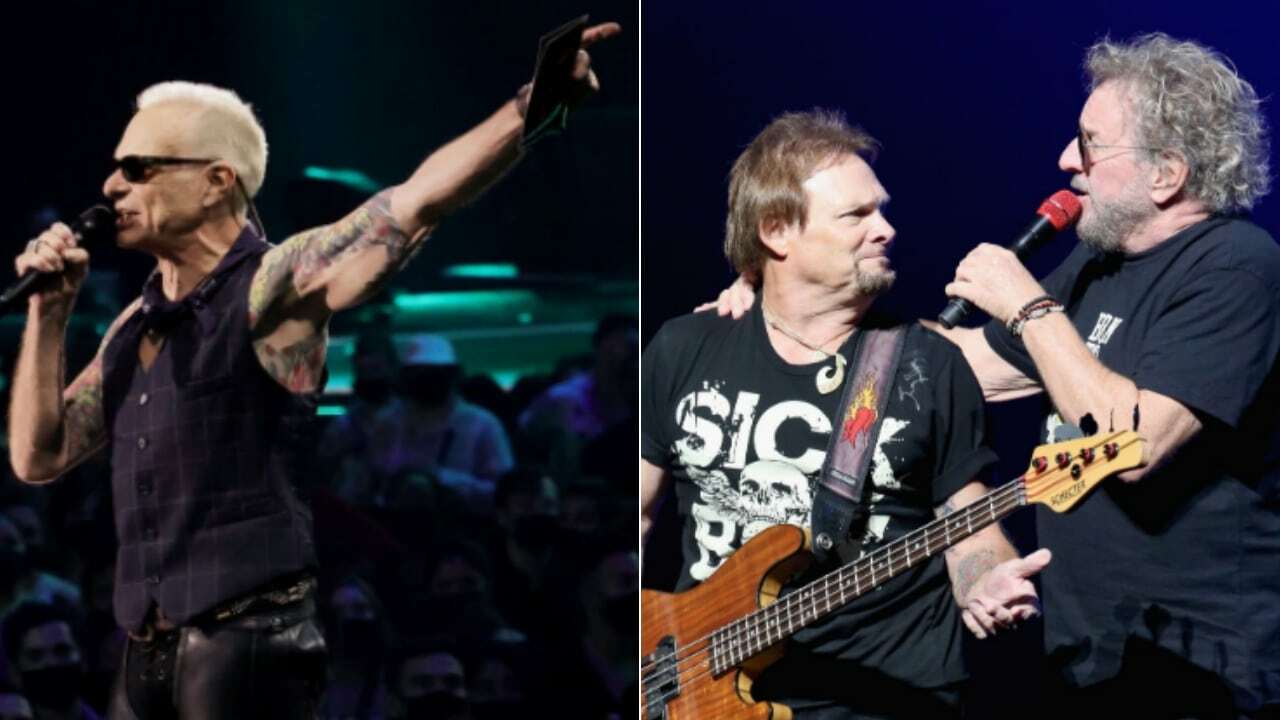 Former Van Halen bassist Michael Anthony appeared on The Mitch Lafon and Jeremy White Show. Anthony touched on his friendship with Sammy Hagar and the differences between Van Halen's Sammy Hagar era and David Lee Roth's era in the interview.
David Lee Roth had played a significant role in the growth of the Van Halen brand and its international prominence since the band's early days. The legendary vocalist, who appeared in two separate periods with Van Halen, took part in seven albums and numerous tours with the band.
On the other hand, Sammy Hagar, who joined Van Halen after David Lee Roth left the band in 1985, was a perfect match for the band, making these two great vocals still compared to this day. Hagar appeared on four albums during his ten-year period with Van Halen. The first of these albums, 5150, received positive feedback from the rock community and peaked at number 1 on the Billboard chart.
Anyway, the band's former bassist Michael Anthony compared Van Halen's Sammy Hagar and David Lee Roth's era in his last appearance on The Mitch Lafon and Jeremy White Show. Anthony also mentioned his friendship with Hagar when he was asked about how long they have been loyal to each other.
"A long time now," Michael says. "When he first came in as a solo artist, played on a few shows that Van Halen had done. There were some outdoor shows that we did where he was an opening act or whatever. And I never knew him, though. I mean, I knew his music like everybody does. All the bands, they know each other. I know Eddie had met him, also, but I never actually met him until he walked into '5150.'
"After he and Eddie jammed, and he decided to come in and see what this Van Halen thing was all about. I don't even think Sammy had any intention of joining the band at that point. I think he just wanted to come to the studio, see if the party, drugs, and drinking rumors were true.
"My introduction to him was just as the new lead singer. But we became fast friends. Because let's put it this way – I owned two cars when he joined Van Halen. I had one and my wife had one. And by the next year or whatever, I owned 10 cars, and my wife hated me for that. She owed it all to Sammy Hagar."
Michael Anthony Says 'Sammy Hagar Brought a Whole New Element to Van Halen'
In Sammy Hagar vs David Lee Roth's comparison, Anthony seems to be on Sagar's side. Anthony admits that during the production process of the songs, while Roth stepped aside after writing the song, Sagar was with his bandmates even in the finer details.
"When 'Jump,' which was our only big single from the early days of Van Halen, Roth didn't even want that song on the album, because he's all, 'Eddie, you're a guitar god, man, you're not supposed to be playing keyboards.' And Eddie, he grew up classically trained. Piano, in addition to picking up guitar.
"When Sammy joined the band, I think it was just a natural progression of the band. We just continued writing and Sammy brought in this whole knowledge of being a guitar player himself, he understood structure of music and stuff like that. From that standpoint, where David would always write the lyrics and go, 'Yeah, man, play that hard or whatever,' Sammy's like, 'Hey, you got this chord here, what if we play this chord or whatever, make this change.
"He brought a whole new element, and it just kind of changed the dynamic of the band. We weren't going to continue doing what we didn't want to continue doing, what we were doing with Dave. Because that was with Dave. It's the natural evolution within the way the band was evolving"
Last month, Sammy Hagar, who was inducted into the Rock and Roll Hall of Fame with Van Halen, shared with his fans how this wonderful story began. In an interview with In Search of Excellence, Hagar talked about how things went with Eddie Van Halen in joining the band.
"Eddie Van Halen says to Claudio, 'Oh,' Claudio says, 'Oh, that car belongs to Sammy Hagar, you should call him, get him in your band,'" Hagar says. "Eddie goes, 'You got his phone number?' The guy says, 'Yeah,' and he sits right down in the office and calls me out of the blue. I just got home from a tour, been home two days after the VOA tour, maybe 120 shows.
"I was done, happy to be home, the best shape of my life though. I was like chiseled. He says, 'Dave quit. Why don't you come down and join our band?' I said, 'Oh man, I'm just getting off the road,' and I said, 'Give me a couple of days.' He said, 'Nah, come down tomorrow.' I said, 'When do you wanna do this?' He said, 'Come down tomorrow.' I said, 'You gotta give me a couple of days, man.'"
When Eddie Van Halen called Hagar, he had just completed the tour of his eighth studio album, VOA, and was back home to rest. Although Hagar said he needed a few days to rest, he could not resist because of Van Halen's persistence, and this is how the story that would last eleven years began.
"I just shaved my head," he continues. "I cut all my hair off because my hair was trash from sweating every night in the lights, and it was like a haystack on top of my head. So I cut it all off after most tours, and I thought, 'Man, I ain't gonna go around with like this.' He goes, 'Why don't you come out here to try to write songs. I got some ideas.'
As much as Hagar wanted to sing with Eddie Van Halen, he told his manager that he wasn't too keen on joining the band because of the problems the band had with the previous vocalist, David Lee Roth. Somehow, the negotiations ended positively and the story that would last eleven years began.
"So, he talked me into it," he says. "I called my manager and said, 'I'd love to play with Eddie, but man, I don't wanna be in that band.' I'm thinking about their image because of the previous singer. I'm going out. I'm not that kind of guy. Anyway, I went down with him. The rest is history, Van Halen."