Phil Collen Recalls Being Invited Into The Studio By His Rock God Mick Jagger: "It Was Surreal"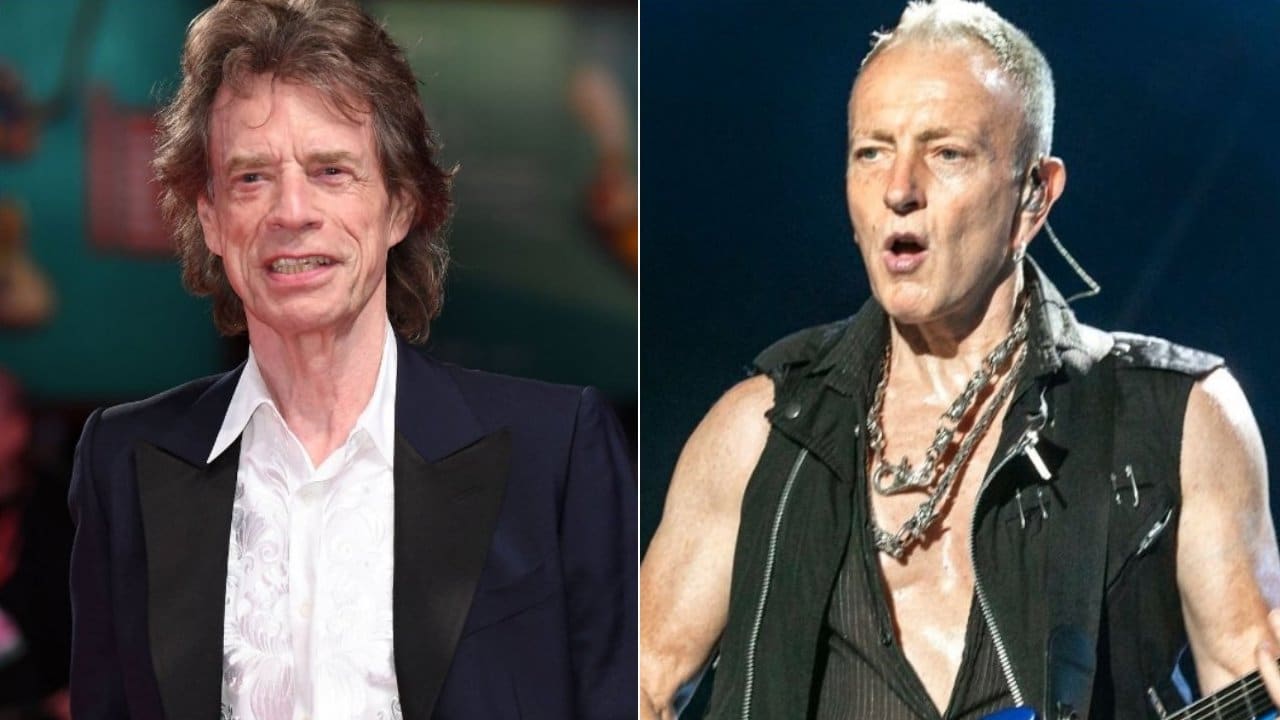 Def Leppard guitarist Phil Collen appeared on the recent BBC Radio 2. In the concept where the artists share their inspirations, the British guitarist chose The Rolling Stone's legendary vocalist, Mick Jagger, as his rock god.
The Rolling Stone's songwriter and vocalist Mick Jagger is one of the most influential and popular frontmen in Rock & Roll history. He has performed in twenty-five studio albums and numerous tours with The Rolling Stones, of which he is one of the founding members. Being one of the key members of The Rolling Stones, Jagger's sound is continuing to be an inspiration for the young generation.
Apart from the albums he made with his internationally famous band The Rolling Stones, he also released four solo studio albums. She's The Boss, his first solo album, received positive review from the rock community and was certified Platinum. Consisting of 9 tracks and having over 43-min listening time, the album features a worldwide hit named Just Another Night that peaked at #1 on US Mainstream Rock.
Phil Collen has revealed why he described Mick Jagger as his rock god. Sharing the main reason, Collen said that it was inspiring that the British musician Jagger was singing in an American accent. In the continuation of his words, he also told his rarely-known story about Jeff Beck and Mick Jagger.
"The artist I'd like to choose as my rock god is Mick Jagger," Phil said. "Have you ever noticed a lot of English bands sing with American accents? We learned that from American pop culture, but I think Mick Jagger was the gateway or the bridge that influenced everyone who sings rock music. Mick Jagger and the Stones hit on that very early on and made it their own Rolling Stones thing.
Phil Collen Recalls 'Surreal Memory' With Mick Jagger
Stating that people are always scared to meet their idols to avoid disappointment, Phil Collen met his idol while Jeff Beck and Mick Jagger were working on Jagger's solo album and he admits those moments were incredible. According to him, it was surreal to met him.
"Songs like 'Sympathy For The Devil,' when you first hear it, it is haunting," he continued. "I was totally influenced by that, and still am, and I have a funny story about Mick Jagger. We were recording our 'Hysteria' album in the mid-80s in Holland. Jeff Beck played guitar for Mick Jagger on his new solo album.
"I was sneaking around, trying to listen through the door. If you've ever seen the studio door, they're like a bank vault. Suddenly, the door opened up, and it was Mick Jagger. He was like, 'Hey, man, come on in!' I went in and sat on the couch, and there was Jeff Beck playing guitar. It was amazing, and there was Mick Jagger, and he was singing in front of me.
"It was surreal. He was doing a live vocal to one of the songs in the control room. It was such an amazing moment for me. You're always scared to meet your idols in case they disappoint, but he didn't. For lots of reasons, that's my rock god."
It was not the first time Mick Jagger was picked as a rock god by a musician. As he is an iconic musician, Jerry Cantrell once picked him as his rock god during his interview with The Rock Show With Johnnie Walker, saying Jagger is a huge singer.
"I had the good fortune to see him perform with The Rolling Stones in Los Angeles a couple of days ago," he said.
"I've been lucky enough to catch a few Stones shows over the years, but it was really great to be reminded of their place in rock and roll history and Mick's place as the genesis, I believe, of what fronting a rock and roll band really looks like.
"It's amazing, the longevity, the attitude, just his ability to connect with the audience, to work a room, I don't think you'd have Steven Tyler or David Lee Roth or any epic frontman without Mick Jagger.
"He is the archetype and the forerunner for what fronting a rock and roll band is all about."