Nita Strauss On Her Upcoming Album: "I'm Excited To Show A Higher Level Of Playing"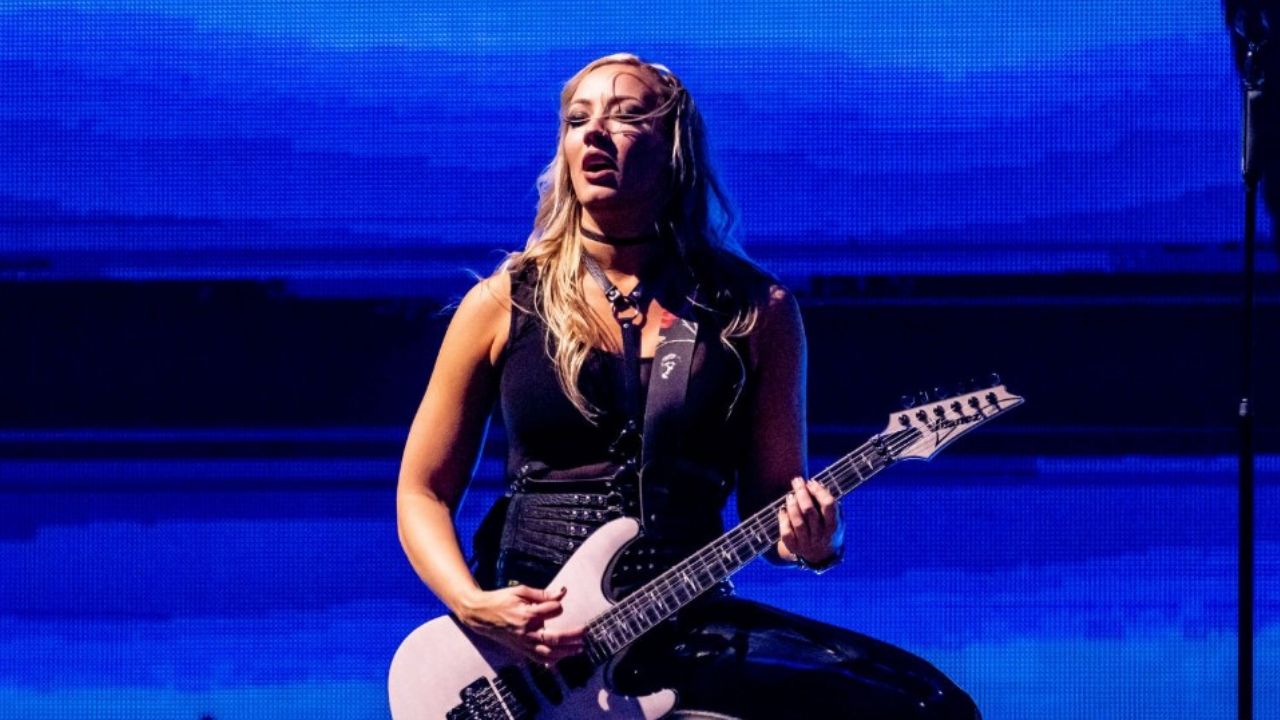 Nita Strauss recently appeared on Guitar World Magazine. In the interview Strauss talked about her upcoming solo album. The album will be released later this year via Sumerian Records.
Nita Strauss was a touring guitarist of rock legend Alice Cooper for eight years and managed to attract attention in the process. Strauss met with Cooper on the offer from Demi Lovato during the tour last year and continued with Demi Lovato with the joint decision of this meeting.
On the other hand, Strauss has also been very successful in her solo career, and she is preparing to release her second solo album this year. The talented American guitarist released her debut album on November 16, 2018, and received very positive feedback. The album, Controlled Chaos, released under Sumerian Records, consists of 11 tracks and more than 39-min listening time.
Anyway, Strauss, was a guest of Guitar World magazine, talked about the preparation process for the new album. Stating that she has improved a lot since the last album, the talented guitarist admitted that she was excited to show a higher level of his play.
"I'm a really emotional musician and person, and I write about what I'm feeling and what's going on in my life," she said. "Making this album, and especially doing a lot of the writing during 2020, when everything was shut down and uncertain, brought out a lot of emotion in my songwriting.
"I've grown a lot as an artist and songwriter since [my debut solo album] 'Controlled Chaos' came out in 2018, and I'm excited to show a higher level of playing and more depth and maturity in these new songs. I've improved a lot as a musician, my technique has gotten better in the last four years, and I've gotten more comfortable in my own style, so I feel I've come into my own as a guitar player."
Back on March 16, 2022, Nita Strauss talked about her upcoming album during an interview with IheartRadio. Also, the host asked her about the fans' reaction to Dead Inside. She admitted that the reaction was amazing and explained why.
"It's been amazing," she said. "It's exciting 'cause I think a lot of my fans are not necessarily the typical instrumental guitar fans; they're rock fans who happen to like the way that I play guitar.
"So I think people were excited to get a song that's a little more accessible — something that's not just shred all the time but something that you can listen to alongside other kind of Active Rock songs."
Stating that it is always exciting to collaborate with different artists in the music world, Nita said that half of the tracks of her new album, which will be released this year, will be instrumental, and the other half will be in collaboration with her favorite vocals.
"It's gonna be half [instrumental songs] and half [tracks with vocals]," Nita continues. "My first album was all instrumental. The second one, I didn't wanna stray completely from my roots as an instrumental guitar player, so there will definitely be what you guys expect from me, like a lot of the fun instrumental guitar stuff, but there are some collabs as well. Some of my very favorite singers are on this record with me.
"And I have incredible female vocalists; I have incredible male vocalists. And it's just an exciting time — it's just an exciting time to be out there and collaborate with different artists. 'Cause all these different artists are wanting to work. Everybody had so much creativity to express over the last year and a half."