Michael Anthony Names Guns N' Roses 'Kick-Ass Rock Band'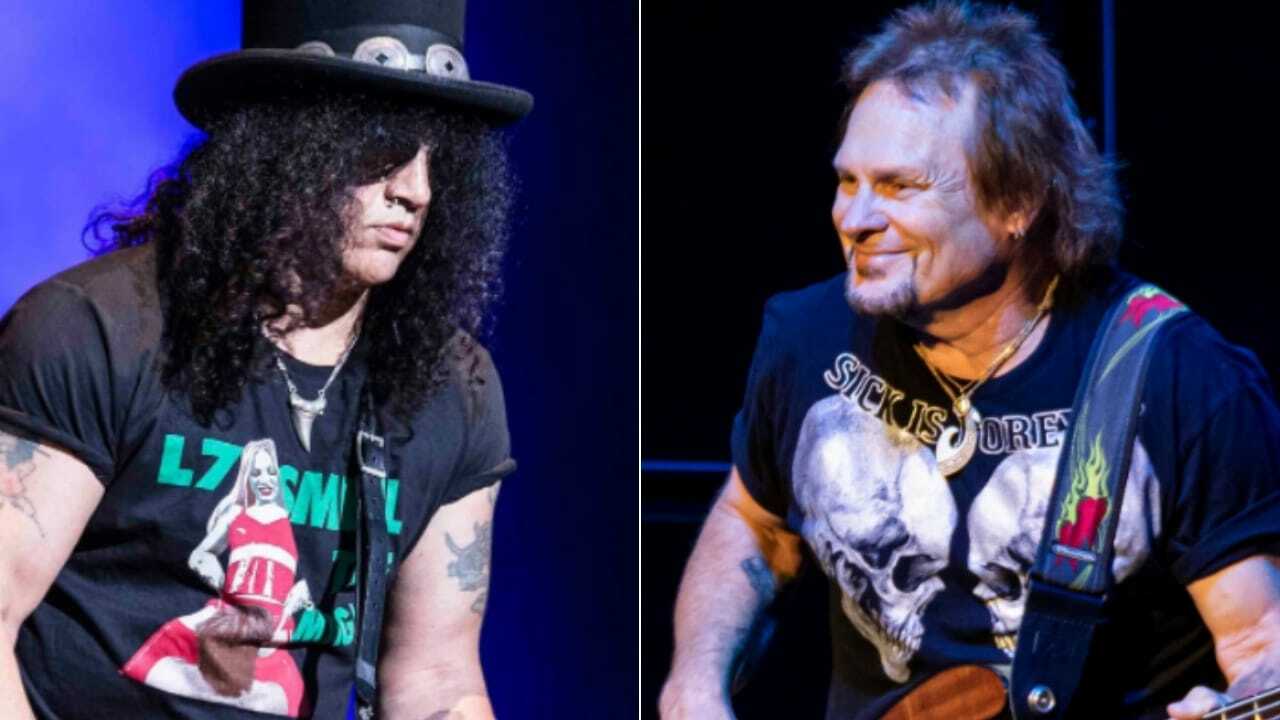 Van Halen bassist Michael Anthony appeared on the Appetite for Distortion podcast. Anthony mentioned Guns N' ROSES in the interview, reflecting on the efforts Van Halen and the Roses made in the late '70s and early '80s to bring rock into the mainstream.
Today we observe that Rock has moved away from the mainstream a lot, especially with the advent of Napster in 1999, things have changed and new bands are having a hard time finding their economic freedom. The situation was similar in the late 70s, with punk and disco genres dominating the charts.
On the other hand, Van Halen's 1978 self-titled album was one of the best debut albums rock 'n' roll had ever seen, by most fans and critics. Released by Warner Bros., the album consists of 11 tracks and more than 35-min listening time. The album debuted at number 19 on the US billboard 200 and was certified diamond by the RIAA in 1998.
Another band that kept the rock genre alive in the 80s was Guns N' Roses. One year after the release of the band's debut album, Appetite for Destruction, it peaked at number 1 on the billboard 200. The album's songs such as Welcome to the Jungle and Paradise City were hits, while Sweet Child O' Mine peaked at #1 on the billboard hot 100 charts. Acclaimed by the rock community and critics, the album was a huge commercial success and sold over 30 million copies worldwide.
However, in a recent interview with Appetite for Distortion, Michael Anthony reflected on how Van Halen and Guns N' Roses kept the rock genre alive in the '70s and '80s.
"Well, when I first heard 'Appetite for Destruction,' I actually went, 'Whoa, these guys are good," he said. "And in a world where the music changes so fast, I kind of consider [Van Halen] one of the last bands that were actually signed, and was on the tails of bands like The Who, [Led] Zeppelin, Humble Pie – stuff like that – because you had punk and new wave and all that stuff kind of entering into the scene when Van Halen was coming out.
"And I think we did a pretty good job doing what we did, and keeping rock alive – and I think that Guns N' Roses, they basically were doing the same thing."
'Guns N' Roses Were Just a Kick-Ass Rock Band'
"And now, when I hear Ed's son Wolfgang, the album came out with his band – you know, keepin' it alive. Because let's face it: a lot of the award shows – I really don't watch that much anymore.
"And some of them, all these rock categories are off-air anyway. So, we're kind of like a minority now, the rock and roll [bands]. It's, great whenever you see a band like that… And Guns N' Roses, they were just a kick-ass rock band."
"The thing about Eddie is that he was such a gifted musician," he said. "Any instrument he had chosen to play would have been phenomenal because he just had that pure musical talent. And he chose guitar because that's what turned him on.
"And for somebody with that kind of musical talent to get turned on to rock 'n' roll guitar was sort of unique unto itself because most of us guitar players are a ragged bunch of rock 'n' rollers who don't have too much technical ability or schooling. We just sort of go for this raw thing. And he had that, but he also had this musical, sort of classical gift.
"Then, on top of that, just being somebody sort of like Les Paul, who hears something in his head or has an idea and creates it. So it made him a triple threat. He was a great guitar player, but he was also this amazing musician, so it just made his guitar playing that much greater.
"And then he was an innovator on top of it, creating new things with whatever his imagination came up with. So he was just an amazing artist, period."