Metallica's Robert Trujillo Recalls Surreal Ozzy Osbourne Behaviors: "He'd Try To Bite You"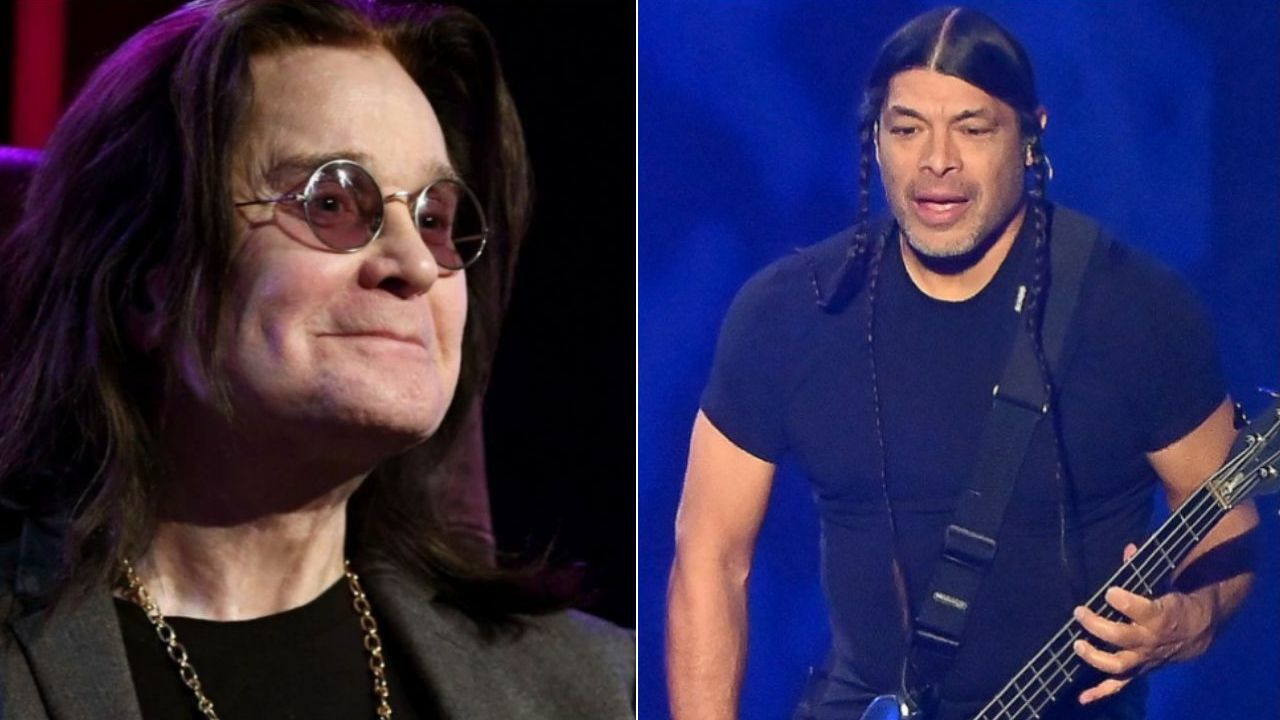 Metallica guitarist Robert Trujillo recalled his tenure with Black Sabbath legend Ozzy Osbourne and mentioned some surreal moments they lived with The Prince Of Darkness. He also revealed what Ozzy Osbourne means to him.
Gained international fame for being the lead vocalist of the heavy metal band Black Sabbath, Ozzy Osbourne released his 5-time platinum-certified debut solo studio album in 1980, titled Blizzard of Ozz. Releasing 12 studio albums at press time, Ozzy Osbourne had released his latest album, Ordinary Man, in 2020.
On the other hand, Robert Trujillo is the bassist of the heavy metal band Metallica since 2003. Performing in the last two studio albums of Metallica, Robert Trujillo also played on the band's collaboration album Lulu, the band's EP Beyond Magnetic, and live album S&M2.
Outside of Metallica, Robert Trujillo was a member of Ozzy Osbourne from 1996 to 2003. During this perio, Trujillo had performed beloved Ozzy Osbourne efforts such as Down To Earth, Blizzard of Ozz reissue, Diary Of A Madman reissue, and CD/DVD combination Live At Budokan.
Recently, Robert Trujillo interviewer with MMA Junkie and talked about surreal Ozzy Osbourne moments and mentioned what playing with Ozzy Osbourne means to him. At first, the musician was asked if he had any proudest moment in his career. Robert Trujillo answered the question by remembering his weird memories with Ozzy Osbourne. According to Trujillo, he was warned about Ozzy Osbourne's weird behaviors.
"Wow, that's a tough one," Trujillo admits.
"For instance, I can remember my proud moment with Ozzy Osbourne – because I toured and played with Ozzy for a while.
"And I remember it was Las Vegas, we had just played an amazing show, and I remember specifically, it think it was the song 'Sweet Leaf.'
"And he and I started doing this dance together what ended up becoming the 'crab walk.' He would do all kinds of weird stuff – he'd pull your hair, scratch you, try to bite you, something weird.
"I was warned about this, and he would do that."
Robert Trujillo Reveals How Ozzy Osbourne Got Him Surreally
Robert then revealed a moment how Ozzy Osbourne got him surreally on the ground. Saying that he could have understood whenever Ozzy approached him that he was going to do something to him, Trujillo added Osbourne was always a step away from him.
"So he comes over to me, and then I'm like, 'OK,'" Robert continues. "And I start kind of going lower and lower and lower, almost like a sumo wrestler.
"And all of a sudden I am like a foot from the ground. And guess what? He's a foot from the ground too! And he's like, 'I got you!' So that was surreal for me."
Concluding, Robert admitted that playing alongside Osbourne and doing weird acts side by side with him is mind-blowing to him.
"Here's a guy that I grew up listening to – obviously, with Black Sabbath, and then his solo material, and playing Ozzy's music in backyard parties back when I was 16 years old – and now here I am, doing a crowd walk with this guy, on stage, in front of 18,000 people, in a sold-out arena," he reveals.
"It was mind-blowing."
Back in this mid-November, Ozzy Osbourne had shared his honest feelings about Robert Trujillo. Touching on their previous collaborations, Ozzy had said that Robert is a great friend of his.
"Rob has always been a great friend of mine," Ozzy said. "He's a great bass player and a great guy; he's the only guy who, when it came time to move, did things the right way.
"I always ask that the guys who play with me, if they get another offer and want to move on, that's fine, just don't drop me in the shit, give me time to get a replacement.
"Rob's the only guy who ever did things right by me for that. I'm really happy we've got him playing on the new album as well."