The Beatles' Paul McCartney Discloses Main Reason Behind Why He Ended Up Writing Songs With John Lennon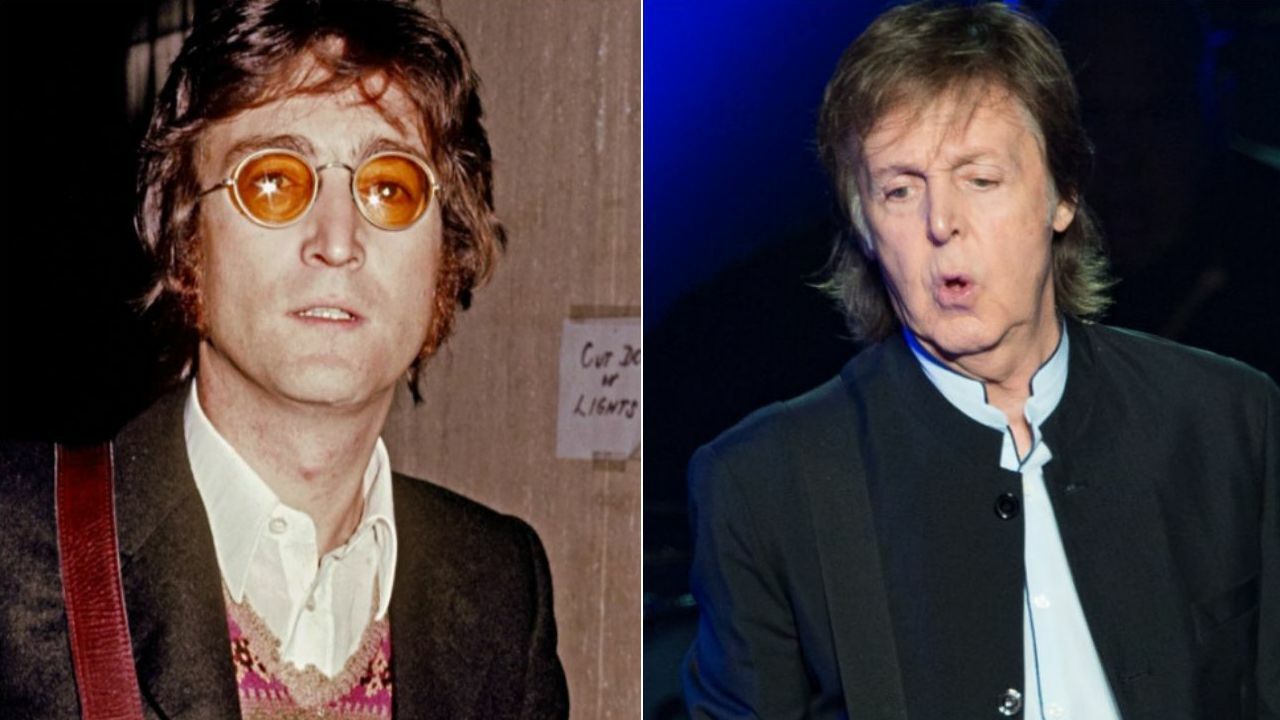 The Beatles legend Paul McCartney has recalled writing songs with his late bandmate John Lennon and disclosed the main reason behind why they ended up writing songs together, even though they fit well.
Paul McCartney gained his international fame for being the bassist, co-lead vocalist, co-songwriter of his co-founded rock band The Beatles. Throughout his musical career with them, McCartney had performed in every one of The Beatles' albums. He was the writer of the band's beloved songs such as P.S. I Love You, I Saw Her Standing There, Eleanor Rigby, Here, There and Everywhere.
On the other hand, John Lennon was the co-founder, co-lead vocalist, rhythm guitarist, and co-frontman of The Beatles from 1960 to 1969. He had performed in the entire albums of the band and wrote beloved songs such as I Want To Hold Your Hand, I'll Cry Instead, I'll Be Back, No Reply, It's Only Love, Girl, Tomorrow Never Knows, She Said She Said, Good Night, I'm So Tired.
Over the years, John Lennon and Paul McCartney had written tons of stuff together. Releasing 12 studio albums as a member of The Beatles, Lennon and McCartney wrote beloved songs together such as Little Child, Love Me Do, Misery, There's A Place, Please Please Me, and Every Little Thing.
However, during a recent appearance on The NPR Podcast, Paul McCartney has opened up about his band's creative process and working with his late bandmate John Lennon. At first, the musician mentioned his chemistry with Lennon. According to him, they had been correcting each other when one of them made a mistake about lyrics.
https://www.youtube.com/watch?v=wmx-nxjuVq4
"Writing with John was a lot easier because you've actually got a sounding board – you're sitting across from someone," McCartney says.
"We normally wrote on two acoustic guitars, so he'd be sitting there, I'd be sitting here, and one of us would suggest an opening line, and then the other one would go, 'OK,' and would make a suggestion for the second line.
"So you would kind of ping-pong, and if a line was terrible, the other person would say, 'That's terrible,' and we'd scratch it.
"Just for that process of the two of us making this piece, it was quite easy. Don't want to make it sound too easy, but you know, it made the process very enjoyable – and easier.
"Because if you had a line that you were questioning in your own mind, if you're writing on your own, you could spend a good half hour going, 'Oh, this is terrible, what can I do? Think of something, quick…'
"Whereas with John, he'd go, 'This is terrible.' 'Yeah, I know,' and we'd fix it. Between the two of us, we would just improve it, so it was easier."
Paul McCartney Explains Why They Ended Up Writing Songs Separately
Later then, McCartney explained why he and John Lennon ended up writing songs separately, even though they were in good fit. He also revealed how he wrote Yesterday and how John Lennon reacted to the song.
"It was just a question of location, really," he continues. "I mean, if I was on holiday and I wanted to write a song, John wouldn't be there, so I would just write the song.
"And I wouldn't think, 'Oh, I got to wait until I see him.' The same happened with him. I would just be somewhere, feeling the song, and it was often just that, proximity.
"If we weren't able to just meet up that day, but you still had an idea for a song.
"For instance, 'Yesterday,' the song 'Yesterday,' the melody came to me in a dream, so I played that intact to John.
"And he said, 'Oh, I like that.' I was basically asking if this was someone else's melody. I couldn't believe it was mine because it arrived in a dream.
"And then when I was on holiday in Portugal, it was a long drive from Lisbon down to the south coast, and I put the lyrics together there. It was just a different process."
Back in this early November, Paul McCartney had revealed his lyric war with John Lennon. Touching on Lennon's nasty and cruel act, McCartney said he turned his missiles back when Lennon fired his missiles over him.
"'Too Many People,' this song was written a year or so after The Beatles break-up," McCartney reveals. "At the time, John was firing missiles at me with his songs, and one or two of them were quite cruel.
"I don't know what he hoped to gain, other than punch me in the face, the whole thing really annoyed me.
"I decided to turn my missiles on him too, but I'm not really that kind of writer, so it was quite veiled. It was the 1970s equivalent of what might today be called a diss track.
"An idea of too many people preaching practices, it was definitely aimed at John telling everyone what they ought to do. I just got fed up being told what to do, so I wrote this song.
"The first verse and the chorus have pretty much all the anger I could muster, and when I did the vocal on the second line, 'Too many reaching for a piece of cake,' I remember singing it as 'piss of cake.'
"Again, I was getting back at John but my heart wasn't really in it. 'You've made this break so good luck with it,' it was pretty mild, I didn't really come out with any savagery.
"It's actually a fairly upbeat song, it doesn't really sound that vitriolic. And if you didn't know the story, I don't know that you'd be able to guess the anger behind this writing.
"It was all a bit weird and a bit nasty, and I basically said, 'Let's be sensible.' We had a lot going on for us in The Beatles, and what actually split us up was the business stuff, and that's pretty pathetic, really, so let's just try to be peaceful, let's maybe give peace a chance…"