Black Sabbath's Tony Iommi Speaks On His Emotional Friendship With Brian May: "We've Had A Great Friendship Over The Years"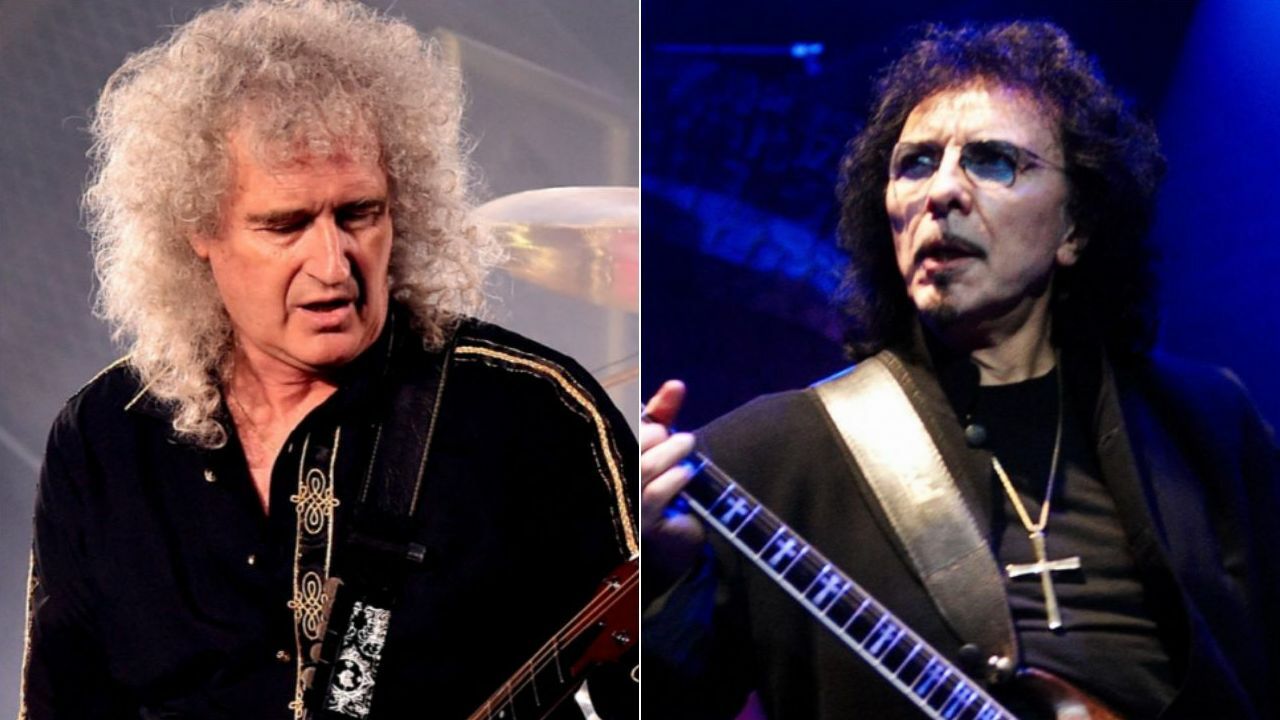 In a new appearance on BBC Radio, Black Sabbath guitarist Tony Iommi has spoken out about his friendship with Queen guitarist Brian May while opting him as his rock god.
Brian May gained international fame for being the guitarist of his co-founded rock band Queen. During his ongoing career with the band, Brian May has released 15 studio albums, 10 live albums, 2 EPs, 16 compilation albums, and more things. Outside of Queen, Brian May has released two solo albums in total. Debuted in 1992 with his Back To The Light, Brian May released his second solo studio album in 1998, named Another World.
On the other hand, Tony Iommi is known for his tenure with his heavy metal band Black Sabbath. He was the guitarist, co-founder, and leader of the band. Throughout his tenure with his band, Tony Iommi performed in entire albums of Black Sabbath. Debuted in 1970 with its self-titled album, Sabbath had released its final album in 2013, named 13.
However, there are many artists in the rock world who respect each other. Tony Iommi and Brian May are two of those artists. Over the years, they have kept in touch with each other and even played side by side many times. As some of you know, Brian May had contributed to Iommi's solo album and performed on Goodbye Lament and Flame On.
Recently, Tony Iommi discussed his friendship with Brian May and revealed emotional moments with him. At first, Iommi recalled how he reacted to Queen when he heard them the first time. He also touched on May's role in the album and said he had a unique style.
"His sort of sound and style really stood out to me when I heard the first Queen album, really," Iommi revealed. "When I heard that album, [I thought], 'This is a really good band.'
"And a guitar player is always into other guitar players, and he had a sort of unique sound and the way that he played, I just liked it.
"It was appealing. He's just got a certain character that you didn't really hear from anybody else – he's got something very 'him.' And as soon as you hear Brian now, anybody can pick him out."
Tony Iommi Recalls His First Met With Brian May
Tony Iommi then mentioned the first time they ever met. Saying that they used to talk to each other at all hours of the night in the early days of their friendship, Iommi revealed a golden moment they played side by side.
"It was in the early '70s we first met," he says. "I don't know if it was in the studio. I actually can't remember.
"Does he know where we first met? We had a very fast connection and we used to talk to each other at all hours of the night in the early days.
"Now I'm in bed, but in them days, if he knew I was in the studio in London, he'd come over.
"We've jammed a few times. He's come up on stage and played with me and we've done some album stuff together on different people's albums. He played on my solo album a couple of times.
"We had a jam session once. He came down to one of our rehearsals when we were rehearsing in London, and we started playing with the band and the band gradually left, and Brian and myself were just left playing there.
"All the gear had gone except for our gear, and we were still playing. [Laughs]"
Concluding, Iommi stated that he always has a guitar for Brian May to play together when he came to his house. According to him, they had a great friendship over the years.
"Yeah, so we've had a great friendship over the years," he adds. "But the thing is with him, he loves his guitar – he's always got his guitar with him and he's playing.
"And when he comes to my house, I've always got a guitar there for him so we can have a little play."
Back in May 2020, Tony Iommi had remembered Brian May's visiting him. According to him, he played a sort of things for Brian May, and those things were impressed him very much. He revealed May's reaction to his stuff and said he told him that he must use them to create something.
"Brian May came over a few months ago and we sat outside and I was playing him some of them," Iommi recalled. "And he said, 'You've got to do something with these – we've got to do something with these.' Because we've talked about putting some stuff down.
"So I gave him three or four CDs full of riffs and he took off with them. And you know, he's busy with Queen stuff all the time. But when the time is right, I suppose we will do something.
"Every time we get together, we go, 'We must do that.' But it's about getting the time to do it. So it's just a matter of making a plan."