Metallica's James Hetfield Reveals Unusual Style He Uses Holding Guitar Pick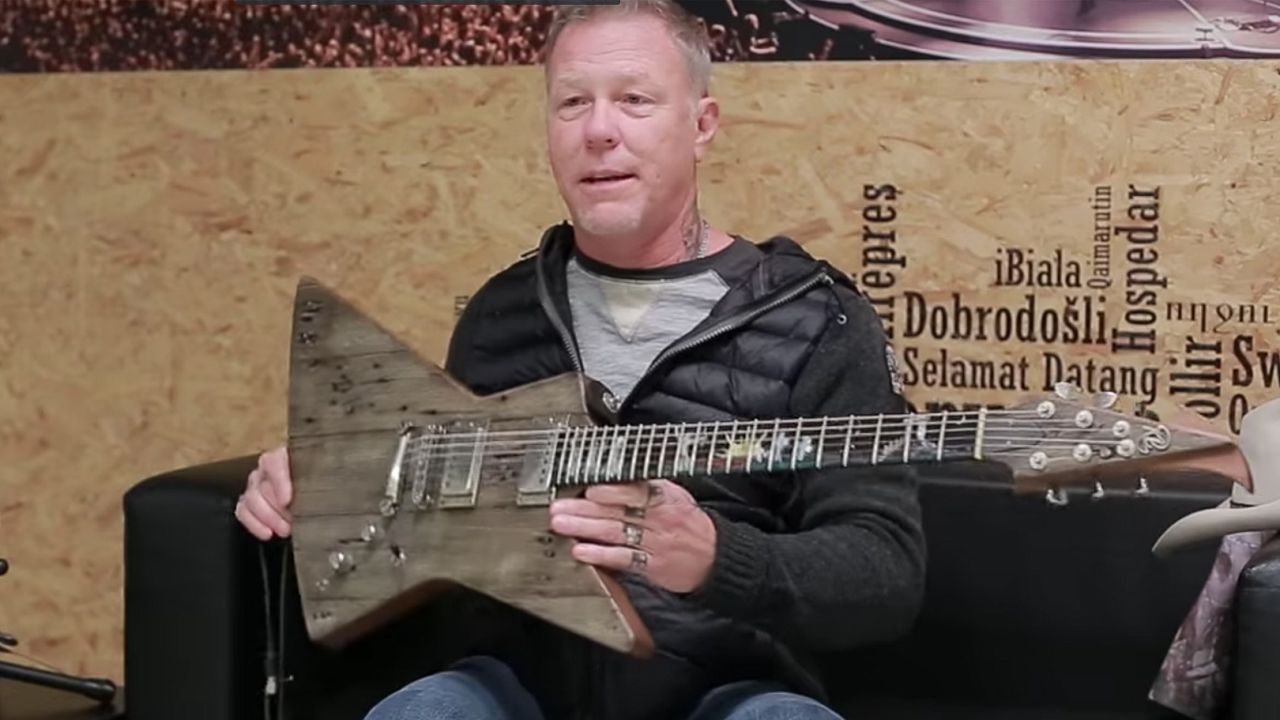 Metallica star James Hetfield revealed the unusual style he uses while holding a guitar pick and revealed one of the rarest moments he lived in the school.
The musician recalled those moments and revealed his style in an archived interview that came online recently by Total Guitar.
In the interview, the interviewer was saying to James Hetfield that he has an unusual way of holding his guitar pick using his thumb, index and middle fingers, as opposed to just his thumb and index finger. Later, James touched on his style and explained why he uses in that way.
"Yeah, I've always done that," he said. "That's the way I hold a pencil. School teachers would whack me on the hand and say, 'That's not right!' but it just made sense to me.
"I tried it the other way to see how it would feel, but there's something about having that extra finger that stabilizes the top of the pick. Otherwise, it moves too much.
"But I go through picks non-stop, man. They're ground away! You see pick grindings all over my guitar. I'm working on this pick with Dunlop at the moment actually, trying to emulate that tortoiseshell pick sound – that's obviously illegal – that has that shaley sound to it. It's almost stone-like but with a flex. I go through 10 picks a show instead of 30!"
Later, the interviewer mentioned Hetfield's Nothing Else Matters playing. He said, "In 'Nothing Else Matters,' you fingerpick the first part then somehow produce a pick from your palm to play the riff and solo. We can't figure out how you do it!" James replied and said he hides it.
"Where do I hold it?" James asked. "I think I hide it. I sort of pinch it in the arch below my middle finger. I'll check that out when I'm playing tonight! It probably comes from playing a lot of different styles.
"When you're playing country stuff, you're playing the rhythm and the melody within it. On songs like 'Fade to Black,' 'The Day That Never Comes,' and 'Unforgiven,' I'm doing the rhythm modulations behind the lead melody at the same time. That's something that's become Metallica or my style, I guess."
Metallica Announces The Blacklist
On September 10th, celebrate "The Black Album" your way with "Metallica" (Remastered) and "The Metallica Blacklist". https://t.co/3bMYsWZALZ#BlackAlbum2021 #TheMetallicaBlacklist pic.twitter.com/662mUBwVc2

— Metallica (@Metallica) June 22, 2021
Metallica has announced the new massive reissue of the band's fifth studio album Black Album, the Blacklist.
The album includes 53 artists and their covers with Metallica on the band's classic songs, Sad But True, Enter Sandman, Holier Than You, The Unforgiven, Whenever I May Roam, Nothing Else Matters, and more.
The new Blacklist album artists include Elton John, Miley Cyrus, Corey Taylor, Royal Blood, Volbeat, Ghost, Weezer, St. Vincent, Diet Cig, Jon Pardi, The Hu, Chad Smith, J Balvin, and many more.