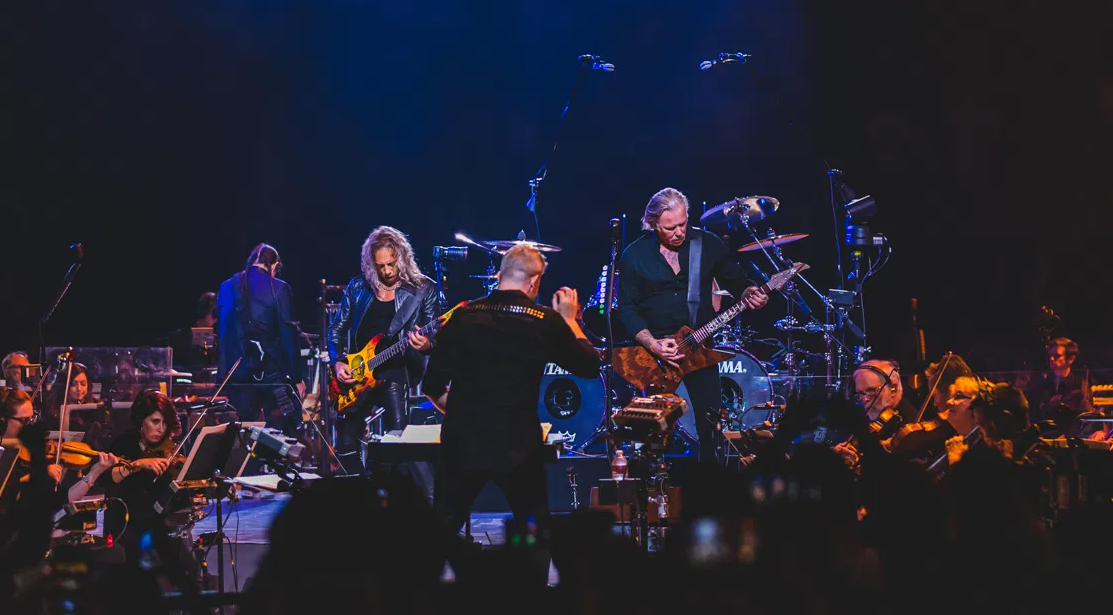 Recorded in San Francisco's Chase Center between September 6 and 8, S&M2 debuted in cinemas for one-night-only. Metallica and San Francisco Symphony proved themselves again what they can do together to the world. The S&M concert brought heavy metal and classical music together.
It was not possible for everyone to attend Metallica's concert in San Francisco because the tickets ran out in minutes. Fortunately, the concerts were set to the screen for one-night-only in theaters worldwide on Wednesday (October 9th) for those who didn't have the chance to listen to Metallica in San Francisco. The film was broadcasted on October 9th in 96 countries and 3698 theaters and received great attention from fans.
Before starting the action, there is a short documentary section detailing how the first show emerged. Then, the band talks about the All Within My Hands foundation. After all this happened, Lars explains how the band's second show idea came about.
Now its showtime! Metallica open the set, as they did in 1999, with The Call Of Ktulu. After The Call Of Ktulu, they continued with For Whom The Bell Tolls, The Day That Never Comes and Moth Into Flame from the latest album. Then, we witnessed how Metallica rock with the Orchestra.
As the second part began, the Orchestra performed its show, led by Michael Tilson Thomas. When James Hetfield's solo performance of The Unforgiven lll was added to the brilliant performance of the Orchestra, people go crazy.
After all, bassist Scott Pingel makes his mark to the concert with mind-blowing Pulling Teeth performance to tribute of Cliff Burton. At the half of the performance, drummer Lars Ulrich accompanied to the Scott and the people gave much respect to them at the end. Before that, James said, "maybe we're taking risks by doing this". It seems worth it.
The film lasted 150 minutes. At the end of the night, the winner was, of course, the viewers of S&M2 from all around the world because they had the opportunity to watch this unique activity.
Finally, here's the setlist of the legendary night:
Set I
1. The Ecstasy of Gold (performed by the San Francisco Symphony)
2. The Call of Ktulu
3. For Whom the Bell Tolls
4. The Day That Never Comes
5. The Memory Remains
6. Confusion
7. Moth Into Flame
8. The Outlaw Torn
9. No Leaf Clover
10. Halo on Fire
Set II
11. Scythian Suite, Op.20 , Second Movement (performed by the San Francisco Symphony)
12. Iron Foundry (Alexander Mosolov cover) (live debut)
13. The Unforgiven III (performed by the San Francisco Symphony)
14. All Within My Hands (acoustic)
15. (Anesthesia) Pulling Teeth (performed by San Francisco Symphony bassist Scott Pingel)
16. Wherever I May Roam
17. One
18. Master of Puppets
19. Nothing Else Matters
20. Enter Sandman