Metallica's Kirk Hammett Answers Why James Hetfield Was Wrong On His Side-Project Remarks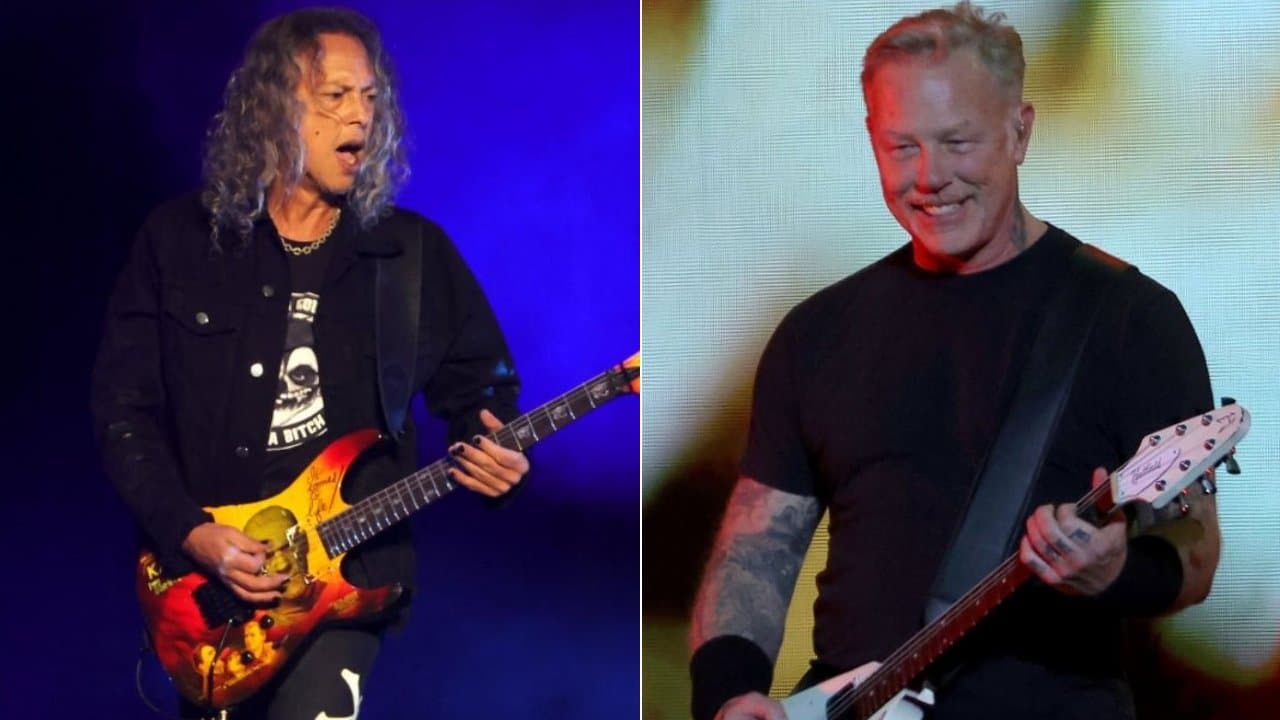 Metallica guitarist Kirk Hammett has shared his opinion on James Hetfield and his side-project remarks that doing a side-project as a member of the band takes away from the strength of Metallica.
Metallica has been one of those heavy metal pioneers since its formation in 1981. Debuted in 1983 with Kill 'Em All, the band has been continuing an inspiration for people who wants to be an artist in their life. During their ongoing 4-decade career, Metallica has sold more than 130 million copies with its releases, including 10 studio albums, 10 video albums, 8 live albums, 3 box sets, and many more things. They were also certified 178x Platinum and 1x Diamond for their huge discography in total.
The band's long-time second lead guitarist Kirk Hammett is one of those members who is hard at work growing up with Metallica discography. When Kirk joined the band back in 1983, replacing Dave Mustaine, the band hadn't released its debut Kill 'Em All yet. It was the first release both for Kirk Hammett and Metallica but was not the last. Since then, after nearly 40 years of career with Metallica, Kirk Hammett has contributed to the band's entire albums, tours, and music.
On April 23, 2022, Kirk Hammett officially released his first-ever 4-track solo effort named Portals. The EP featured beloved songs such as Maiden And The Monster, The Jinn, The Incantation, and High Plains Drifter, which was the first single of the album released on April 14, 2022. The album has received positive criticism so far, making Kirk Hammett proud.
Back in the early 2000s, James Hetfield had started a discussion about his band Metallica and the band's members' side-project ideas. At the time, James Hetfield told Playboy that doing a side-project was taking away some strength from the band and that they were all married to Metallica.
However, during his recent appearance on Rolling Stone magazine, Kirk Hammett discussed doing a side-project while already a member of Metallica. When the interviewer mentioned James' those words that doing a side-project is the same as with a cheating wife, Kirk stated that they are artists and it is wrong to disallow someone who has opportunities to express themselves.
"Well, we kind of see it like this: We're not musicians, we're artists," he says. "Ethically, morally, and creatively, it's wrong to deny someone the opportunities to express themselves and create. And I think that's kind of where everyone is sitting right now.
"Also, now we're so much more accepting of what happens in our lives because so much stuff has happened to us in the last 20 years — so much stuff has happened in the last five years."
Kirk Hammett Admits Metallica Is His Home
Kirk Hammett then talked about their longevity in music. Saying that Metallica is his home, Kirk added that he will always be a guy who tries to make the best music with Metallica. He also revealed how people would behave if he left Metallica.
"I think we're a little bit more aware of our own mortality and how much more time we have as functioning artists, musicians, and band members," he continued. "So there are other things that are more important to consider, like the longevity of the group, the mental health of the group, the creative energy of the group.
"And those guys know I ain't fucking going anywhere. Metallica is my fucking bed. Metallica is my home, and it would be fruitless to leave the band because, if I did, people would be reminding me every single day of how I was the Metallica guitar player. I don't want to be put in a situation where I have to resist that.
"I want to always fucking be seen as just another guy in Metallica trying to make the best music along with these other three guys because that's basically what we do. That's our calling. It's what the freaking universe wants us to do. I think along those lines."
Kirk Hammett Explains What James Hetfield Told About His Solo Album 'Portals'
Back in his April 19 interview, Kirk Hammett had discussed his new album Portal's sound, saying it doesn't sound like Metallica. He also mentioned his little chat with his bandmate James Hetfield. According to him, he told James that releasing an effort without them was weird, but James replied by saying this was a learning experience.
"Usually when there is an album release — it's the four of us. We all have each other's backs," Kirk said. "We are all supporting each other because it's kind of a nerve-wracking sort of emotional and mental thing. Usually, during this time, we have each other to talk to about any sort of insecurities or whatnot.
"But now that I have put out a solo album, I am the guy who bears the whole burden of all that. I said to James, 'This is weird. I have an album release and usually, I have you three other guys. But it's just me and it makes me feel insecure and nervous.' And James only had one reply: 'This is a growth and learning experience for you, bro.' And I go, 'Thank you for saying that because I didn't see it like that.'"