Brian May Admits Axl Rose Was 'Recluse' When He Joined Guns N' Roses: "It Was An Odd Experience"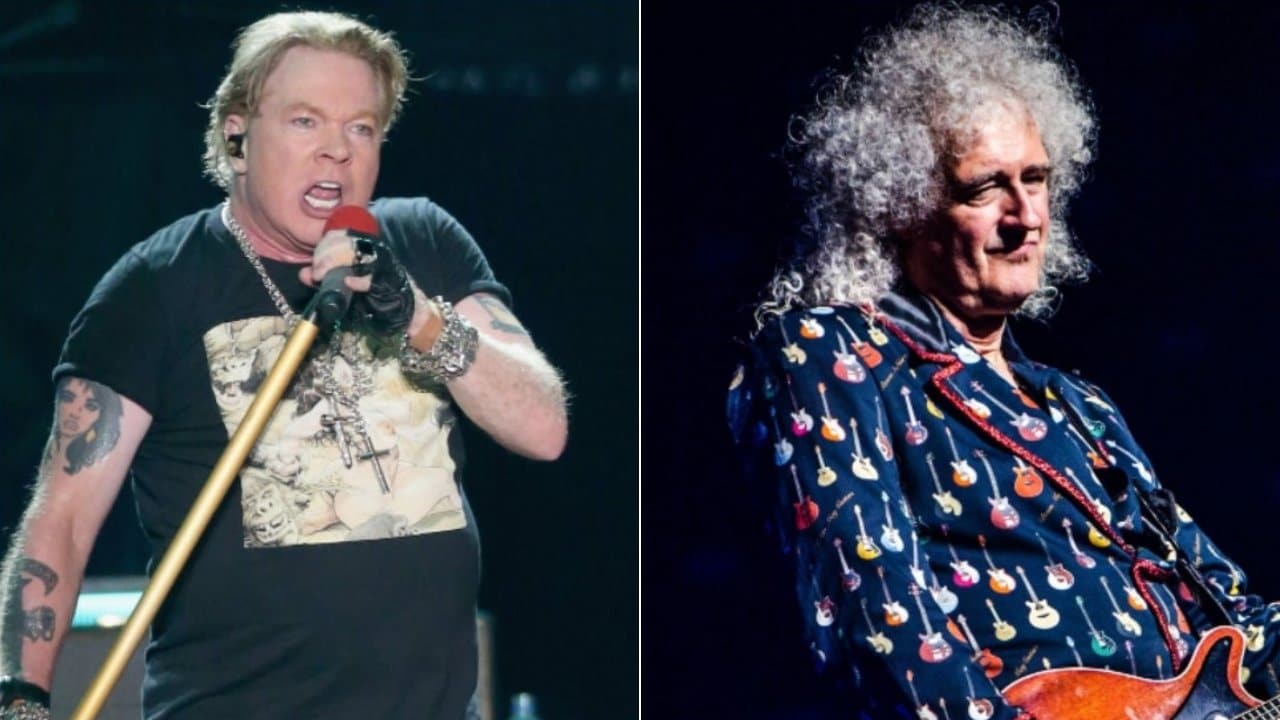 In a new interview with Guitar World, Queen guitarist Brian May recalled joining Guns N' Roses to record the latest album Chinese Democracy after the invitation of the band's singer Axl Rose. Brian May confirmed that it was an odd experience.
Brian May gained international fame as a member of Queen. He has been the lead guitarist, songwriter and co-founder of the band since its formation in 1970 and was inducted into the Rock and Roll Hall of Fame as a member of them in 2001. Over a 5-decade career with them, Brian May contributed to Queen's huge hits such as We Will Rock You, The Show Must Go On, Flash, Hammer To Fall, I Want It All, and Who Wants To Live Forever.
Out of Queen, Brian May has tried to make remarkable things as a solo musician, as he is one of the most helpful musicians in rock. In 1992, he officially started his solo career with his Back To The Light. And then, Brian May released his second solo studio album in 1998, named Another World. He also collaborated with world-renowned musicians, including Kerry Ellis, Fight Finger Death Punch, Brantley Gilbert, and Fito Paez.
One of those artists Brian May performed with was the rock giants Guns N' Roses. Back in the mid-1990, Slash, Gilby Clarke, and Duff McKagan had left the band years later Guns N' Roses released its fifth studio album, "The Spaghetti Incident?". At the time, Guns N' Roses was preparing to release its latest studio album Chinese Democracy, which was recorded between 1998 and 2007, and numerous musicians took part in the recording process. Suddenly, Axl Rose also invited Brian May to work on Catcher In The Rye. It didn't work because his works were removed from the final mix.
Recently, Brian May opened up about what he thought when he heard his works on the album were removed. Previously told via his website that he did put quite a lot of work in, and he was proud of his contributions to the album, Brian May now admitted that it was an odd experience working alongside Guns N' Roses.
"It was an odd experience," Brian says. "I think it was about midway through the whole thing."
Brian May Says Axl Rose Was Recluse
In the continuation, Brian May expressed his disappointment about being removed from the album. Recalling his contributions to the album, including the recording process of the song, Brian even sent his respects to Axl Rose. He had no bad words for Axl Rose.
"By that point Axl was pretty much a recluse," Brian continued. "He was working in his house, and I was working in the studio at the bottom of the hill with his engineer at the time, and he only rarely came down. Now and again he would call in and get all enthusiastic and talk a lot, and then he'd be gone again. I don't think any of what I played actually got onto the album.
"I could understand if Axl wants to have an album which reflects the work of the members of the band as it is, right now. I do have mixes of the tracks with my guitar on, work tapes at the time, but they will remain private, out of respect for Axl."
Back this past December, Axl Rose was praised by his bandmate Slash, who said that everybody that he would work with before him was sucked. According to Slash, Axl Rose was the only singer who affected him emotionally in a huge way.
"I'd worked with different singers, on and off, for a while, and then when I met Axl and we started jamming together," Slash said (as transcribed by MetalCastle.net). "He was the only singer that ever brought an emotional content to it that affected me on an emotional level, on an energy level.
"A song all of a sudden went to a whole new level, and I felt it, and that's when I realized where music and vocals really meet," he continues.
"Because prior to that, everybody that I'd worked with sucked and I had no use for it, and I would just rather play instrumentally.
"But that's when I first really arrived at that poignant feeling that you get when things connect on a lyrical and the vocal level and the music level."