Lars Ulrich Explains Why Metallica Invited Miley Cyrus And J Balvin To Blacklist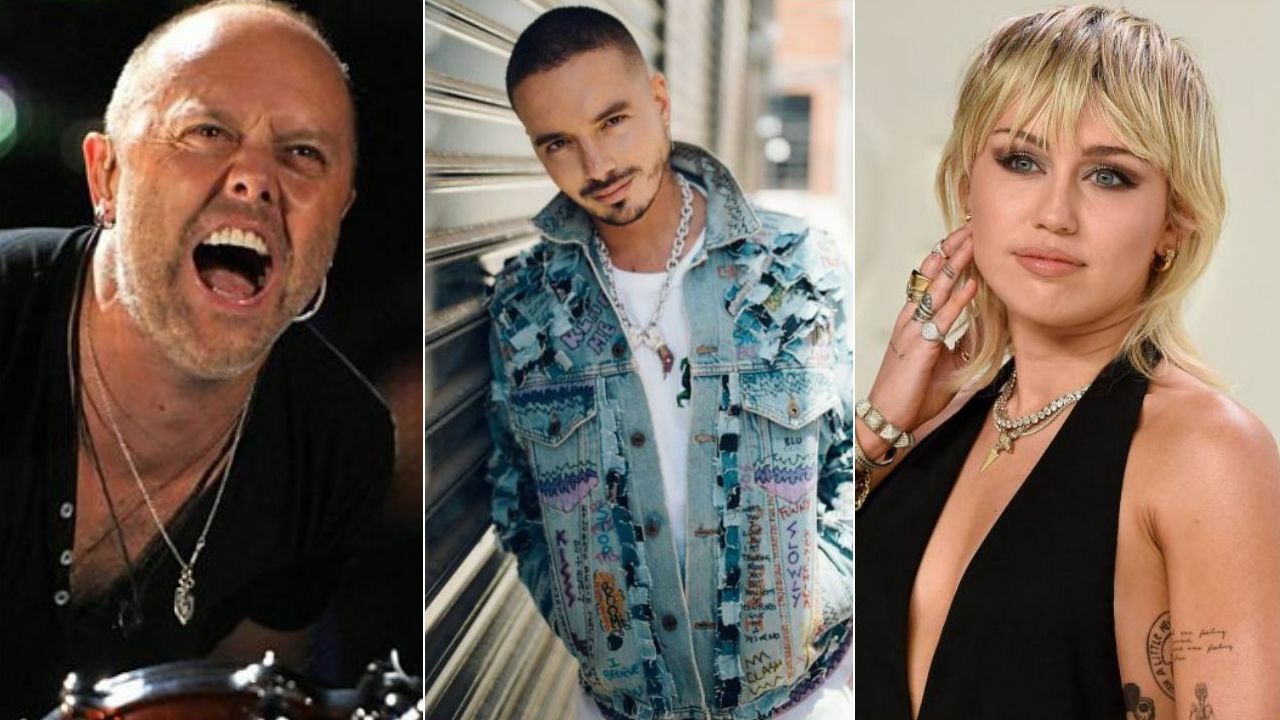 Metallica drummer/co-founder Lars Ulrich has opened up about why his band invited the pop stars Miley Cyrus, J Balvin, and more to their newest massive reissue of The Blacklist.
Metallica announced this past June that the band set to release on September 10 that the new massive reissue of the band's fifth studio album Black Album, the Blacklist, which was included by 53 artists in total to celebrate the 35th-anniversary of the record. Elton John, Miley Cyrus, Corey Taylor, Royal Blood, Volbeat, Ghost, Weezer, St. Vincent, Diet Cig, Jon Pardi, The Hu, Chad Smith, J Balvin are some of those musicians who appear on the album.
After the announcement, fans criticized Metallica due to letting pop stars covering Metallica's unique songs. In the eve of the release of the album, James Hetfield cleared air about the issue and said that "Metallica is Metallica, somebody covering our song isn't going to change us."
Recently, Lars Ulrich was one of those who talked about the guests of the album in a brand new interview with Forbes. He explained why Metallica invited Miley Cyrus, J Balvin, and more to the album and said that they have huge admiration and respect for the guests.
Lars Ulrich started his words by revealing how Metallica started its career 40 years ago. He added his words that it was great that somebody covers Metallica songs.
"Metallica started as a cover band," Lars said. "And Metallica still loves to engage in all things covers and other people's music. And, over the years, there have been so many different groups and genres that have been respectful and have done some crazy cool covers of Metallica songs – from bluegrass to great lullabies to Korean death metal bands to incredible hip-hop and classical interpretations. Here's somebody playing five Metallica songs on a hurdy-gurdy! Just an incredible range of stuff.
"But we've never really encouraged any of that. We've been grateful and appreciative but this project, the Blacklist, is the first one that we've sort of curated where we thought about getting peers and other musicians and bands together that we respect and admire and that have been maybe on our radar as Metallica fans or who have been appreciative of what Metallica has done over the years. So far, to curate this for sort of the first time, and see this project come together…
"53 songs strong! 53 incredible artists. That was crazier than anything we could have imagined. We didn't anticipate we would get a response rate at this level. So it's turned into a sizable project. But I think it's one that's going to have legs for some time as people discover all of this different music."
Ulrich Expresses His Excitement About The Differences Of The Songs
Continuing to talk about the guest musicians on the album, Ulrich expressed his excitement about the differences in the songs. He said that it was great that someone sang the song with its own style.
"We encouraged everybody to just pick a song," he says. "We were not going to tell them which songs [to do]. And if five different people wind up doing [the same song], that's fine.
"An incredible British artist named Sam Fender did a very, very sort of sparse and simple interpretation of the song 'Sad But True.' Jason Isbell, who is also an incredible artist, has done it too. Many people have done "Sad But True." But if you listen to those two back-to-back – Jason Isbell and Sam Fender's takes on "Sad But True" – that is indicative of the kind of diversity that this project, to me, really signifies and what I'm proudest of.
"I think that in 2021 to be able to cast a net that wide is so special. To have all of these artists from all of these different countries and genres and backgrounds take these 12 songs from the Black Album and make them all just sort of sound their own and give them their own stamp… And then sitting down as a group with 53 songs and sort of understanding the diversity and the scope of how varied all of that is, that just makes me super proud and super grateful.
"And I think to be able to hear the different interpretations of how different artists have sort of taken a Metallica song and turned it into something that's completely their own, and that is completely different than what our original interpretation was, is crazy.
"Kind of circling back to where we started, who the fuck would have imagined 40 years ago that that could even happen – that that type of thing was in the future. It's pretty crazy."