Knotfest Upcoming Tours For 2022 And 2023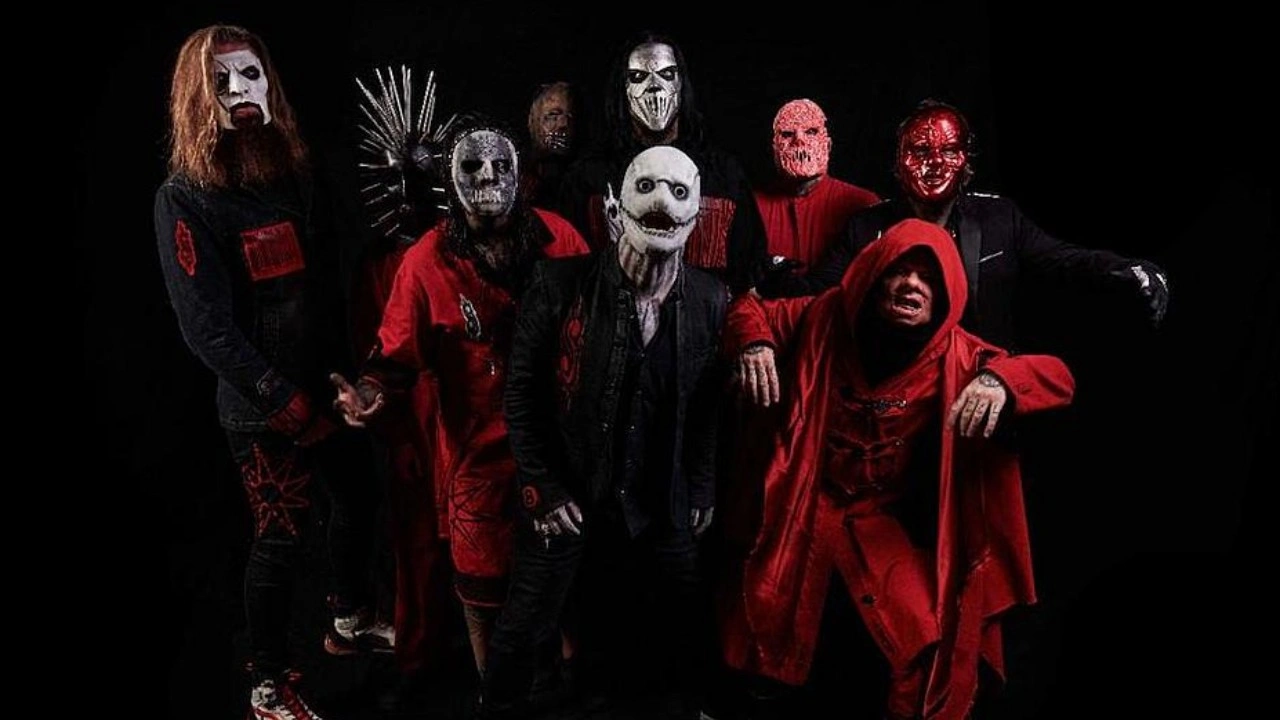 Festivals are the artery of rock and metal music, no doubt. It offers fans a spectacular visual feast, a more energetic approach to live shows, to have fun with the community, crazy pre-show performances, and further increases their passion for the artists. But, in this festival called Knotfest, there is much more what we have said! So, let's learn Knotfest upcoming tours.
Knotfest Music Fest is a music festival created by the heavy metal act Slipknot in 2012. It's been a decade since it went live and touched fans' hearts. There are several countries the event has booked dates so far, including Canada, the United States, Mexico, Germany, France, Brasil, and Japan. So if it hasn't come to you, you try to go to it, because it will be worth it!
However, there are a lot of scenes and countries that the event will visit in the future. In this article, you will find Knotfest upcoming tours for 2022 and 2023. So, let's learn where Knotfest will go in the future!
Knotfest Upcoming Tours
Knotfest followers are getting excited for the last remaining weeks of 2022 and the whole of 2023. Although few shows have been announced for 2023 so far, fans are eagerly waiting for the Knotfest 2023 tour dates. In 2022, Knotfest has only a few dates left, but it is still of great interest! Let's detail Knotfest's remaining shows as of today.
Knotfest Argentina 2022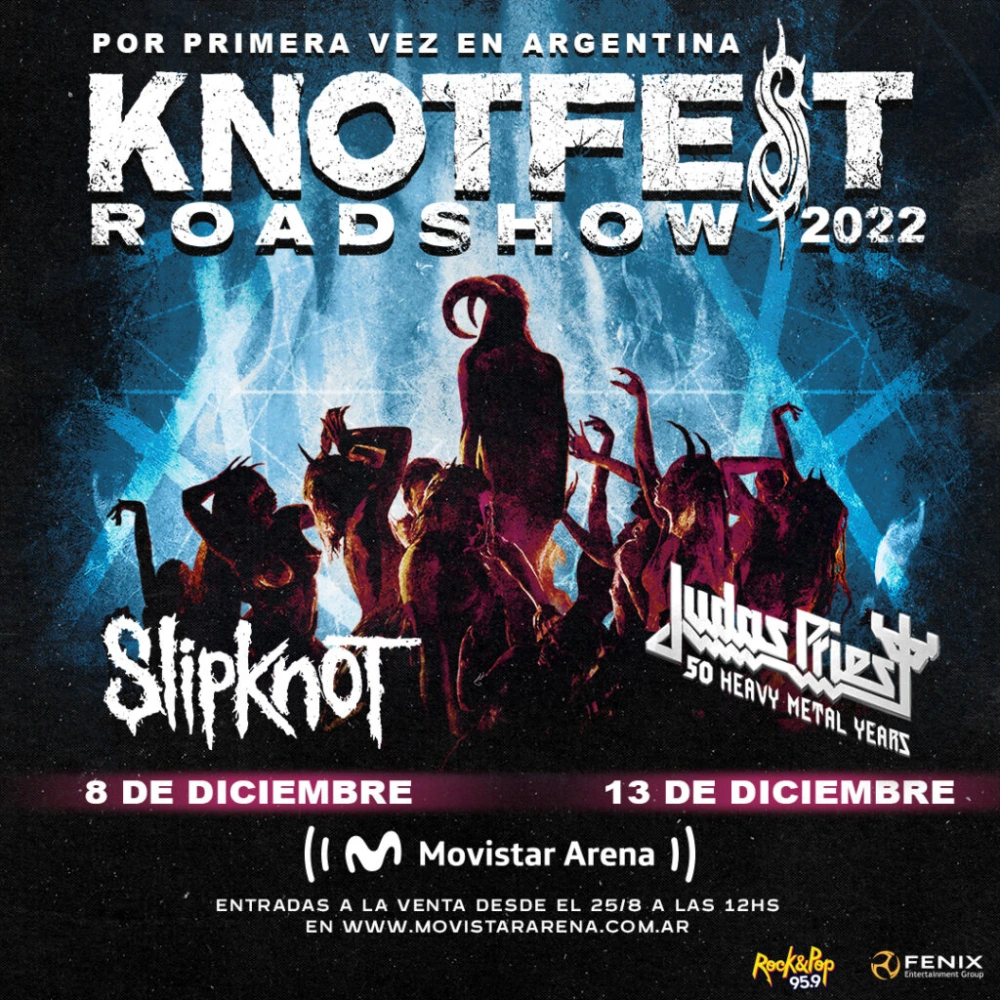 The event has made its first venture into Argentina with three nights of performances. On December 8, 2022, Slipknot rocked the Movistar Arena in Buenos Aires in support of Arde La Sangre. The second night will be headlined by Judas Priest on December 13, 2022, with the support of Horcas. Furthermore, Trivium will rock the audience on December 15, 2022, after supporting from .MAR. So, here are the remaining dates for Knotfest Argentina 2022:
December 13, 2022 – Judas Priest and Horcas
December 15, 2022- Trivium and .MAR
Click here to get more information.
Knotfest Italy 2023
Slipknot announced the first-ever Knotfest Italy for 2023 just a few days ago by today. The event's seven names have already been announced; while Slipknot is named the headliner, they will be supported by Amon Amarth, Architects, Destrage, Nothing More, I Prevail and Lorna Shore.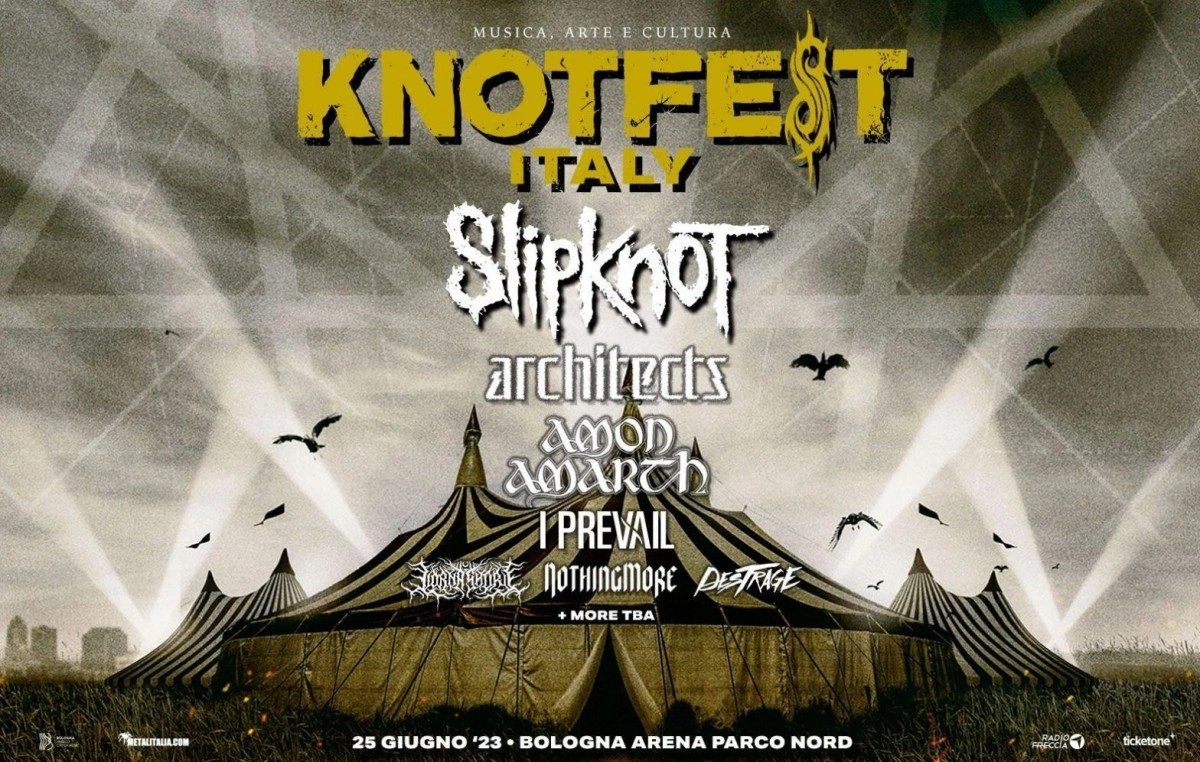 As of today, there is only one date for Knotfest Italy 2023, which will be held at Arena Parco Nord in Bologna on June 25, 2023. Tickets on sale here.
If you want to learn how to get to Arena Parco Nord in Bologna by bus, train or car, here's your answer:
By Bus: You need to take the bus 25 or 410 from Piazza Maggiore and get off at the Parco Nord stop
By Train: Take the bus 25 from Bologna Railway Station and get off at the Parco Nord stop

By Car: If you use The A14 motorway, you must take the Bologna Fiera exit and turn right at the first roundabout. After that, follow the directions to get to Arena Parco Nord
Knotfest Australia 2023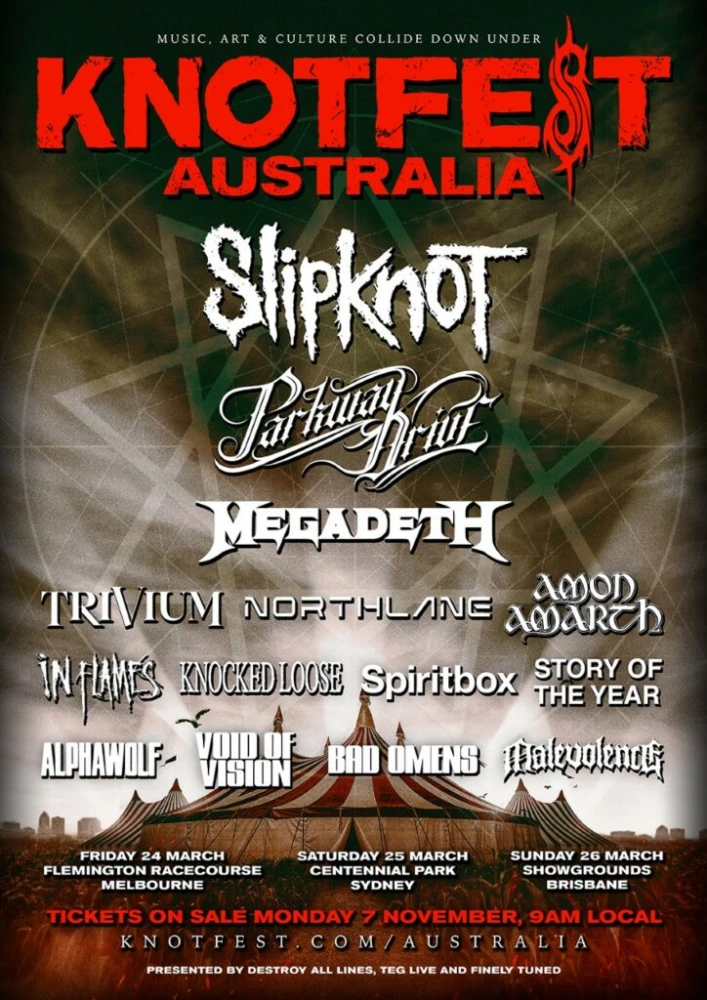 The Australia version of Knotfest will feature 14 bands to rock three cities in the country, as the band said: "The masked nine will take on Melbourne, Sydney and Brisbane in March of next year," adding, "Expanding the international footprint of the Knotfest banner, Slipknot have confirmed a trek to the land Down Under with the announcement of Knotfest Australia set for March of 2023."
While the event will be headlined by Slipknot, there are also great acts such as Megadeth, Amon Amarth, In Flames, Trivium, Northlane, and more. You can find more bands below.
Knotfest Australia 2023 Lineup:
Slipknot
Trivium
Amon Amarth
Megadeth
Story Of The Year
Knocked Loose
In Flames
Spiritbox
Parkway Drive
Malevolence
Bad Omens
Alpha Wolf
Void of Vision
Northlane
The event will be held on three separate days. Starting on March 24, the shows will continue until March 24 and March 25, two consecutive days. So, you can reach the full calendar below:
March 24, 2023 – Melbourne @ Flemington Racecourse
March 25, 2023 – Sydney @ Centennial Park
March 26, 2023 – Brisbane @ Showgrounds
The tickets went on sale on November 7 via Knotfest Australia's website.
Knotfest Brasil 2022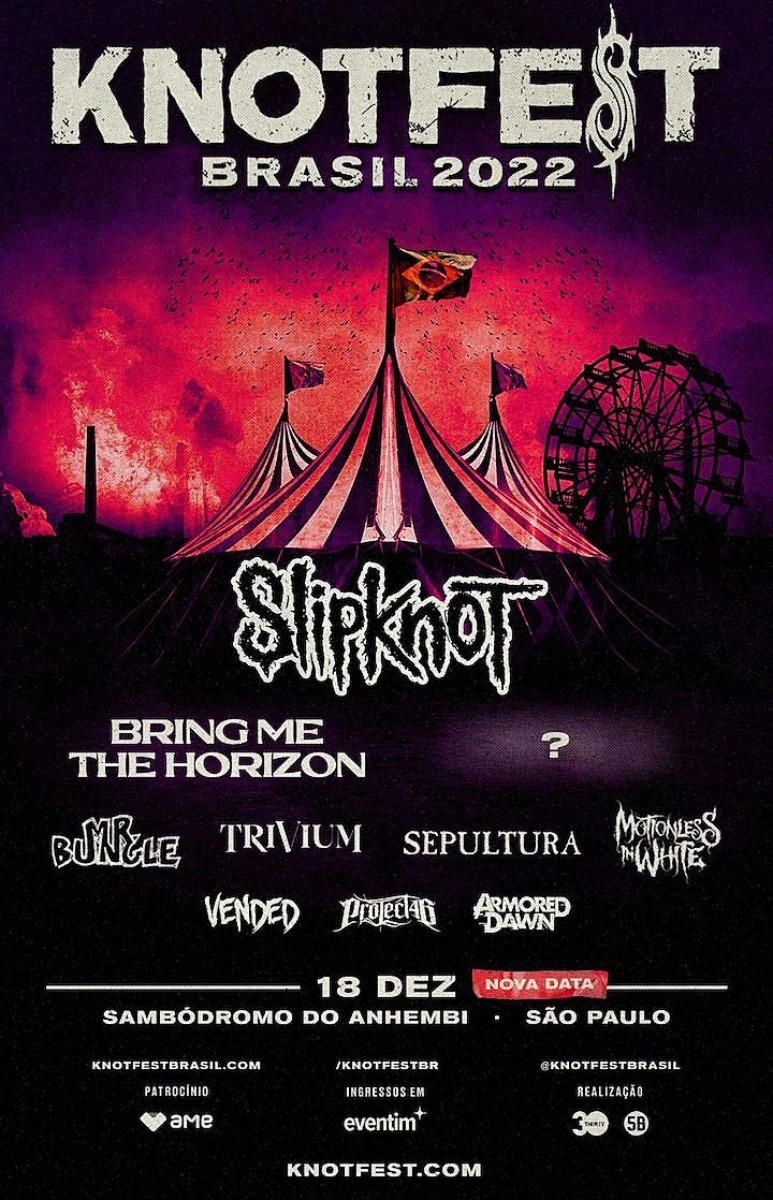 The Knotfest will visit Brasil for a legendary show held at Sambódromo do Anhembi in São Paulo on December 18, 2022. Besides Slipknot, the event will feature Bring Me The Horizon, Mr. Bungle, Vended, Sepultura, Pantera, and more. The full lineup of the show can be seen below.
Knotfest Brasil 2022 Lineup:
Slipknot
Judas Priest
Bring Me The Horizon
Pantera
Sepultura
Mr. Bungle
Motionless in White
Vended
Project 46
Trivium
Jimmy & Rats
Oitão
You can reach tickets here.
Knotfest Chile 2022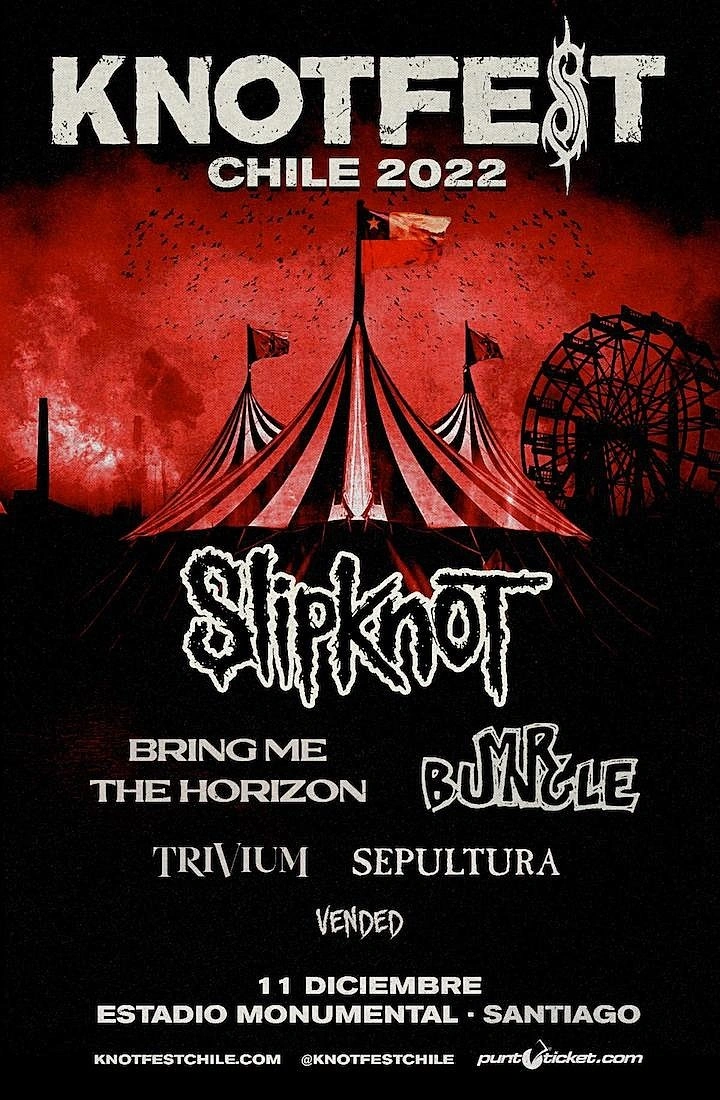 The Knotfest Chile will only remain for one day: December 11, 2022. While the event headliner is Slipknot, there will be 10 bands in addition to them. Judas Priest and Pantera will be announced for the event, in addition to Knotfest Brasil.
Knotfest Chile 2022 Lineup:
Slipknot
Pantera
Judas Priest
Mr. Bungle
Bring Me The Horizon
Sepultura
Trivium
Weichafe
Tenemos Explosivos
Kuervos Del Sur
Visit here to get tickets for Knotfest Chile 2022.