Slipknot's Corey Taylor Discloses How He Designed His New Mask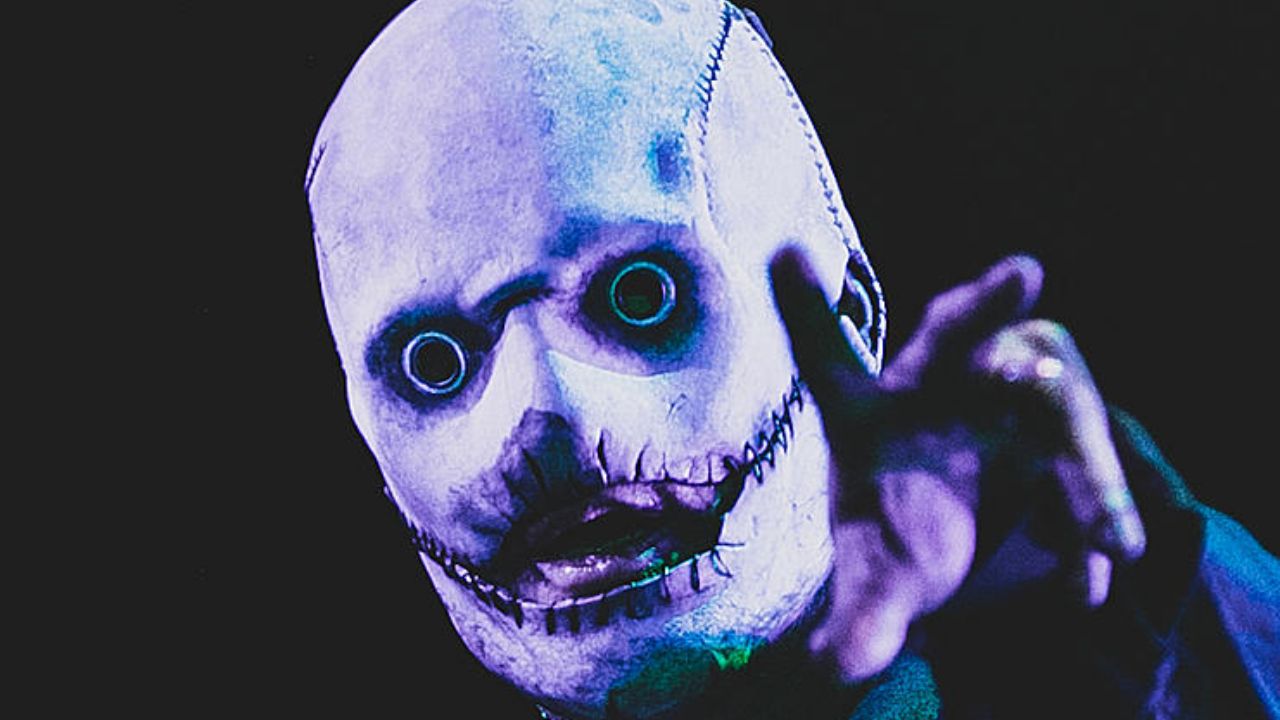 In a new appearance on Texas Frightmare Weekend, Slipknot frontman Corey Taylor has opened up about his newest mask and disclosed how he designed it.
Corey Taylor is the lead vocalist and frontman of the heavy metal band Slipknot. He is known for being the #8 of the band and has been a member of them since 1997. Debuted in 1999 with the band's self-titled Slipknot, Corey Taylor played in every one of Slipknot's albums.
Outside of Slipknot, Corey Taylor unleashed his debut solo studio album CMFT on October 2, 2020. Featuring 14 songs in total, the album ranked number 8 at ARIA, number 44 at US Billboard 200, number 6 at US Top Rock Albums of Billboard.
However, on September 4, 2021, at Rocklahoma Festival, Corey Taylor had made his first-ever public appearance with his brand new mask. In this mask, it looked like Corey was inspired by a skull. It was white and had contained black marks around the eyes. Taylor's mouth was sewn with thread, just like some of his previous masks.
Recently, the musician talked about his new mask and how he decided to make it. At first, the 48-year-old musician when he started to design the mask. He also revealed a surprising fact and admitted that he was not too happy about his previous mask.
"I spent three months designing that specifically. 'Cause, the last one was – it was cool but it wasn't exactly what I wanted to do.
"So this time around, I started early.
"I actually started designing this before the end of the [2019] 'We Are Not Your Kind' cycle, just to make sure that I was ahead of the game and making sure I could dial in all the details and whatnot."
Corey Taylor Reveals How He Get The Idea About His New Mask
Later then, Corey continued by revealing his inspiration about his new mask. According to him, a young friend of his named Connor Deless helped him to design the mask. He also mentioned how he calls the mask and said that it's the smiling skull mask for him.
"I actually did it with a young man named Connor Deless, who's super cool," Taylor continues. "And he flew out. I walked him through everything that I wanted to have on it.
"And he was able to mock something up really quick, man. And he really got to the essence of what I was trying to configure. It was almost immediate.
"And then, really, it was just a matter of waiting for him to build the damn thing… We did the mold. We built it right to my face, so it fits like a glove.
"And it's hot as balls, but it's so rad on-stage – it just looks really, really cool. I'm calling it the smiling skull mask."
This past August, Corey Taylor had explained what he wants to do in the future. Saying that he has a style of jazz, Corey had said that he wants to do a jazz album.
"I definitely want to do a jazz album at some point," Taylor says. "I talked about it in a couple of different interviews and stuff.
"But I definitely have a certain style of jazz that I gravitate towards more – like a dirtier side of jazz, the whiskey jazz is what they call it…
"I definitely still want to do a darker acoustic album. I don't write stuff like that all the time, and the reason I don't do that is because it's so easy for me, I can write that shit in my sleep.
"I like tripping out on all the genres that I grew up listening to and trying to create some amalgam hybrid that is exciting and kind of pops and gets people into the stuff that I was listening to.
"Other than that, I don't know, man. I've done it all."