Guitarist Steph Honde Talks Working with Vinny Appice, Paul Di'Anno, and His Love for Iron Maiden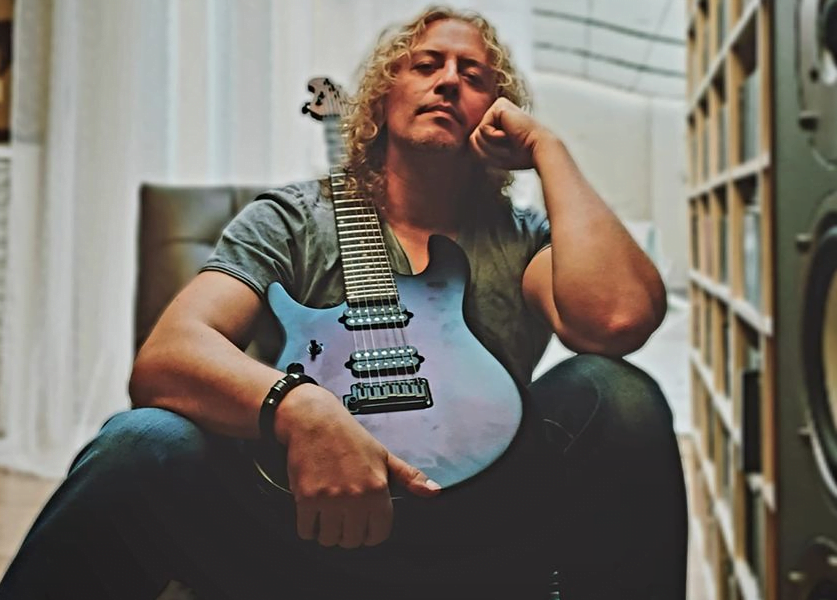 All images courtesy of Chipster PR/Getty Images
As one of the low-key six-stringers of his era, Steph Honde has made an impact through his use of insightful instrumentation and determination to perpetuate the music he loves in the modern age.
Growing up in France, Honde harbored a deep love for heavy metal music, particularly Iron Maiden. And that love has guided him through various stops along the way, which have found the axe-man residing with Vinny Appice, Jim Crean, Don Airey, and Paul Di'Anno.
After folding the Holywood Monsters' proverbial tent, Honde moved to pastures anew, forming Screamtaker with longtime cohorts Jim Crean and Vinny Appice for 2022's raging new album, Kill the Beautiful. With influences ranging from Sabbath to Dio to Maiden, Kill the Beautiful follows in the footsteps of the music that Honde and company have made their life's work.
As he prepares to support Kill the Beautiful, and with his eye ever-fixed on his next project, Steph Honde checked in with Metal Castle to run through his origins in music, his love for Iron Maiden, working with Vinny Appice and Jim Crean, and a whole lot more.
What was the moment which first sparked your interest in music?
I remember this moment very well: It was in 1988, I was coming home from school, and I saw this big poster of the Iron Maiden album Seventh Son of a Seventh Son outside a record store; I was totally mesmerized by the artwork. I didn't know who or what Iron Maiden was, but I went to the record store and bought the album, my first K7. I played the album on my Walkman and heard the first songs, and I was immediately hooked!
Nobody in my family was into music, so I had no knowledge of that department. I didn't know what hard rock, prog, and all that was. Everything was new to me. The week after, I got to listen to my first Pink Floyd album, Dark Side of the Moon, which was another shock. I was hooked on music, and 30 years later, I own thousands of albums. But it took me a few years before I got to start playing an instrument.
Who were some of your earliest influences that first shaped your style? How would you say that style has evolved as you've moved through your career?
I was lucky enough that the first album I bought was Iron Maiden's Seventh Son of a Seventh Son because it has a prog rock influence, so it got me into hard rock and prog simultaneously. I was and still am into Pink Floyd, the early Maiden, Genesis, Deep Purple, Whitesnake, Marillion, and Frank Zappa.
Of course, my style and taste have evolved through the years, which is a problem. [Laughs]. I like a lot of different kinds of music, and as a musician, sometimes better to stick to one genre of music; otherwise, the fans can get confused. But I would say that the bands I've named are in my DNA as a musician. There will always be a heavy and a prog side in my music.
What were some of your earliest gigs where you first cut your teeth?
My first amateur gig was at school when I was 18 or 19. But my first gig as a pro was in a "Ski station" in the French Alpes, and it must have been one of the most miserable gigs I have ever done. We played in a hotel for a week, but the hotel didn't have any clients for the whole week. [Laughs].
Take me through the formation of Scream Taker.
I've met Vinny Appice for 12 years in L.A., and we have recorded three albums since with my project Hollywood Monsters and another for Jim Crean's last solo album. Frankly, I don't remember how I got in touch with Jim, but it's been years since we have known each other.
We decided to write new material together during the pandemic, and it was an obvious choice to get Vinny to play on those songs, especially since I've written the music for his drumming style. We thought it was better to present ourselves as a band instead of something like Appice/Crean/Honde. It's a real band, not a project. I composed and wrote the music, and Jim and Vinny have worked on some arrangements.
All images courtesy of Chipster PR/Getty Images
What can you tell me about Kill the Beautiful? How did these songs come together?
If you love Black Sabbath and Dio, then you know what it's all about. We wanted to have fun and write an album that could sound like an unreleased Sabbath/Dio album. Sincerely, I think it sounds as good as the early Dio material; I'm very proud of it. I recorded the instrumental demos by myself (guitars/bass/keyboards/drums), and Jim wrote the lyrics and melodies. It was swift; I think the whole album was composed within two weeks.
From a songwriting perspective, how have your collective experiences affected the music?
Songwriting is my favorite thing to do as a musician. Most of the time, I write everything myself, but I'm learning to write songs with other musicians, and it's a very good experience. I never thought that I would be able to collaborate with somebody else because I used to like being in control, but I've learned that people can add ideas that you would never think of. Sometimes you need to trust the other musicians and let them write their parts. It gives more relief to the music.
How about the production mixing side of things? Take me through that process and how the final sounds were honed in.
I have recorded my guitar/bass and keyboard parts in my recording studio in the south of France; Jim did the same in New York and Vinny in L.A. The process has been very long because we are all swamped, but the album sounds amazing. Apart from the Dio and Sabbath influences, you'll also hear some Zeppelin and Purple. It's a very honest album because it is 100% us, and it's real amps, real drums, and no Auto-Tune. It's 100% real and rock 'n' roll.
All images courtesy of Chipster PR/Getty Images
You're well known for your work with Hollywood Monsters. That band was your baby, right? What led to the decision to end it in 2021?
I've decided to end it for multiple reasons. I knew from the start that I was going to release three albums, and I got tired of the "all-star project," it's a very complicated project to deal with, and I could never get to bring this project on the road, so I thought that it was better to move and be part of a real band. This was my baby, and it helped me a lot to get a name in the US; I'm very proud of these three albums.
One of your earliest gigs was Cafe Bertrand. What were the biggest takeaways from your time in that band?
I could write a book about this band! We were the real Spinal Tap. There's so much to say about this band, but we managed to go on tour for more than a year with Deep Purple and to play in the two biggest French stadiums with AC/DC. The band got pretty big pretty quickly, but our egos did as well. Unfortunately, that's never a good mix.
I wanted to touch on your time with Paul Di'Anno as well. How did you get the gig?
I heard right after I left Cafe Bertrand that he was looking for a band, so my band and I recorded a rehearsal of us playing early Maiden material, and we got the gig. We were all fans of the early Maiden material, so it felt very natural to play these songs.
In my estimation, Paul is one of the most underrated metal vocalists of all time. What can you say about his influence, having worked closely with him?
Maiden was the first band I've been listening to, so it's pretty unreal to me to get to play with the voice of Killers. I agree, he is a very underrated singer, and Killers is my all-time favorite Maiden album; everything is great on this album, especially his singing. He deserves more recognition, but I think the problem is that he was too different from the rest of the metal scene.
He is into punk; he loves the Ramones. We had the project to write a punk album with the energy of the early Maiden albums, but he had health issues, and we never got to do it. I have recorded some demos, though. I wish we could work on this project in the future. I think an album with Paul singing what he deeply loves would be successful.
Last one. What's next for you in all lanes?
I'm working on the new Sunroad album. I'm doing a duet with Ronnie Romero on this album; it's going to be pretty amazing; it sounds like a mix between UFO, Michael Schenker Group, and Scorpions. We are working on a Brazilian tour in October. I'm also working with a new band in France called Sloane; it's prog rock, and it's perfect. And there's another project with some big names, but I can't tell you more at the moment.
All images courtesy of Chipster PR/Getty Images
– Andrew Daly (@AJDWriter88) is a contributing writer for Metal Castle and may be reached at andrew@vinylwriter.com