Steve Vai Speaks Heartwarming On Jimmy Page: "He Has Been The Space That Enables All Of Our Notes To Be Played"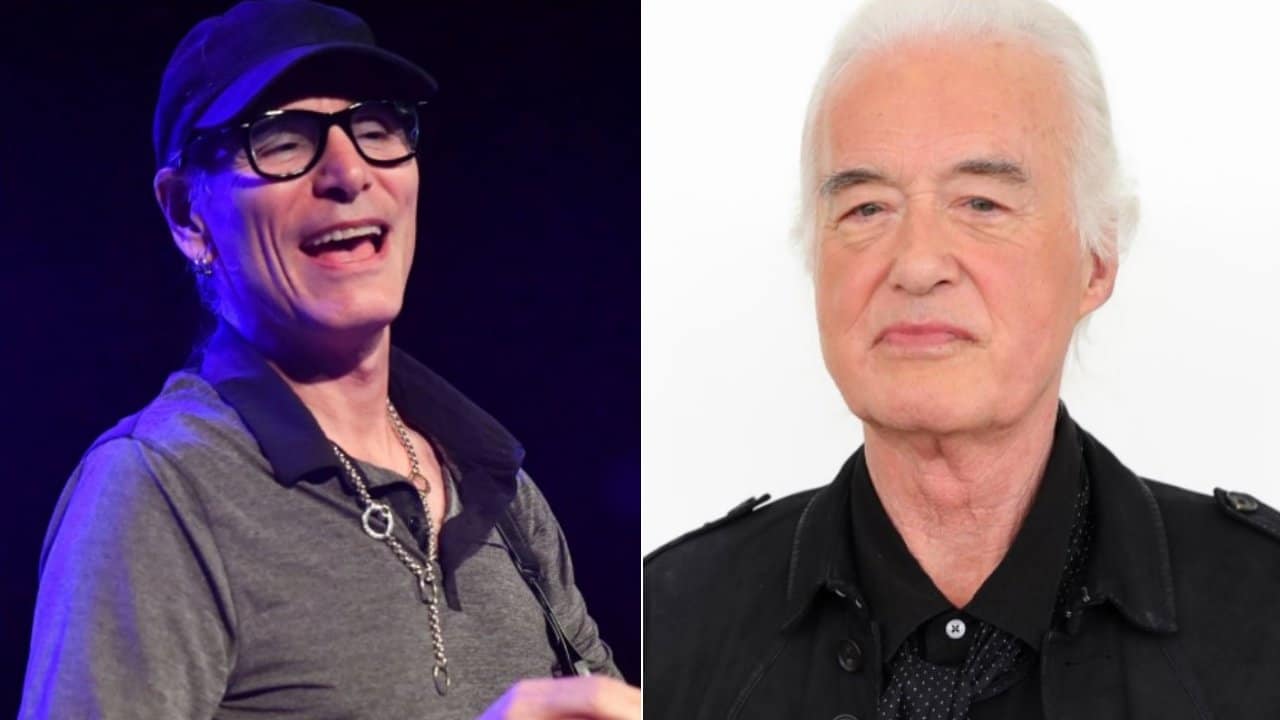 Steve Vai made heartwarming comments on Jimmy Page and his band Led Zeppelin, touching on their greatest hit Heartbreaker, which is Vai's favorite of all time.
The guitar mastermind Steve Vai is one of the most important guitarists in the history of rock music. As the Grammy Awards-winner guitarist has released 11 solo studio albums in total at press time, he contributed to the genre's growth. Debuted in 1984 with his Flex-Able, Vai released his latest and eleventh studio effort, Inviolate, on January 28, 2022. During his ongoing existence in rock, he played with great artists such as David Lee Roth, Joe Satriani, Alcatrazz, Frank Zappa, Whitesnake, and more.
As he has been an influence on the young artists, Vai has inspiration for himself as well. Some of those acts that have inspired Steve Vai in rock were Led Zeppelin and Jimmy Page. The band's second studio album Led Zeppelin II and the album's classic song Heartbreaker were two of Vai's favorite Zeppelin efforts, as he told before. When the first time Vai heard Led Zeppelin, Jimmy Page and Heartbreaker, it was the moment he fell in love with the guitar.
On the other hand, Jimmy Page is a world-famous rock musician known for his career with Led Zeppelin. Although the band's career was short-lived, Jimmy Page developed himself and, adding to his perseverance in working on his talent, became one of the best in rock music. Being one of the writers of Heartbreaker, Page helped the band to reach its international fame with his unique contributions and style.
However, during a recent appearance on Raised On Radio, Steve Vai talked about his love and respect for Jimmy Page and Led Zeppelin. Revealing the first time he heard Zeppelin and how they inspired him, Vai admitted then he took his guitar when he first heard the band's hit, Heartbreaker.
"Usually, we were inspired by the music that our parents are bringing or our siblings are bringing home," he says. "My sister brought home Led Zeppelin in the middle of my fascination with compositional music. And once I heard it, and I already had a love affair with the guitar going.
"And I heard that song 'Heartbreaker.' I knew what was going on. It was the meanest, coolest, most refreshing, alive, vibrant, visceral attack on the strings that I had ever heard. And it just lit me up. I'm like, 'That is the coolest thing ever. I want it.' And that was it."
Steve Vai Mentions Important Thing He Told Jimmy Page
In the continuation, the guitar legend was asked if he ever talked with Jimmy Page about the massive influence he had on Steve Vai becoming a worldwide musician. Saying that he already knows it, Vai added that Jimmy Page has been the space that enables all musicians' notes to be played.
"He knows," Vai laughs. "When he was being awarded an honorary doctorate of music at Berkeley, they asked me to write something for him. I'll have to paraphrase, but it was something to the effect of – in the physical universe, there are things that include stars and planets, all life and all dimension.
"And then there's the space that enables these things to exist. That space is a vital element since 1968 for every kid that has picked up a guitar to try to find his voice on the instrument. Jimmy Page has been the space that enables all of our notes to be played."
Back in 2020, Jimmy Page had mentioned Led Zeppelin's self-titled and debut album, Led Zeppelin. Revealing a weird truth about the album, Page had admitted that they recorded the album in around 30 hours.
"It's interesting to see the very first days of when we go in the studio as Led Zeppelin, to start 'Led Zeppelin I.' The times that we were, like, 10 at night, 11 at night. It's the downtime of the studio.
"Because we weren't the Led Zeppelin that we were even a year later, where we could call some shots of going in on the downtime of other people. But it's interesting to see how efficiently it was done, and the whole journey once we hit.
"That was in September [1968], and we've got the album finished by October, within 30 hours of recording and mixing time. But it comes out in the first week of January over there in the States, and we're playing in L.A. and then San Francisco in January."