Guns N' Roses Posts A Touching Photo For Angus Young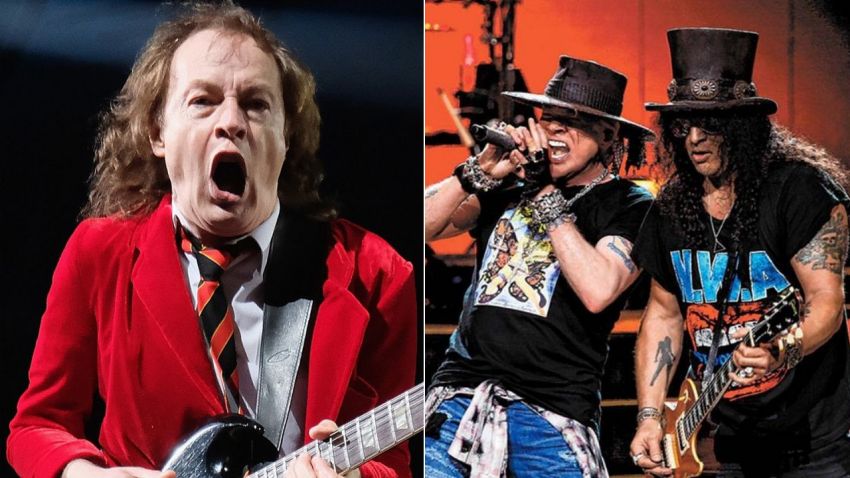 The Rock and Roll Hall of Famer band Guns N' Roses, which has released its debut studio album in 1987, has just sent a special Instagram post to celebrate AC/DC founder and guitarist Angus Young's 66th birthday.
Angus Young, one of the legendary guitarists of rock history, has turned 66 on March 31. During his epic career with AC/DC, Angus Young has released twenty albums with the band in total. Also, in 2003, Angus Young and AC/DC were inducted into the Rock and Roll Hall of Fame.
Recently on Instagram, Guns N' Roses, a rock band whose members are very close friends of Angus Young, has shared a photo for Angus Young and proved once again that how a great friendship they have with Angus Young.
THEY SENT AN ENTHUSIASTIC MESSAGE
Celebrating Angus Young's birthday, Guns N' Roses has sent a little message for him. Although the birthday message included a few words, it has a big meaning for Angus Young.
They said: "Happy Fn birthday, Angus!"
TWO-PHOTO CELEBRATION POST
When they celebrated his birthday with a special message, Guns N' Roses has added two different photos for Angus Young.
In the first photo, AC/DC members, the vocalist Axl Rose, the bassist Duff McKagan, and the guitarist Slash, alongside Angus Young on backstage. They were laughing while looking at each other.
When people have swiped and reached the second photo, they've seen a photo of the same members. But this time, they were on stage and rocking the crowd with their iconic performances.
You can find the photos shared by Guns N' Roses below. Click here to see the original Instagram post.