Steve Vai On His Guitar Hero Jack White: "He's Unbelievably Creative"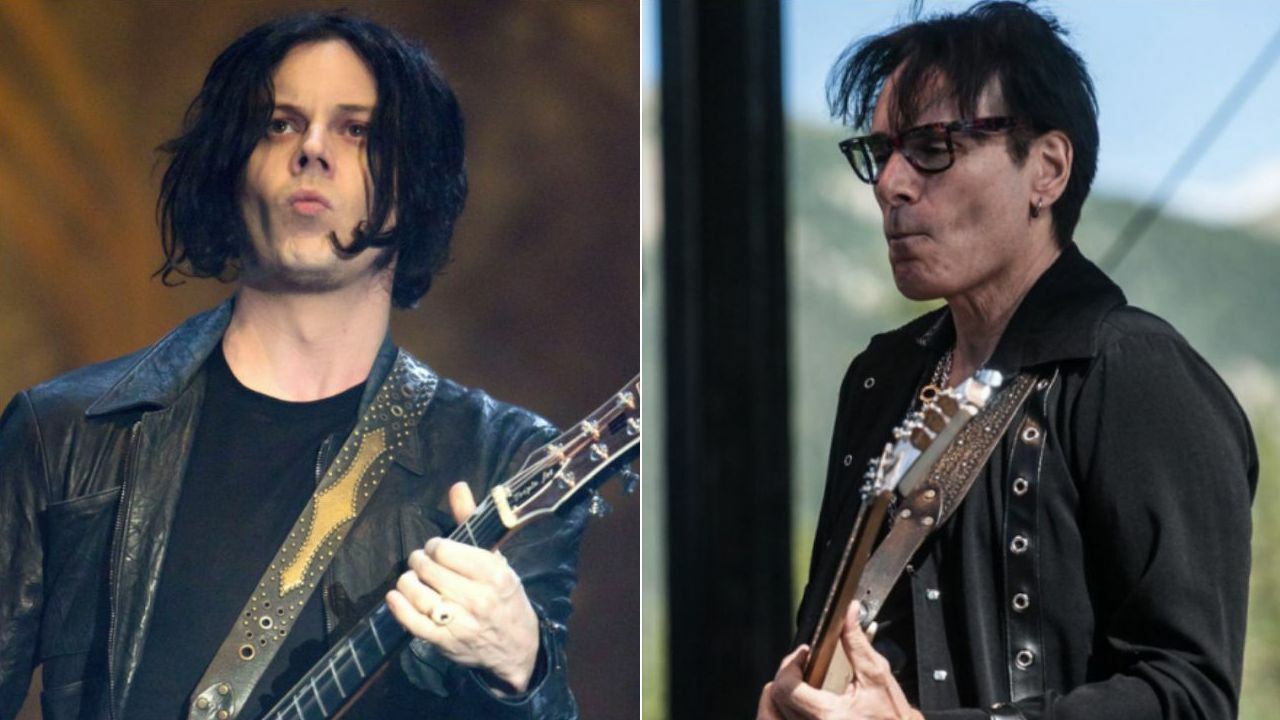 The highly individualistic player of rock music, Steve Vai, has picked his guitar god as the renowned rocker Jack White and said that his ability to construct a guitar sound is innovative and creative.
Being one of the most inspirational guitarists in the community, Steve Vai is an American musician who worked alongside talented names such as Whitesnake, Ozzy Osbourne, Alcatrazz, Frank Zappa, Billy Sheehan, Paul Gilbert, Eric Johnson, and Joe Satriani. During his ongoing successful career, Vai has released nine studio albums as of 2022.
Debuted in 1984 with his Flex-Able, Steve Vai, who started his career alongside Frank Zappa in 1980, has been hard at work on releasing his upcoming and tenth studio album Inviolate, which will be released on January 28, 2022. Nominating 15 times to win the Grammy Awards in the past, Steve Vai won three of them in 1993, 2002, and 2008, respectively.
Like every musician in the rock community, there are some guitar players that Steve Vai describes as his inspirations. The 12-time Grammy Awards-winner guitarist and singer Jack White is one of those Vai's inspirations. Widely credited as one of the key musicians in the garage rock revival, his other honors include numerous awards such as Brit Awards, Detroit Music Awards, MTV Video Music Awards, and O Music Awards.
However, during a recent appearance on the Premier Guitar podcast, Steve Vai named his guitar hero. Picking Jack White as his guitar god, Vai sent tons of heartwarming words to the musician. According to Steve Vai, Jack White is unbelievably creative, which might be one of those reasons Steve Vai liked.
"Jack White," Steve said when he named his guitar god. "Jack White is some people might not expect that someone like myself would see him as a genius or brilliant player because he's not a shredder like me.
"But when I listen to guitar, I don't listen with shredder ears. If somebody's shredding and they are doing it in a way that resonates with me then it's great, and there are guys that do that.
"But it's kind of like the blues in that, a lot of times I see guys playing blues and they are really just enjoying the fact that they know where to put their fingers. That's fine but there are deeper levels to all of that.
"Jack, his ability to construct a guitar sound is innovative and creative. He's unbelievably creative."
Steve Vai Says Jack White Is 'Completely Authentic'
Steve once again praised his guitar god Jack White in the continuation of his words. At first, Vai said that Jack is another guy that hears in dimension. Later, he touched on his playing style and mentioned White's use of gear. When Vai concluded his words, he admitted that Jack White is completely authentic.
"He's another guy that hears in dimension," continued Vai. "So you've got these very interesting guitar sounds in general, and they're very diverse.
"Then, with his use of gear, he does it wisely to where it serves the music as opposed to being a novelty widdly widdly.
"None of that is really effective on a long-term level unless the music is there. What he plays with that sound and all of those things that are obviously natural to him that you can hear it.
"This is what I was referring to. I wouldn't assume that he was projecting into the future about something he should do to fit in. He's completely authentic."
Back on his January 17 interview with My Global Mind, Steve Vai had talked about playing alongside Yngwie Malmsteen. In the interview, Vai had said that it was challenging to play with him. He also stated that no one can ever play like Malmsteen.
"I can't play like Yngwie [Malmsteen]; nobody can play like him," Steve admits. "Nobody can play like me. Nobody can play like anybody.
"What I did was take the harmony or melody of the song and play it the way I would do it. It was challenging because there were a lot of little fast runs with his fingerings and his tonal center, which is different than mine.
"I had to work on it. I could do it, but when it came time as to playing against each other, I'm Steve, and he is Yngwie.
"That is one of the greatest things about that tour; they are all extremely confident in what they do. They don't compete with you at what you do.
"What happens is it forces us to compete with ourselves to be the best we can be. Zakk [Wylde] is being Zakk as best as he ever can be.
"We are all helping each other to push all sorts of aspects of being professional to stage appearance to communication to playing to off-stage etiquette."