Dave Mustaine Praises Megadeth Guitarists: "They're Hard To Find"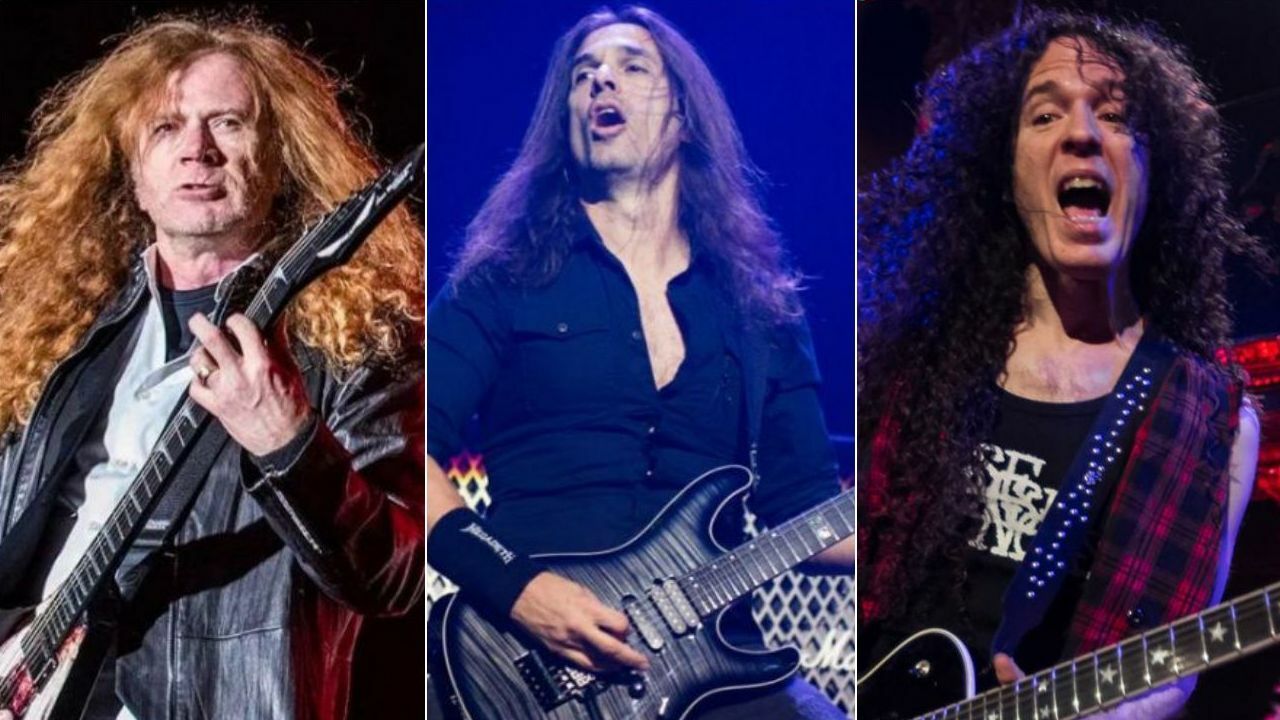 During a recent Cameo message, Megadeth frontman Dave Mustaine has sent praising words for his band's guitarists Kiko Loureiro and Marty Friedman and said that those players are hard to find in the rock and roll world.
Dave Mustaine reached world prominence as the guitarist and lead vocalist of his band Megadeth. During his ongoing career with the band, Dave Mustaine released 15 studio albums at press time. Also, the band's sixteenth studio album, The Sick, The Dying… And The Dead!, is on the way.
The musician had formed the band when he was fired from Metallica in 1983. Although the band's guitar place changed several times in the past, Megadeth has been rocking the stage with Kiko Loureiro since 2015. Chris Poland, Marty Friedman, and Greg Handevidt were some of those who played guitar in Megadeth.
However, in his new Cameo film, Dave Mustaine was asked what he thinks on Marty Friedman's guitar solo in Tornado Of Souls taken from Megadeth's fourth studio album, Rust In Peace. Recalling his first reaction to Friedman's solo, Mustaine said that he loved it so much.
"Hey, John, it's Dave Mustaine from Megadeth," the musician opens the video.
"Hey, I got your question about Marty's solo in 'Tornado Of Souls'. And… What did I think about it when I first heard it? I loved it.
"But — you've gotta remember these songs were played before, and Chris Poland had played on those. I'd have to listen back to Chris's solo to see how much of his performance had influenced Marty's solo."
Dave Mustaine Adds Guitarists Like Kiko Loureiro and Marty Freidman Are Hard To Find
In the continuation of his video, Dave Mustaine continued to send praising words for Kiko Loureiro and Marty Friedman. Saying that there are very few guitarists who plays like Marty Friedman and Kiko Loureiro, Mustaine added that they're great.
"I guess I should say a little bit about Marty, too, and his performance, when you said that you thought it was like Picasso," he continues.
"There's a lot of players out in the world that play like Marty. They're hard to find. If you're in a band and you're looking for someone like Marty Friedman, you'll see how hard it is by how long it took me to find Kiko.
"The other players I've had were great in between Marty, and I say that with all respect, but there's very few guys out there like Marty and Kiko."
Also, back in this past August, Dave Mustaine had informed fans about the current state of the new Megadeth album. He had published a photo on his social media channel, saying: "Sending the album in for mixing. Final step. I can't wait to play the new songs for you! #Megadeth @megadeth."