Brian May Says Taylor Hawkins 'Seemed To Be A Lot Cooler Than Queen Were'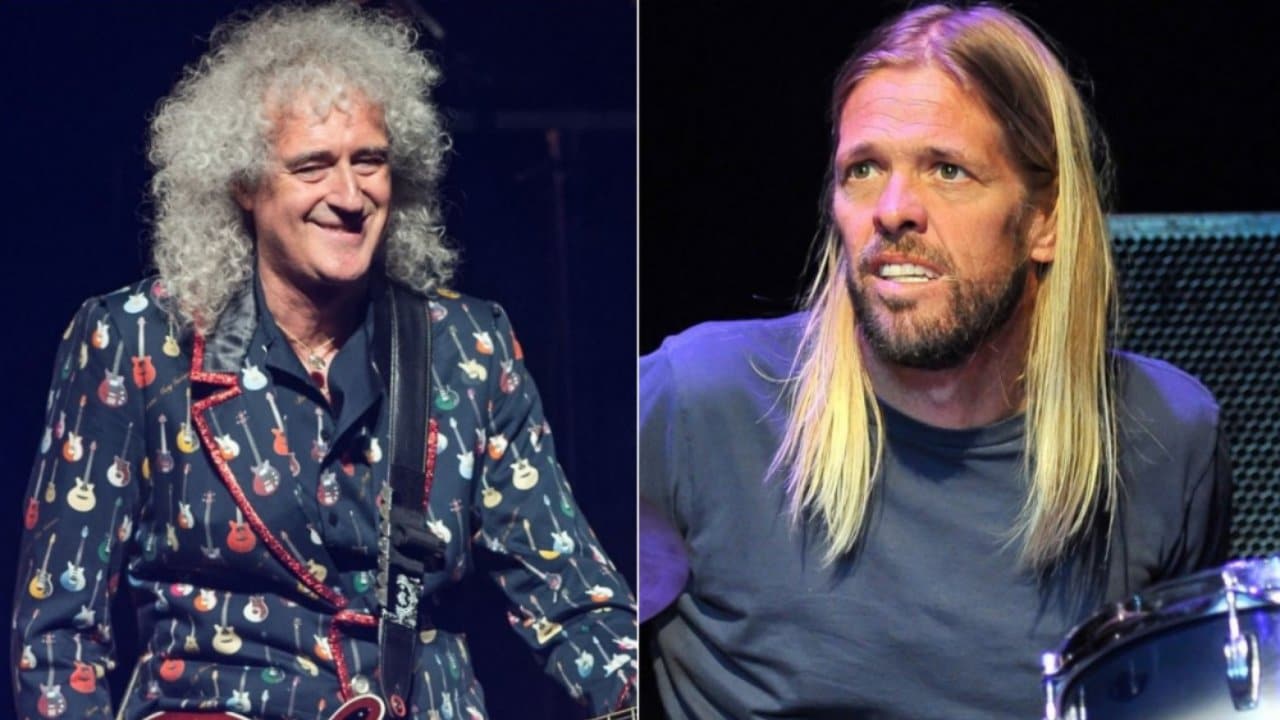 Queen legend Brian May once again sent respectful words for his studio-mate the late Foo Fighters drummer Taylor Hawkins and said he seemed much cooler than his band Queen.
Brian May came to world prominence as a member of his co-founded rock band Queen, which was released in 1970. During a 52-year career with his band Queen, Brian contributed to the band's best-known hits such as We Will Rock You, Flash, Hammer To Fall, I Want It All, The Show Must Go On, and Who Wants To Live Forever.
In addition to his career with Queen, Brian May has grown up his solo career with his unique view. In 1992, he debuted with 12-track Back To The Light. Six years later, in 1998, Brian May added one more album to his catalog and released his second solo studio album, named Another World. He also performed with remarkable musicians such as Brantley Gilbert, Kerry Ellis, Fito Paez, and Five Finger Death Punch.
Over the years, as he has been one of the nicest people in music, Brian May built great friendships in rock. One of those special connections he created was the late Foo Fighters drummer Taylor Hawkins, who died this past March. Beyong their friendship, Taylor Hawkins appeared in Brian's second studio album, Another World, and played drums on Cyborg in the album. It was clearly hard to accept for Brian that the person he played side by side with on his solo album had passed away.
However, in a new interview with My Planet Rocks' Liz Barnes, Brian May praised the late Taylor Hawkins and commented on his great view on Queen. Talking about sharing the experience with Taylor on his solo effort, Brian admitted that it was great. He also revealed his honest opinion on Foo Fighters and said they were awesome.
"It was wonderful," Brian said. "Not because he was the famous Taylor Hawkins of the famous Foo Fighters, because they weren't famous by then. They were just starting off.
"And they were great in those early days. It was a fantastic sort of raw magic. I remember seeing him at Brixton Academy, blowing the place apart, just because they didn't seem to take themselves seriously. They just kind of knocked down all the barriers."
Brian May Defends Taylor Hawkins Single-Handedly Made Queen Cool To A New Generation
Brian then said Taylor Hawkins was the greatest Queen fan around the world. Defending that he made Queen cool to his generation, Brian added that he seemed much cooler than Queen. While praising Taylor Hawkins over and over again, Brian said he was like extraordinary lightning.
"Taylor was a kid, really, he just came out of drumming for Alanis Morissette and he had an opportunity now to do what he really wanted to do, which was play hard rock," he added.
"The funny thing was, he turned out to be the greatest Queen fan in the world. And that was always a shock to me, because he seemed to be a lot cooler than we were, you know. I think Taylor Hawkins single-handedly made Queen cool to a new generation of kids."
"He knew everything about us, everything. He and Pat Smear [Foo Fighters rhythm guitarist] gave us an award at some ceremony, I can't even remember where it was. But it became obvious at that point, really early on, that they knew everything. They knew more about us than we knew.
"It's always been a great thing. So, he was excited to come in and play. I was excited to have him in there. Because my god, I hadn't really seen anybody hit the drums like that.
"Now, I've seen a lot of the world's greatest drummers, and have been very fortunate to work with them, but Taylor was like some kind of lightning. I don't know what it was that he had in his body, but it's extraordinary.
"And whenever I saw a Foo Fighters concert, I ended up just watching Taylor the whole time, because the way his body moves and the precision, the speed, the passion was extraordinary."
Back this past April 16, Brian May had said about Taylor Hawkins that he the most devoted Queen fan in the world. Mentioning the talent of Hawkins, Brian also expressed his devastation about Hawkins' passing.
"Oh my god," Brian said (as transcribed by MetalCastle.net). "Well, in this album, he was just a boy who'd only just joined the Foo Fighters. We'd become friends, and he came over to my studio, and [he] just beat the hell out of everything with a huge smile on his face. I hadn't realized [it], but he's the most vociferous and devoted Queen fan in the World.
"And I think he made a single-handed call to the new generation. I mean, I didn't think [that] I was gonna be talking about this, you know, when I put this down. I had no idea that Taylor wouldn't be with us anymore. I feel devastated. Roger and I both do. He was like, family to us.
"On this album, you hear on Cyborg – just going nuts – and it's wonderful. I'm so grateful that I had those moments with him."