Brian May On Taylor Hawkins: "He Was The Most Devoted Queen Fan In The World"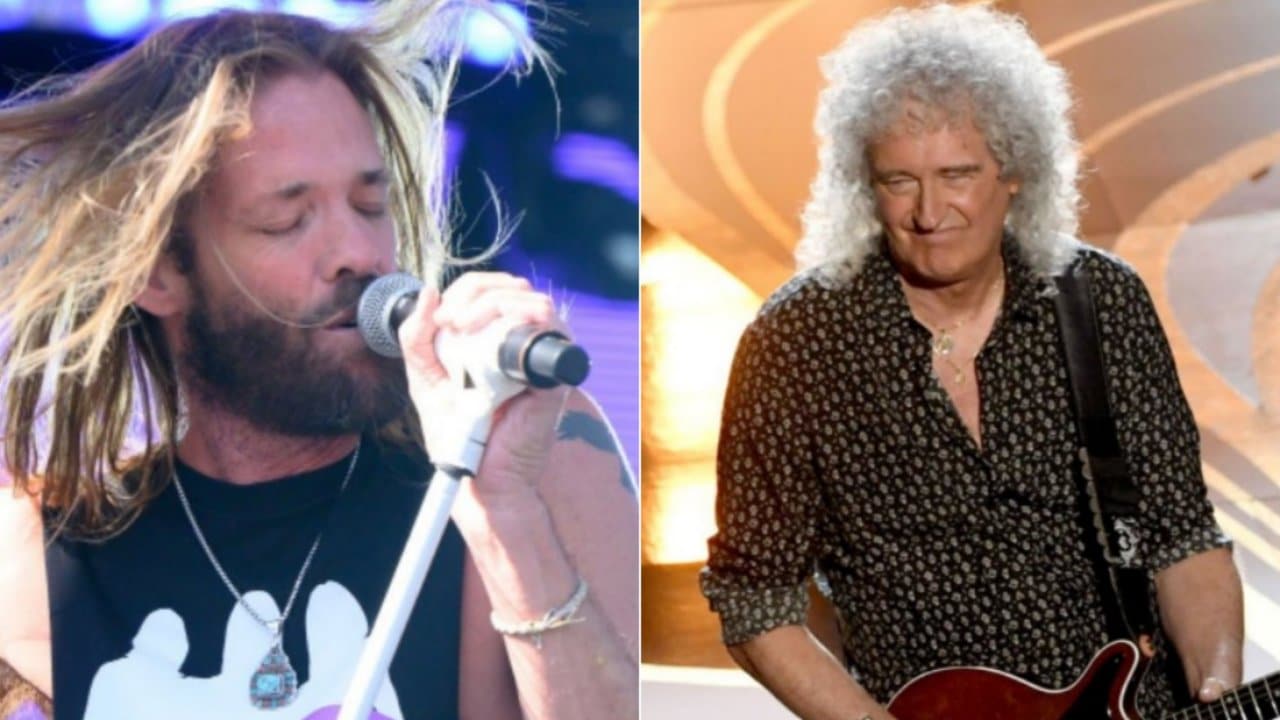 Queen guitarist Brian May once again paid his tribute to the late Foo Fighters drummer Taylor Hawkins who tragically passed away recently. Brian May said in the interview that Taylor was a devoted and vociferous Queen fan.
Brian May gained international fame as a member of Queen back in the mid-1970. He has been the lead guitarist, songwriter and co-founder of the band since its formation in 1970. Over a 5-decade career with them, he contributed to Queen's huge hits such as We Will Rock You, The Show Must Go On, Flash, Hammer To Fall, I Want It All, and Who Wants To Live Forever.
Out of Queen, Brian May has tried to make remarkable things as a solo musician. Debuted in 1992 with his Back To The Light, Brian May released his second solo studio album in 1998, named Another World. He also collaborated with world-renowned musicians, including Kerry Ellis, Fight Finger Death Punch, Brantley Gilbert, and Fito Paez.
Over the years, as he has been one of the nicest people in the rock community, Brian May got a lot of friends in rock music. One of those special connections he created was the late Foo Fighters drummer Taylor Hawkins, who passed away this March. In Brian's second studio album, Another World, Taylor Hawkins had played drums. It was hard to accept that the person he played side by side on his song Cyborg had passed away.
However, in his new online appearance, Brian May talked about the reissue of his second studio album, Another World, which is due out on April 22. When the interviewer asked, "What was it like looking back at this album and listening back to the songs that you wrote because when was it, 1998 it came out?", Brian admitted that the album is something that he is proud of.
"That's right, yeah," Brian answers (as transcribed by MetalCastle.net). "Well, I thought it was gonna feel like being a sort of beneficent uncle thinking, you know, I was just a boy when I made this stuff.
"But actually, listening to it, it's completely me now. And if I was gonna make an album, I think this would be the album I would make right now.
"So, I remastered it. I didn't change a single note. I didn't change any of the mixes. I just thought, 'Oh my god, this is something that I am proud of exactly as is. What I did do, though, was go through outtakes and bits and pieces that I was doing at the time.
"And I put another CD together like a kind of companion CD kind of outtakes and other bits of material that never made it to the album.
"But I'm actually more excited about that than the album itself, probably. Because there are things that some people have never heard of it."
Brian May Says Taylor Hawkins Was The Most Devoted Queen Fan In The World
Later then, Brian May was asked about Taylor Hawkins, who played drums on the album's Cyborg. Expressing his devastation about the death of the musician, Brian May mentioned how talented musician Taylor was. Brian May also stated that Taylor Hawkins was the most devoted Queen fan in the world, adding he was family to him.
"Oh my god," Brian sighed. "Well, in this album, he was just a boy who'd only just joined the Foo Fighters. We'd become friends, and he came over to my studio, and [he] just beat the hell out of everything with a huge smile on his face. I hadn't realized [it], but he's the most vociferous and devoted Queen fan in the World.
"And I think he made a single-handed call to the new generation. I mean, I didn't think [that] I was gonna be talking about this, you know, when I put this down. I had no idea that Taylor wouldn't be with us anymore. I feel devastated. Roger and I both do. He was like, family to us.
"On this album, you hear on Cyborg – just going nuts – and it's wonderful. I'm so grateful that I had those moments with him."
Back in early this month, Brian May had described Taylor Hawkins as the best publicist for his band Queen ever while he was paying his tribute to him. According to Brian, Hawkins' passing made him feel frustrated.
"Taylor Hawkins was the best publicist for Queen ever," May says. "He's been so good for our image! Where he kind of regarded us as cool, which at the time, a lot of people didn't.
"He wasn't even my generation. I think of him as a boy, the same as I saw George Michael as a boy; to lose them feels all wrong. It makes you feel so frustrated. It makes you feel like you want to negotiate with death.
"It makes you feel like if you looked at it enough, if you talk about it enough, if you analyze it enough, then maybe you can bring him back, but of course, that's just not the way it all works."