Ted Nugent Praises Metallica: "They're All In The Asset Column Of Life And Music"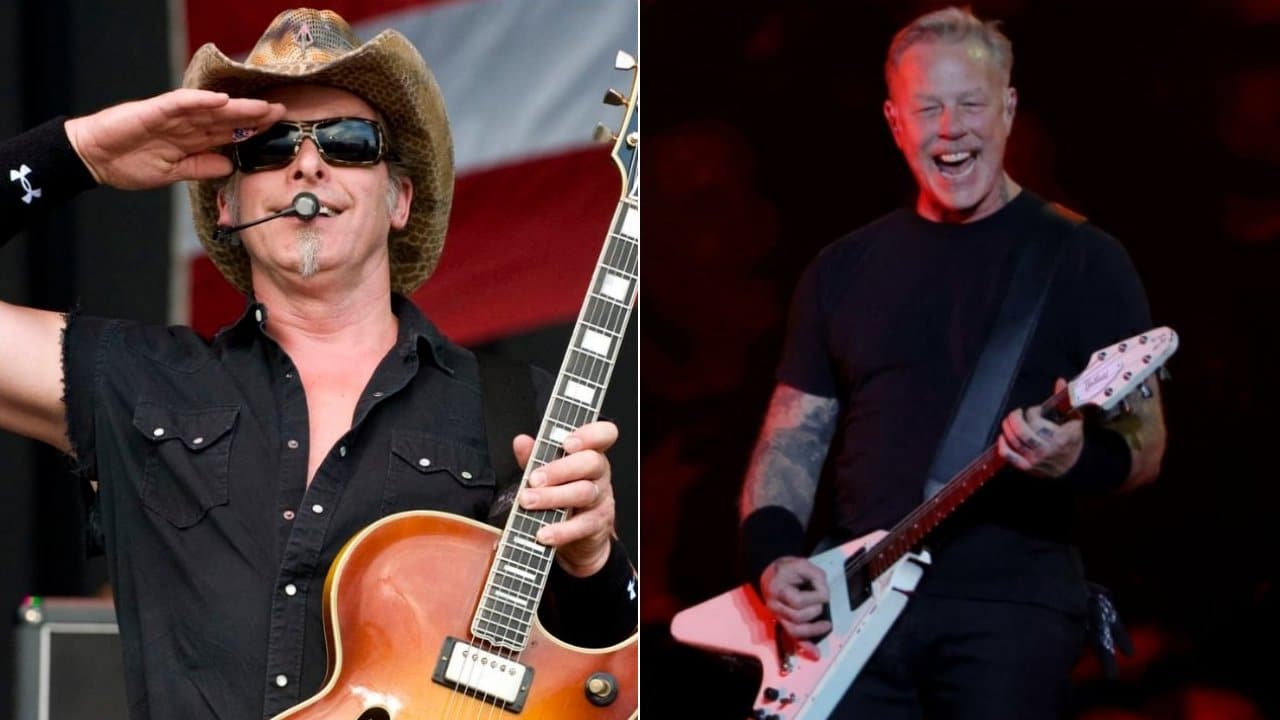 The American music legend Ted Nugent has sent his heartwarming words for the heavy metal veteran Metallica and said that each of the band members is in the asset column of music.
Ted Nugent is an American activist and legendary rocker who came to world prominence with The Amboy Dukes. Including his 17 solo studio albums during his ongoing solo career, Nugent has an undeniable contribution to the world of rock and roll. During his ongoing musical career in rock, Ted Nugent has toured and recorded alongside huge artists such as Brian Howe, the late musician Meat Loaf, and Charlie Huhn. He has tons of favorite artists in the genre.
One of Ted Nugent's favorite artists in rock is the world-renowned band Metallica. With a 4-decade career in rock, they proved so many things to people who love metal. They became one of the highest-selling bands with their huge discography, including their own music and the cover versions of other artists. They have also broken records, like being the only band who played on seven different continents.
In the past, great musicians like Motörhead and Pantera covered the rock legend, Ted Nugent, using the musician's hit song Cat Scratch Fever. There was also another cover of Journey To The Center Of The Mind, which was taken from The Amboy Dukes. Nugent had liked those versions when he heard they came from Lemmy and Pantera itself, even though he didn't describe them as his favorites. Although Metallica was not covered his song, he has huge respect for the band he played alongside in 1999 as well.
During his recent appearance on WRIF radio station, the host asked Ted Nugent if he has a favorite version of any of his songs. At first, the rocker talked about the cover versions of Cat Scratch Fever and said he has no favorite version of the song. He then admitted that he loves Metallica, Slayer, and Megadeth so much.
"Unfortunately, I never have," Nugent said. "I've heard the versions of 'Cat Scratch Fever', and I love Pantera and I love Lemmy and I love the Ramones, but God, are they terminally Caucasian or what?
"There's a real Motown soulfulness to what me and my boys deliver; there's a grunt and a grind. And I love musicians who put their heart and soul into stuff — I love Metallica and I love Slayer and I love Megadeth and I love 'em all.
"But when I listen to music, I wanna hear a groove; I wanna hear some grunt. I wanna hear the bass and drums of Motown like Greg [Smith] and Jason [Hartless] create, what Johnny Badanjek and Earl Elliott created, like what Cliff Davies and Rob Grange created, what Jack Blades and Michael Cartellone created, what Carmine Appice and Tim Bogert… You know what I mean?"
Ted Nugent Admits 'Metallica Is In The Asset Column Of Life And Music'
Ted then underlined his love and respect for Metallica. Saying that all of the band's members are in the asset column of music, Nugent admitted that they are incredible musicians, praising their work ethic. He also shared his honest opinion on Lemmy, Pantera and Ramones.
"I like a sexy, grunting rhythm," he continues. "And I hear it from Metallica sometimes, and I love their heavy metal stuff — it's killer. They're unbelievable musicians and an incredible work ethic; they're all in the asset column of life and music.
"But when I heard Lemmy's version of 'Cat Scratch Fever', I thanked him, and I do appreciate it. And when I heard Pantera's version of 'Cat Scratch Fever', I thanked them, but I think they're angry at me because I called them Caucasian, which I think is a racial slur somewhere.
"The Ramones did 'Journey To The Center Of The Mind', and again, God bless 'em, I love 'em and I'm honored that they would choose my songs, but what Greg Arama and Dave Palmer did on 'Journey To The Center Of The Mind' as kids, teenagers — 15 years old they were; I think 16 years old — there's a Motown funk brother pulse to my songs and my rhythms.
"And those guys kind of flail away at it. And again, if you're a big fan of flailing away, God bless you — flail away."
This was not the first time Metallica was praised by a musician. Back in October 2021, Alice in Chains guitarist Jerry Cantrell had said to Guitar World that Metallica are still the highest flag on the mountain of rock. He also commented on their live shows and said they were insane.
"On top of the music part of it, their live shows were insane," he adds. "Just being that band is enough but when you see them thrown on stage, plugged into a PA and letting it rip, they definitely left everyone satisfied.
"And then there was the whole theatrical aspect of the shows they were putting on… fuck, man! Every tour had its own special thing, like when they did '…And Justice For All' with the stage falling apart.
"And then they started doing the whole in-the-round thing. Even if you forget about the genre and the band for a second, they've been at the very forefront of putting on epic shows.
"That's what you shoot for, I guess. That's what makes them the highest flag on the mountain of rock."