Alice Cooper's Nita Strauss Opens Up On Using Sexuality For Her Music: "It's Important To Embrace Your Femininity"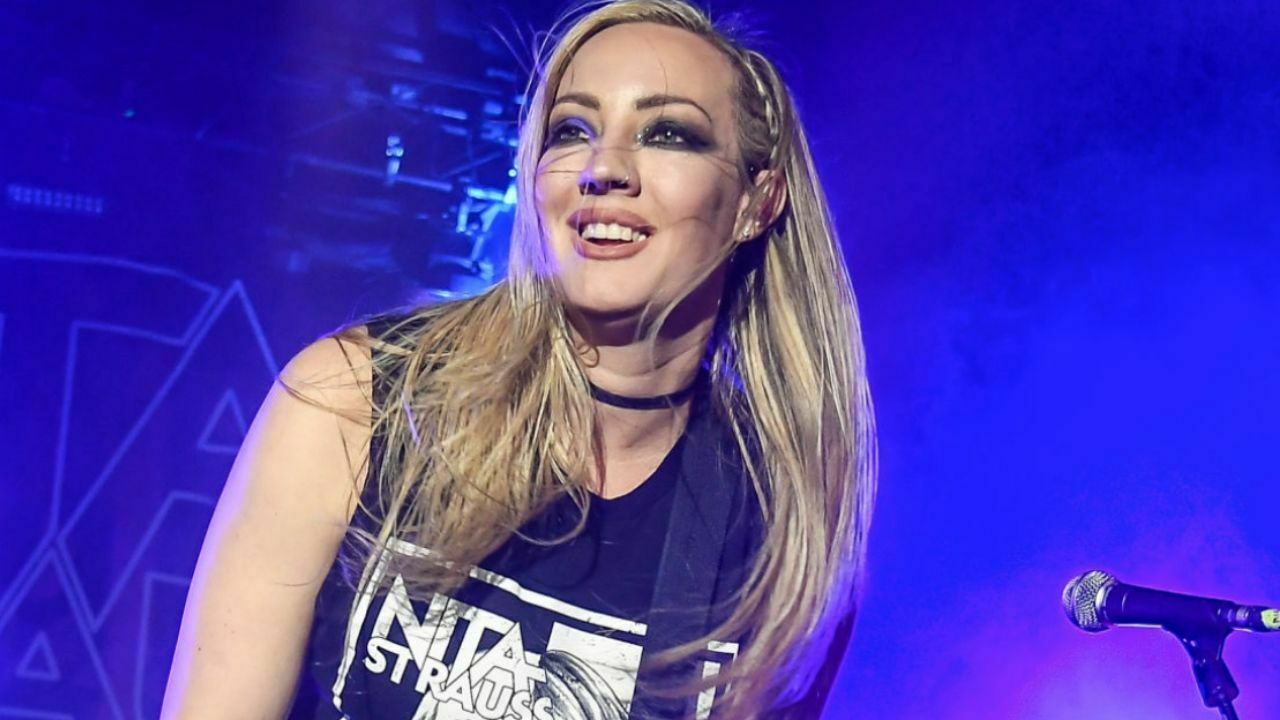 In a new appearance on 95.5 KLOS radio station, Alice Cooper guitarist Nita Strauss has opened up about using sexuality to promote her music to the community and touched on women's role in the music world.
Nita Strauss had begun her musical career touring with her own band Lia-Fail that also included the champion boxer, Mikaela Mayer. Known for her contribution to the Iron Maiden tribute band The Iron Maidens, Strauss had performed bands such as Femme Fatale, Consume The Fire, and supergroup Critical Hit.
In 2014, she became the guitarist for the arena football team Los Angeles KISS, which was owned by KISS founders Gene Simmons and Paul Stanley. In June of the same year, Alice Cooper hired her to play his remaining 2014 tour dates. Since then, she's been performing with Alice Cooper.
As a solo musician, Nita Strauss released her debut studio album in 2018 via Sumerian Records. The album peaked at number 3 on the Label Independent list, number 8 on the Top Rock list, number 7 on the iTunes Rock chart.
However, recently, she discussed using her sexuality to promote her music. At first, the talented guitarist revealed how much time she spent figuring out what is her place in the music community. According to her, she later realized that she doesn't need to put herself somewhere.
"I think it's important to embrace who you are as a woman, especially in this industry, but in any industry," Nita says. "And I spent a long time trying to figure out where my role was in all that.
"And I've gone down both sides of the spectrum. I've done stuff that I was, like, 'You know what? I feel like I don't need to put myself out there that much.'
"And then I've gone the opposite direction and, like, 'I need to be more covered up and be taken more seriously and not wear makeup and not feel pretty and wear a men's size large shirt and just go and be known as a guitar player.' And that's not who I am either."
Nita Strauss Adds It's Important To Embrace Femininity
Nita Strauss then claimed that it's important to embrace femininity as a musician. Adding that some female musicians are ready to go out to the community and to be sexy, she also said one of the other important things is to be authentic.
"I think you just have to be true to yourself," she continues. "I think it's important to be a woman and embrace your femininity. And some women are ready to go out there and be sexy — be a sexy woman out there, badass, doing what you love to do — and there are some that don't wanna embrace that part and don't wanna have that, and that's fine too.
"I think the most important thing is to be authentic."
More recently, she announced her first-ever collaboration with Disturbed singer David Draiman, Dead Inside. It marked her first new music since her debut solo studio album Controlled Chaos.
Back in May 2020, Alice Cooper had commented on his guitarist Nita Strauss and sent respectful words to praise her. According to Cooper, Nita Strauss is the best chick in the world.
"She just won the 'Guitarist Of The Decade' in Guitar magazine," Cooper said. "Best chick in the world – she's such a great chick.
"Gets on stage, and she's a force of nature unto herself.
"And I've got Ryan Roxie and Tommy Henriksen in the band also – you're talking about two great rock guitar players. And then I needed a chick that could really play."