Wolf Hoffmann of Accept Talks European Tour, Touring with the Iron Maidens, and His Secret to Heavy Metal Guitar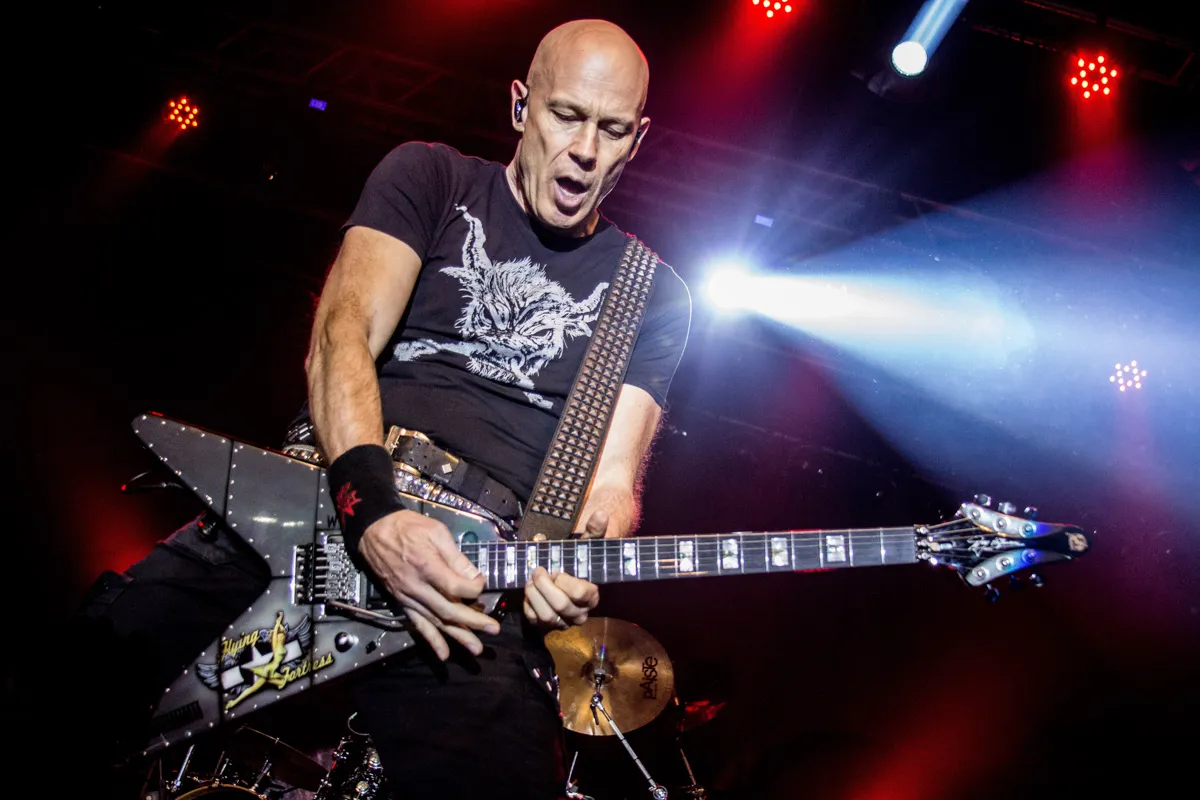 All images courtesy of Markus Miller Media Consulting
In 2021, veteran German heavy metal legends Accept released its 16th studio album, Too Mean to Die, a tour de force of venomously heavy sounds handily rivaling the band's most well-known offerings.
These days, as the proverbial last man standing, Accept is led by its lead guitarist Wolf Hoffmann, who's been with the band since day one. Hoffman's melodic riffs and classically inspired solos are as iconic as they are unique. What's more, Accepts' current lineup, featuring three outstanding guitarists for a modern-day triple-axe attack, is stronger and more cohesive than ever, leaving adoring fans salivating in the band's wake.
"Having three of us here now takes the weight off my shoulders a little bit," Hoffmann said. "Honestly, I never set out to be the leader of the band; I just happened to be the only guy who's never left the band. [Laughs]. I never left, and then of a sudden, here we are; it's all on me. And I don't mind if I have to, but I'd much rather welcome and invite other people to share the duties. And that's what I do, especially Phil; he and I are trading a ton of solos, and it's fucking great to have him on stage with me side by side."
After an uber-successful US tour – Accepts' first in years – the band has reclaimed lost glory. In the wake of continued success, and with the COVID-19 pandemic mostly in our rearview mirror, Accept is set to embark on its first European jaunt in support of Too Mean to Die. And making things even more exciting for fans is the inclusive of the high-energy act, The Iron Maidens, an all-girl tribute to the titans of metal who share a similar namesake.
"I think we had a different opener planned for the tour when it was originally scheduled, but that didn't pan out because of scheduling conflicts," Hoffmann recounted. "And so, we were looking for a new opening act to team up with, and they were suggested to us after a club show out in L.A. So, we liked the idea, we love what they do, and we asked them to come aboard, which they accepted. It's as simple as that!"
Dialing from a tour bus while on the road, Hoffmann took a moment with me to shed some light on Accepts' upcoming European tour, the chemistry of the current lineup, his thoughts on the use of backing tracks, and his secret to heavy metal guitar.
Andrew: Starting with the recent scare that Mark Tornillo had with his voice, how is he doing now?
Wolf: Oh, he's fine, man. He's back in business. He has done just three shows in a row, and he's as strong as ever. It was just a temporary setback due to a little viral infection on the road, which kind of happens, unfortunately.
Andrew: What were some challenges in performing without a vocalist for the first time in Accepts' history?
Wolf: I guess the main challenge is having the balls to do it. Because we rehearse like that a lot, we know what it's like because Mark isn't always there when we rehearse. But of course, we've never done that in front of an audience, but we figured we could all just pack up and go home, or we could just give the audience something enjoyable, even if it's not what we wanted to do initially. So, it wasn't perfect, but at least it's something, and I think it was very much appreciated.
Andrew: What can you tell me about the upcoming European leg of your ongoing tour?
Wolf: Well, I think; first, it's a great combination to have the Iron Maidens girls with us on this tour. Besides that, we're excited about finally bringing a headline tour to Europe. Because this is in support of our latest album, Too Mean to Die, which is no longer brand new. It came out almost two years ago during COVID, but this is the first time we can make it happen to have a full tour because it was postponed twice. So, it's the first time we can present the new material in the proper headline setting for our European fans. So, we're very excited about that.
Andrew: What are some of the most significant differences between playing to European vs. American audiences?
Wolf: Well, this being our first tour and ages in the US, I must say, we were pleasantly surprised by how well it was received. The fans we met along the way were super dedicated and excited to meet us. We could tell they were happy to see us again after a long time, and it felt like a warm welcome. So, we're planning to do more shows in the US in the upcoming years ahead because we feel like America as a market has been rediscovered for us.
We've mainly focused on Europe for so long, but the US, where the band originally kicked off. And it's kind of a home base for us; that's why we play so many festivals over there, and we play good headlining tours. But in terms of differences, honestly, the audiences are similar worldwide. The only things are regional differences between audiences in the southern regions. Normally, those are the areas where people are a little hotter-blooded and more passionate than the northern regions. And oddly enough, that's for Europe, too; it's the same as in America. But other than that, there are fans for us worldwide, and I have to say, they're very similar.
All images courtesy of Markus Miller Media Consulting
Andrew: Do you alter the setlist when you play European shows?
Wolf: No, not really. I mean, we try to change up the setlist and tweak it along the way. We'll throw in a new song or two here and there just to keep it a little more interesting. But really, there are no specific American-targeted songs or whatever other than that; we're always trying to do interesting stuff along the way. For example, we'd done an orchestra tour before this, which is where I met my new partner, Ava Rebekah Rahman. She's an awesome violinist, and she is going to come out on this next tour and play a couple of songs with us. So, that's going to be an interesting thing that we're only going to do in Europe because we couldn't bring her over for the US tour, but we can here. So, we're always trying to do interesting stuff along the way, tweak things, and give the audience something special.
Andrew: Which new songs from Too Mean to Die are your favorites to play?
Wolf: At this point, we've played pretty much all the songs from the album. We rehearse them all, and that's great because a lot of times on an album, there are only a few songs that you can present live to where they make sense in the setlist. But with Too Mean to Die, there are several that present themselves to be played. So, I have to say that almost all of them we can play, and we might do all of them. We're not going to play the entire album each night, but we could pick out any song from this album, play it live, and it'd be great. But right now, we're doing "Zombie Apocalypse," "The Undertaker," "Overnight Sensation," and "Too Mean to Die," so we're doing four or five each night, which we love.
Andrew: I can see that you're very proud of your new music, but would Accept ever consider undertaking a tour centered around a classic album as your contemporaries have?
Wolf: Well, we actually have done that here and there where we're playing a whole album. We did one where we featured Restless and Wild, and we were scheduled to do something like that in Japan, but it never happened because of COVID. But it might very well happen; it's just that we're always so busy presenting new material, and fans are already asking for the next album. To me, the trend of focusing on the classic albums seems to be a way to tie over in between albums, but we haven't been in that boat lately. Because a lot of bands nowadays, they'll be releasing an album every five or six years, we've been much busier than that. So, we haven't needed to have a filler tour like that because we're always presenting new music.
Andrew: With Philip Shouse and Martin Motnik in the band, the chemistry seems tighter than ever.
Wolf. You're right about that. We've got an awesome team together now, and we've got a special camaraderie, which is amazing. Of course, Peter [Baltes] left; that was hard because he was my oldest buddy in the band, and we'd been playing together forever. So, that was a bit of a sad moment when he left. But at the same time, when somebody new comes into the band, fresh energy gets injected into the band, which is also very nice.
I wouldn't say one is better than the other, but it's definitely nice to have. And now that we've got three guitar players, we have a ball between the three of us. We share guitar duties, come up with different voicings and parts that complement each other, and it's fucking killer. I think the band sounds better than ever, and that's what people have been telling me all along this tour; that we're really on fire. It's incredible to have a version of Accept that rivals anything we've done over the decades.
Andrew: What are your thoughts on many of your peers using backing tracks in the live setting?
Wolf: It's tough, and honestly, I don't know what to think anymore. I think it's almost become a standard for up-and-coming bands, like the new-generation metal bands, the laptop, and kids; they all use them. And I guess their audience doesn't seem to mind, but our audience is old school, and they want to see an old school band that plays their instruments.
So, I think it would not be a good idea for us, and we're staying away from that. We've never used backing tracks, and we probably never will. But I know it's an ongoing development that is almost becoming the norm with a lot of bands. And you can look at it from a lot of different angles, but we're going to stay away from it. I don't think it would be the right thing to do for Accept. And luckily, we have a singer in Mark Tornillo who can still sing in the original key, so we don't need to mess around with that stuff. We're staying away from it, and that's what we plan to do forever.
All images courtesy of Markus Miller Media Consulting
Andrew: You made light of Accepts' orchestral tour a few years back. Would you consider taking Accept in that direction for the band's next studio record?
Wolf: Well, I've always incorporated classical stuff into our music, and I've always added many classical influences to my guitar work. And even in the songwriting, there's always been classical stuff, whether fans have noticed it or not. But I wouldn't necessarily use orchestral instruments in our music, at least not more than we've done in the past. We've had string arrangements on songs in the past, here and there, so we've done it. I guess if the song calls for it, hey, why not? But I wouldn't change what Accept does in general just because we started this orchestra tour.
Andrew: What's your secret to creating heavy metal riffs and solos?
Wolf: Oh, I don't think there's a secret necessarily. But I can tell you that I sit there a lot of times, working on things, and riffs always come easy to me. I don't know why, but they always have. With riffs, it's always been something where I can sit down, and in five minutes, I can have a riff that's probably a decent riff. But then, from there, it's still a long way from a finished song because that riff has got to have proper vocal ideas that go with it. And along with those things, then, you've got to have a theme for the song.
So, there's a lot of stuff that happens along the way that still needs to be done beyond just a riff. I don't know, I guess; at the end of the day, it's about taking the time and putting in the hours. You have to be willing to put in the hours; you can't expect to write songs within five minutes. And then the other thing I always do when I sit there – especially for lead work and solo stuff – I try to think of something before I play it.
I'll close my eyes and try to visualize what's missing, or I'll try to hear what's missing in my mind, and then I'll try to play it. Because it's not always coming from the fingers; it comes from the heart, the brain, or a combination of the two. It's not always about playing; you have to feel it and then feel it as it comes out. So, that's my secret; that's what's worked for me up until now, and I hope it always will.
– Andrew Daly (@AJDWriter88) is a contributing writer for Metal Castle and may be reached at andrew@vinylwriter.com