Travis Barker Says Chris Barnes' Kourtney Kardashian Remarks Are 'The Lamest Shit Ever'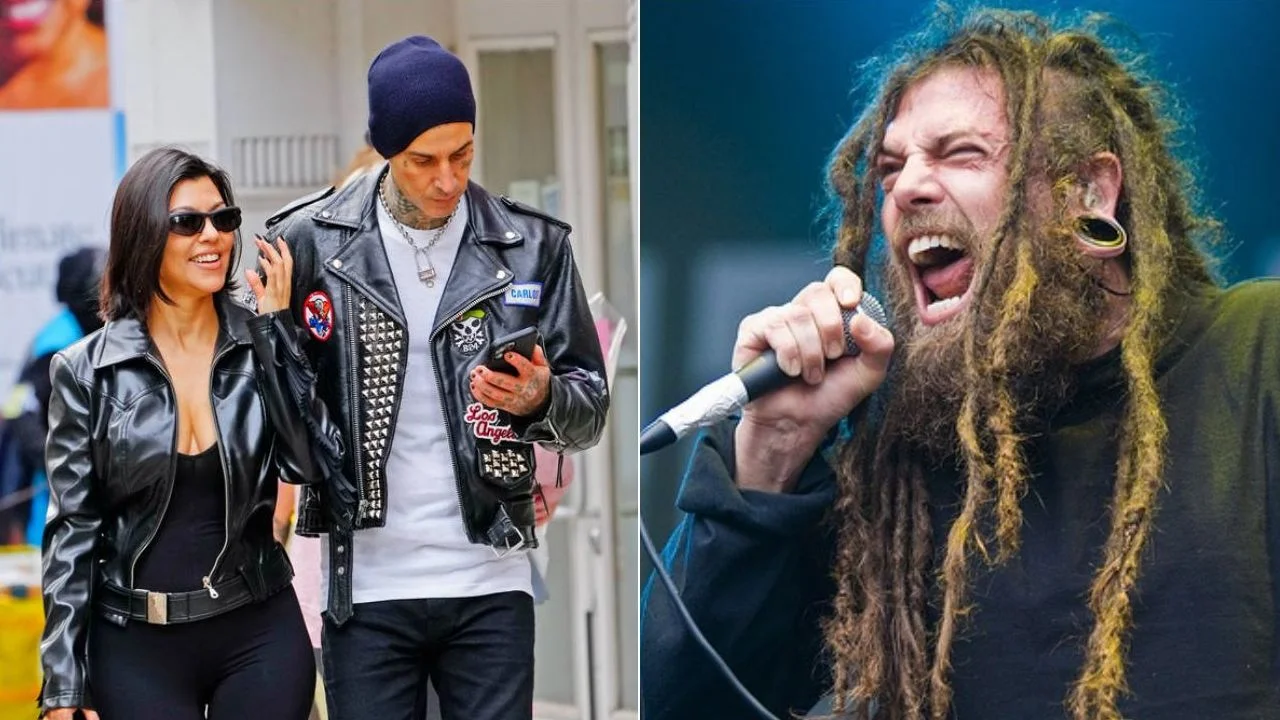 Blink–182 drummer Travis Barker brand new interview with Revolver Magazine. Part of the interview included former Cannibal Corpse vocalist Chris Barnes's comment on the Barker and Kardashian couple. According to Travis Barker, Barnes's comments are the lamest shit ever.
Chris Barnes, who comes to the fore with his comment on Kourtney Kardashian and Travis Barker couple, made his reputation known with Cannibal Corpse. One of the founding members of Cannibal Corpse, Barnes released four studio albums with the band before forming Six Feet Under.
Travis Barker, who has also collaborated with many rappers, is the drummer for Blink–182 as well as the punk rock/rap rock supergroup Transplants. On the other hand, successfully progressing in his solo career, Barker reached number nine on the US Billboard 200 with his album "Give the Drummer Some", which he also produced.
Anyway, longtime friends Kourtney and Barker were confirmed to be dating for a few months back in January of last year. The couple, who soon had a strong bond, got engaged in October 2021 on the coast of Rosewood Miramar in Santa Barbara, California.
Last September, Kourtney Kardashian drew attention with her Cannibal Corpse shirt. Former vocalist of the band Chris Barnes called the photo of the couple "posers". In the interview, when Barker was asked his opinion on this comment, he stated that his girlfriend had the right to wear whatever she wanted and blasted Chris Barnes.
"That's the lamest shit ever," Barker said. "Obviously, my fiancée doesn't listen to Cannibal Corpse, but I do. I grew up loving them. For [someone] to mention that in a negative light — fucking lame, you know? She's wearing it because she's [cool]. She's not claiming she knows every song. But I do! I bought every album, and I learned how to play every album."
Travis Barker Says He More Punk Than Chris Barnes
Emphasizing that it doesn't matter who wears what and that the important thing is that people listen to music and the positive effect of music on people's lives, Barker admitted that he lived punk with everything, grew up with punk, and that he was more punk than Barnes.
"I grew up a punk-rock kid, [but] everything with punk rock – 'I'm more punk than you' – just fuck all that," he continued. "Be stoked that people are into music. Music is beautiful! It changes people's lives. It creates the best memories. Just celebrate it, you know?"
"But I have a gang of Cannibal Corpse t-shirts," Barker revealed. "I still love them. I have a gang of King Diamond t-shirts and rare Slayer shirts because I fucking love those bands. I grew up on them. Even though I'm, you know, whatever the world wants to view me as — 'Oh, that's Blink–182's drummer' — actually that guy was playing in a garage with a bunch of speed-metal kids listening to D.R.I. and S.O.D. I enjoyed every fucking minute of it."
You can find the tweet sent by ex-Cannibal Corpse singer Chris Barnes. Including a photo of Travis Barker and Kourtney Kardashian who wore a Cannibal Corpse shirt, Chris looked a little dissatisfied.
https://twitter.com/sixfeetofficial/status/1433858052910764036?s=20&t=9QwZyTXK9I63LlDQKlZ_7w