TOMMY LEE Recalls A Rare Moment Of SLASH: "NIKKI Puts His Ball Right On SLASH's Chin"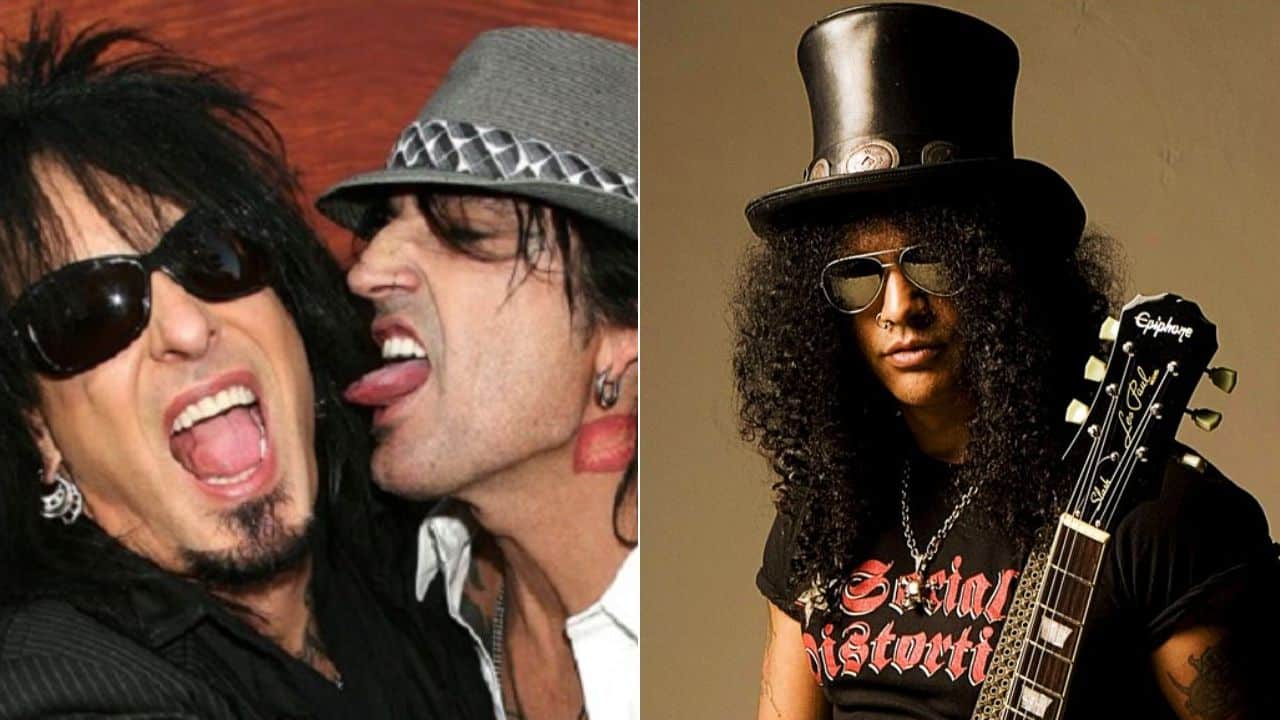 The American songwriter, DJ and solo artist Tommy Lee, known for the drummer of the Motley Crue, recalled the golden moment he lived with Guns N' Roses guitarist Slash and took fans back to their alcohol battle with them.
During a recent interview with Steve-O's Wild Ride, the 58-year-old drummer was asked if Guns N' Roses' party request with them was true. Tommy Lee answered by recalling his reaction to them, here we go again, another band trying to keep up with us.
When the interviewer said, "I heard a story one time that Guns N' Roses opened for you guys and they try to party with you, and you guys drank them under the table. And you went out and did their set," Tommy Lee replied:
"No, we didn't do their set… They did try to out-drink us and we were like, 'Oh, fuck, here we go again, another band trying to fucking keep up with us. This isn't going to happen.'
"So we went at it, and Slash will tell you this to this day – we're just sitting there, Slash and Duff [McKagan, bass], and me and Nikki [Sixx, bass], were just fucking pounding shots at the bars.
"Then you could clearly tell it was, 'OK, we're gonna out party you guys,' and we're like, 'Alright.' So we just keep going, keep going, and all of a sudden we're sitting there and Slash is starting to get fucking shitty."
According to Tommy Lee, Slash devastated by vomit between Nikki Sixx and Duff McKagan, the bassist of Guns N' Roses.
"And he's just right at the bar, just right in between him and Duff, he just blows chunks [of vomit], and he's like, 'OK, I'm back…' He's getting rid of it…
"Anyway, we keep going, we keep going, we keep going… It seems like a million shots later and he does one of these on the bar [slams head]. And we go, 'Ah, this is fucking great…'"
While concluding his words, Tommy Lee remembered the weird and golden moment Nikki Sixx and he lived with Slash. Tommy Lee stated that when his bandmate Nikki lay him down on the bed, he pulled his pants down and put his balls on Slash's face.
"Nikki and I grab him, we take him, carry him up to his room, his hotel room – keys in his pocket, get it out, open his room, lay him down on the bed face up. Dude, we went and grabbed our Polaroid cameras, and Nikki goes, 'Dude, get a picture of this!'
"Nikki jumps up on the bed, pulls his pants down, and puts his ball right on Slash's chin! And I fucking rip a Polaroid. And the next day, our head of security went up and cut off his laminate all-access artist pass and gave him the new one, and the picture ID was him with Nikky's balls on his fucking chin!
"I think we've made posters and put him up everywhere. That'll fucking teach you to think you're gonna fucking out party us dude!"
Watch the interview below.