Ted Nugent Says His Honesty About Joan Jett Drove People Crazy: "I Even Saluted The Lesbian Thing"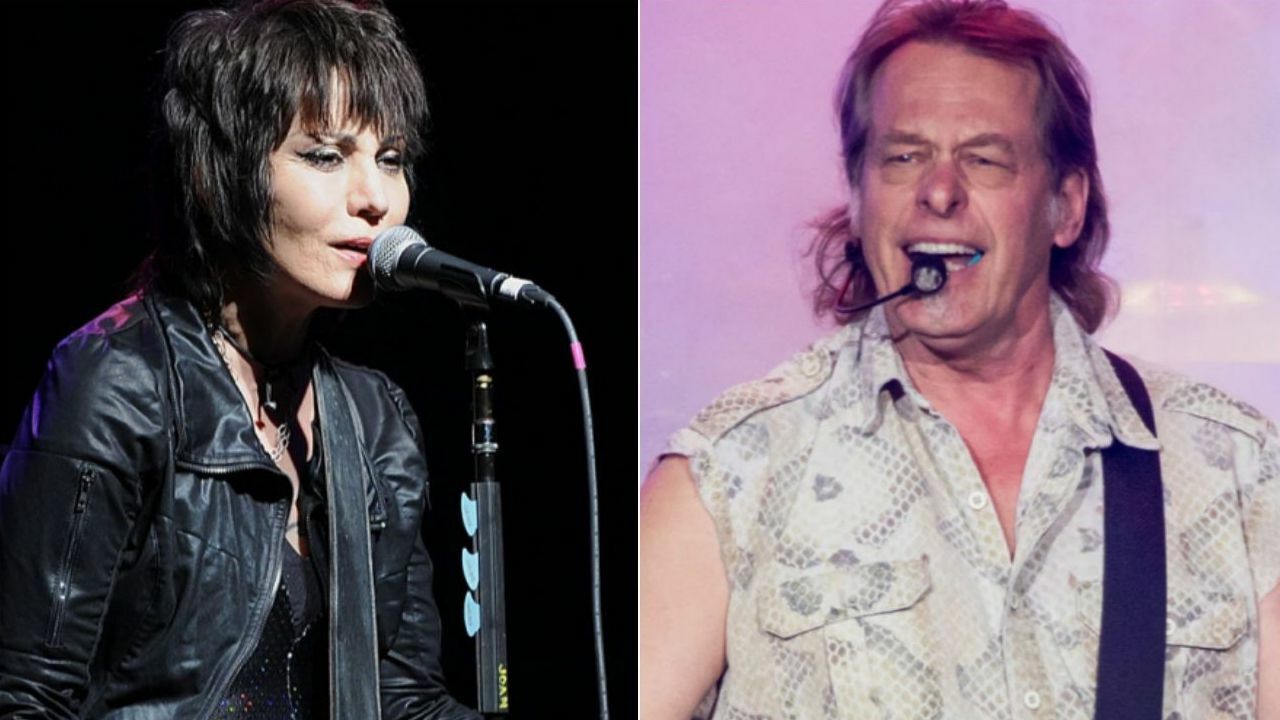 The world-known rocker Ted Nugent remembered his comments about Joan Jett's inclusion on Rolling Stone magazine's 100 Greatest Guitarists list and said that he made honest comments when he questioned the issue.
Ted Nugent came to world prominence for being the guitarist and occasional vocalist of the rock band The Amboy Dukes. Debuted in 1975 with his self-titled solo studio album, Nugent released 15 solo albums during his ongoing solo career. His latest album was released in 2018, named The Music Made Me Do It.
Last month, Ted Nugent had shared his honest feelings about the 100 Greatest Guitarists list of Rolling Stone magazine. During his YouTube livestream, Nugent had railed Joan Jett's appearance on the list, saying: "How do you list the top 100 guitar players and not list Derek St. Holmes? How do you do that? You do that by lying. The same way you get Grandmaster Flash in the Rock And Roll Hall Of Fame. You do that by lying. You have to be a liar. You have to have shit for brains and you have to be a soulless, soulless prick to put Joan Jett…
"I love Joan. Some of my greatest memories include lesbians. I love the lesbians; it's a cocktail of wonderment. I love Joan Jett — 'put another dime in the jukebox, baby'; great rock and roller — but as a top 100 guitar player, but you don't list Rickey Medlocke or Dave Amato. Really? Or Dick Wagner? Dick Wagner and The Frost from Detroit. Or Mark Farner? Mark Farner from Grand Funk Railroad. Joan Jett is on the list but not Mark Farner? Grandmaster Flash is in the Rock And Roll Hall Of Fame but not Grand Funk Railroad? [Laughs]"
Recently, during an interview with The Real Music Observer, Ted Nugent has defended his words against Joan Jett. At first, the musician addressed the negative feedback he received from people. Praising Joan Jett, Ted Nugent also said he saluted Jett's lesbianism.
"I started off by praising Joan Jett's genuine shitkicker, down-to-earth, all-American rock and roll credentials," Ted said. "I started off by praising her. I even saluted the lesbian thing.
"Here's the question: how on God's good green earth could someone listen to what I say and then claim it's about hate and about knocking and belittling? Joan's awesome.
"I mean, The Runaways. Her whole, 'Put another dime in the jukebox, baby.' I mean, she's the real rock and roll McCoy.
"But belonging on the 'top 100 guitar player' list anywhere on planet earth, even 'Boring' Stone before genuine virtuosos of the six-string? That was my statement. I was only using Joan as an example because she happens to be a perfect one."
Ted Nugent Claims His Honesty Drove People Crazy
Ted Nugent later revealed why people got angry after his comments. Saying that he could give numerous examples on the list that may become before Joan Jett, Ted Nugent stated that his honest remarks drove people crazy.
"I think I can tell that you are a real music lover — you love spirit and soul, defiance, middle fingers on fire, genuine musical authority, all that combination that represents that dynamic and majestic soundtrack to our lives, our American Dream, and if there is a German or a Spanish Dream, I hope they get a soundtrack as well," he continues.
"But Joan Jett represents that. But on the top 100 guitar players list, before Tommy Shaw, before Rickey Medlocke and before Derek St. Holmes — I can go on with a hundred examples… I was only using that beautiful young lady as an example, and people literally went berserk trying to twist it into hate.
"There was no hate. I don't have any hate. I had my hate amputated when I was five years old. No hate — all love and compassion and honesty. That's what drives people crazy: my honesty."
Back in late December 2021, Ted Nugent had blasted the Rock and Roll Hall of Fame by touching on his current Rock Hall situation and said they are rotten and dishonest.
"Why am I not in the Rock And Roll Hall Of Fame?," Nugent said. "That has a lot to do with the fact that you can't always explain why people are rotten. Why do some people violate other people and commit vicious crimes and lie?
"I would like to think about what is going on with the Rock And Roll Hall Of Fame… I don't take it personal. I think I'm in the ultimate Hall Of Fame.
"I went on stage a couple days in Abilene with a great man Tim Montana. The Tim Montana band opened up for ZZ TOP to a packed house in Abilene. Tim Montana says, 'We learned 'Cat Scratch Fever'. Come up and play it with us.' I asked Billy Gibbons if that was okay to do, and he said, 'Oh yeah. I'd love to hear that.'
"They introduced me and the audience went berserk. So don't tell me what my Rock And Roll Hall Of Fame is. I'm in the ultimate Hall Of Fame with real and true lovers of my music! There's nothing more important than that."