Ted Nugent Recalls Playing For Chuck Berry At Age 21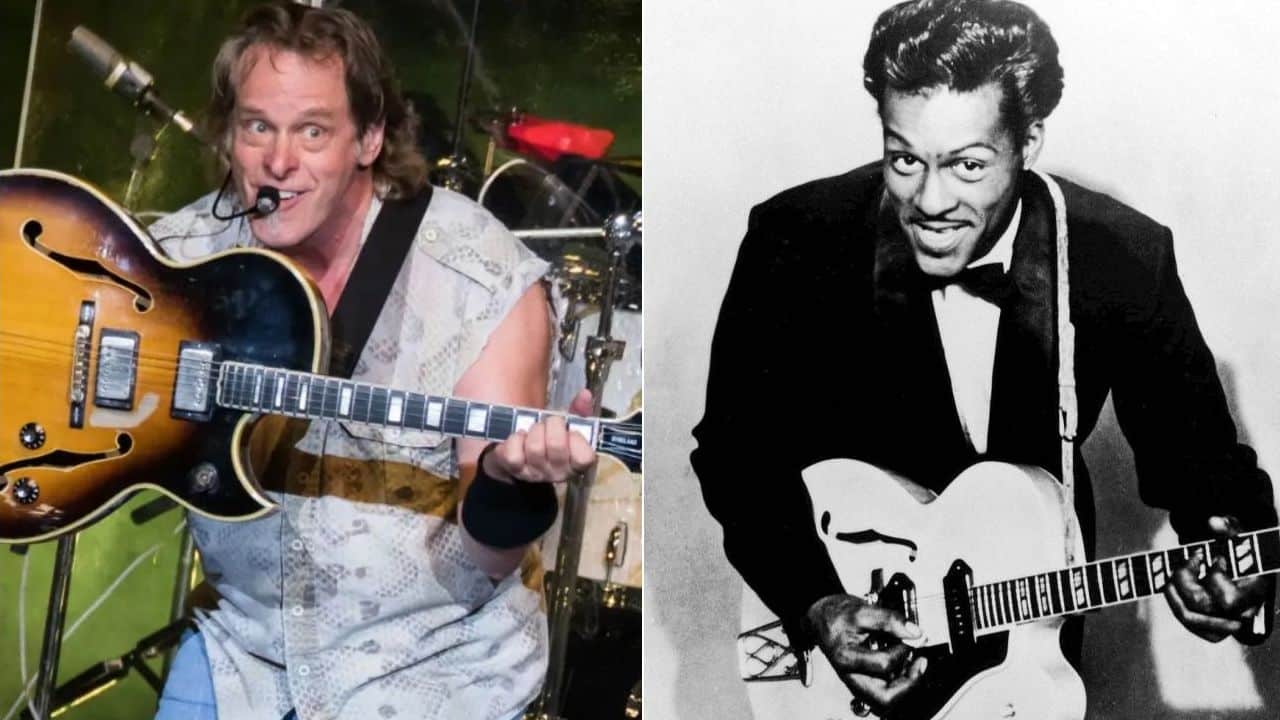 During a recent episode of The Nightly Nuge, Ted Nugent recalled the time he shared the stage with Chuck Berry to play bass for the musician at the age of 21.
Gained international fame for being a part of The Amboy Dukes from 1964 to 1975, Ted Nugent is one of the most influential rockers in the music scene. When he dissolved the band in the mid-1970s, Nugent embarked on a solo career that he succeed, as his biggest hit came during his second year in his solo career in 1997, named Cat Scratch Fever. Releasing 16 solo studio albums during his ongoing solo career, the musician collaborated with legendary artists, such as Meat Loaf, Derek St. Holmes, and Charlie Huhn.
As he is considered an influential guitarist, Ted Nugent followed a lot of musicians' steps during his early career. When he was a kid, he absorbed world-known musicians' skills and started playing guitar at the age of 10 in 1958. He then developed himself and became a master of playing guitar. He every time named Chuck Berry as his biggest influence, as well as naming Duane Eddy, Jimi Hendrix, Keith Richards, Lonnie Mack, and Wayne Cochran as the others.
However, during his recent appearance on his YouTube show, Ted Nugent reflected on playing bass for Chuck Berry at the age of 21. At first, the host Keith asked Nugent how Chuck Berry's getting his muse influenced Ted Nugent's music. Uncle Ted started praising Chuck Berry.
"Well boy, I'm just the guy to celebrate that because Chuck Berry's spirit just saturates my very being," he said (as transcribed by MetalCastle.net). "I'm like a martial arts Chuck Berry genuflecting at the alter of all things – real rhythm and blue is rock and roll."
Ted Nugent Details Playing Bass For Chuck Berry At Age 21
In the continuation, Ted Nugent mentioned started playing bass for Chuck Berry on stage during his youth. Touching on the first Chuck Berry album released in 1957, the artist went deep into his childhood, saying that he absorbed all those beautiful things from the musician. He said seeing and hearing Chuck Berry led him to play alongside him.
"This little smart-ass kid was born in Detroit in 1948," he added. "Shortly after that, Chuck Berry's first album came out with a brand new experimental guitar by Charlie Bird and Hank Garland, called The Birdland. And it was on the cover of the Chuck Berry record.
"And I didn't know at the time because I was still a mushy-brain kid. But that mushy brain kid was absorbing everything from the mystical flight of the arrow with FredBear to the outrageous uppitiness of Chuck Berry. And eventually in 1969, that guitar player from Detroit got on stage in Riviera Beach, Florida, and played bass guitar for Chuck Berry."