Ted Nugent On Bruce Springsteen: "Communism Supporter Dirtbag Surrounds Me With Great Musicians"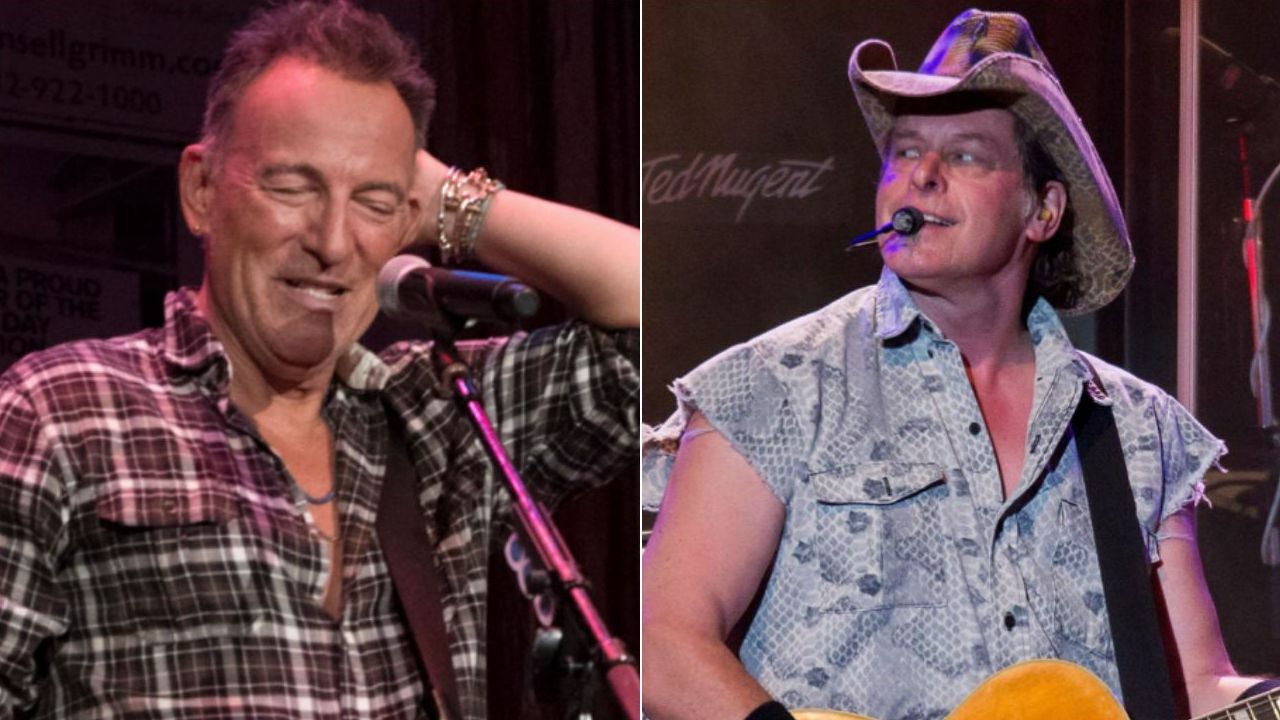 In a new interview with That Jamieson Show, the world-class musician Ted Nugent has sent praising words for the renowned rock musician Bruce Springsteen, saying he is a dirtbag surrounding Ted with great musicians.
The lead guitarist and lead vocalist of the rock band The Amboy Dukes, Ted Nugent, who is also known for his political comments and supports Donald Trump heavily, is an American musician who released fifteen solo studio albums in total. During his early solo career, Nugent performed alongside great singers such as Brian Howe, Meat Loaf, Derek St. Holmes, Charlie Huhn, and more.
On the other hand, Bruce Springsteen, aka The Boss, gained international fame for his successful solo career. Debuted in 1973 with Greetings from Asbury Park, N.J., Bruce Springsteen, who is the highest-paid musician in 2021, released twenty solo albums at press time. His latest album was 2020's Letter To You. As some of you know, Springsteen supports Democrat Party in the US.
Bruce Springsteen and Ted Nugent's political views are definitely opposite to each other. While Ted Nugent has been supporting Donald Trump against the current president of the US, Joe Biden, Springsteen supports the Democrat Party, which is called a communist by Ted Nugent. In August 2020, after Biden won the election, Springsteen had allowed the use of his song The Rising for Democratic National Convention.
However, during his recent appearance, Ted Nugent sent praising words for Bruce Springsteen, saying peacefully he is a dirtbag. Recalling his performance with Springsteen's band E Street Band, Nugent added that he was surrounded by great musicians thanks to him.
"You couldn't get further apart ideologically, politically or truth, logic and common sense-wise than me and Bruce Springsteen, but here I'll show a little love for Bruce," Ted said.
"I've been able to perform on the 'Conan' show with E Street Band, which is one of the greatest joys of my life. I've always been surrounded by the best musicians, and that's the perfect example.
"We played 'Jenny Take A Ride' by Mitch Ryder, and Max [Weinberg] and the guys performed it with unbelievable accuracy and perfection and soulfulness.
"So I give him that salute for having that quality of virtuosos that deliver his music.
"Instead of going after Bruce for being a dirtbag and supporting communists like Biden and Obama, people that ruined quality of life, especially for minorities – how he can't see that, I don't know."
Ted Nugent Adds Bruce Springsteen Makes Music With His 'Heart And Soul'
Ted then once again saluted and praised Bruce Springsteen. He touched his musical style and said Springsteen has been making music with his heart and soul. According to Nugent, he and Springsteen share the reverence and the admiration for musical integrity and enthusiasm.
"I would like to salute Bruce Springsteen because he always supported Mitch Ryder and The Detroit Wheels, a foundational, fortified A-10 Warthog of musical authority in all great bands' lives," Nugent continues.
"And if nothing else, if I met Bruce, I wouldn't punch him. I always have Mike Tyson with me, and I give him a hundred bucks to punch assholes. And I wouldn't have Mike punch him. I would say, 'Mike, take a minute off. Go find some other asshole to punch.'
"But I'm gonna say 'thank you' to Bruce Springsteen because we share the reverence and the admiration for musical integrity, enthusiasm.
"And you have to admit Bruce's career is based on his musical heart and soul. The delivery and content of his lyrics I don't abide by most of the time, but I would thank him for his enriching lives with powerful music. I wouldn't go into his communist predilections.
"I would also thank him for doing a 9/11 tribute. So he's got some great, great spirit."
Back on this past January 11, Ted Nugent had commented on his failure to qualify for the Rock and Roll Hall of Fame. Saying that it's ridiculous he failed to qualify, Nugent explained why he thinks that Rock Hall acts disrespectfully to the gods of rock music.
"When I criticize the Rock And Roll Hall Of Fame… let's take me out of the equation," said Nugent. "Let's say I don't qualify — which is ridiculous — but let's pretend I don't qualify. But why ABBA before STYX? Why Patti Smith before Triumph? Why Grandmaster Flash or Jay-Z at all?
"I mean, to think that they would qualify before the artists I just mentioned, and myself included, it's just dishonest and it's literally disrespectful to the gods of this music — Chuck Berry and Bo Diddley and all the gods that created this incredible soundtrack.
"But I don't take it personally because I don't need it. And quite honestly, the authenticity of the Rock And Roll Hall Of Fame has been so tainted by the inclusion of not just non-rockers but anti-rockers. Madonna? Really? So I find it offensive on that level.
"I go back to the people thinking I hated Grandmaster Flash. I don't hate anybody… I don't take this stuff personally but I find it offensive to real rockers, to real rock artists and to real rock and roll fans. Because Grandmaster Flash in the Rock And Roll…
"And I hope he's happy, I hope he's healthy and successful. But Rock And Roll Hall Of Fame? Why don't we just go down to Chuck Berry's grave and take a shit on it? That's what that represents to me. And it's unforgivable."