Ted Nugent Likes To Listen To 'Some Of The New Stuff By Foo Fighters'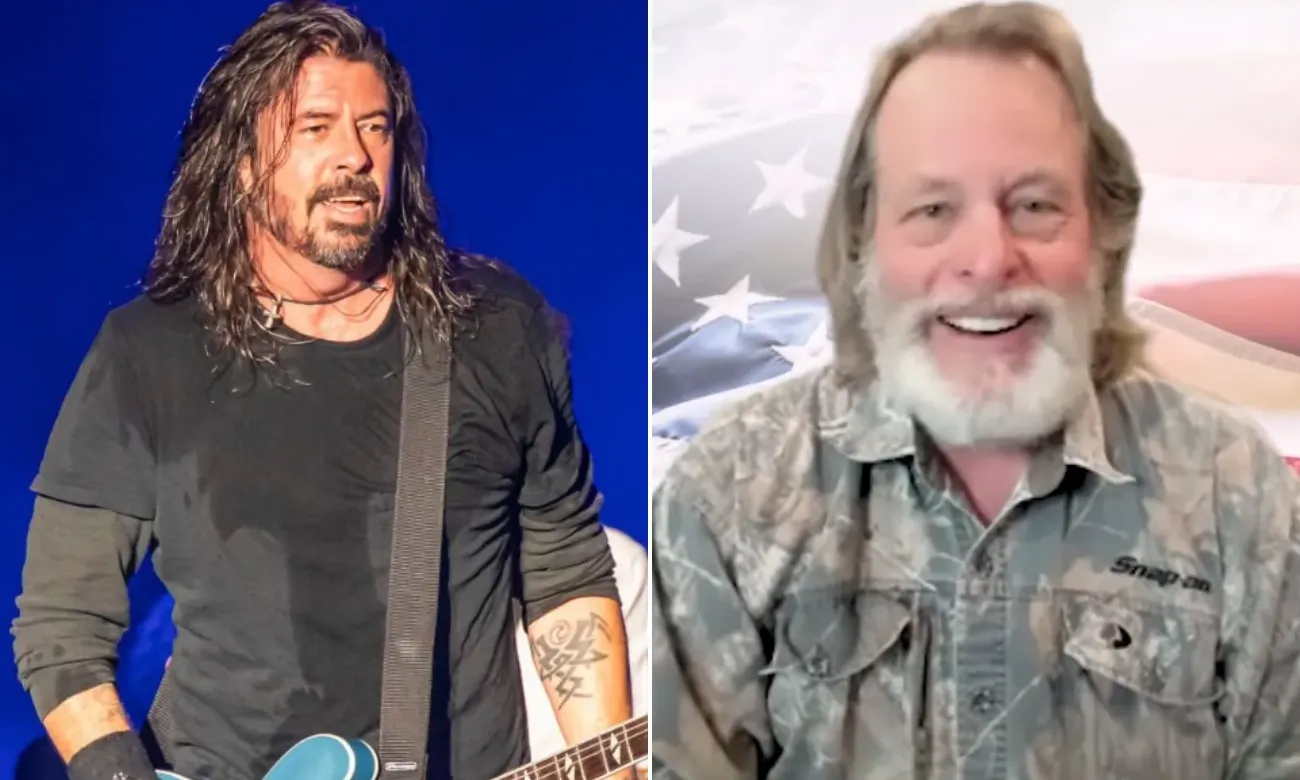 During his recent episode of The Nightly Nuge show, Ted Nugent revealed the artists he's used to listening to. He shared huge names from Sammy Hagar and Van Halen to Aerosmith and Foo Fighters.
Ted Nugent has been contributing to rock music since 1964, the time he first picked up the guitar as a professional while he was playing for The Amboy Dukes. He is considered one of the biggest rock musicians of all time, as he released seven studio albums for being a part of The Amboy Dukes and released sixteen studio albums during his ongoing solo career. He also brought two different albums with his other band Damn Yankees.
Besides creating music, listening to music has always been an important hobby for Ted Nugent. The successful musician, who always has his guitar with him and enjoys playing music as he is an energetic character, has received most of his inspiration from listening to music during his career. Little Richards, Chuck Berry, Bo Diddley, Sammy Hagar, and Van Halen are among the artists he has always loved to listen to date. Furthermore, there was one more name that he had always liked to listen to; Foo Fighters.
Foo Fighters was one of those bands that earned international fame in a short time period, even though their name was young for the music scene. They were formed by Dave Grohl in 1994, years later the band's frontman Grohl's former band Nirvana was disbanded. Since then, they've kept continued getting experiences and influences by their heroes and has released ten studio albums. Today, they have won 15 Grammy Awards in total – which making them one of the most successful rock bands of all time.
In his recent appearance on his YouTube channel, Ted Nugent answered what kind of music he's liked to listen to in the community. Sending his respect to Little Richards, Nugent added Bo Diddley Chuck Berry, and Wilson Pickett. He also didn't forget Steve Cropper, who was a musician Nugent played at Graceland soundstage where they performed "In The Midnight Hour" together.
"You know, I still celebrate that middle finger on fire of a Little Richard," Ted names (as transcribed by MetalCastle.net). "I mean, just put a long tall sally, or any other classics by Chuck Berry, Bo Diddley, James Brown, or Wilson Pickett. I met the incredible Steve Cropper in Memphis on this tour [Detroit Muscle tour.] And that was the guy that wrote 'Knock And Wood'. [Also] 'The Midnight Hour' – Steve Cropper wrote 'The Midnight Hour'."
Ted Nugent Adds Big Names, Such As Foo Fighters, Sammy Hagar, Aerosmith And ZZ Top
Ted Nugent then respected a lot of big names while he was continuing to name his favorites these days. There were names like ZZ Top, Foo Fighters, Sammy Hagar, and Judas Priest in the book. According to him, hearing new stuff by Foo Fighters was great for him.
"There are the classics that I still love to listen to," he continues. "I love to listen to some of the new stuff by Foo Fighters, but I'm waiting for the guitar solo crescendo when it never comes. So, I still like to listen to ZZ Top, and I loved to listen to James Brown live at the Apollo.
"I love the classics by Aerosmith, Montrose, Sammy Hagar, and Van Halen. I like all those grinding high energies. Even Judas Priest – which people call [they're] heavy metal – but Judas Priest's best stuff is redeeming and blues-oriented grinding stuff. So that's a kind of stuff I listen to."
Back this past May, Ted Nugent even sent praising words for Metallica. At the time, he touched on Metallica's sound, naming them unbelievable musicians. He thought they have played grunting.
"I love Metallica and I love Slayer and I love Megadeth and I love 'em all," Ted says.
"I like a sexy, grunting rhythm. And I hear it from Metallica sometimes, and I love their heavy metal stuff — it's killer. They're unbelievable musicians and an incredible work ethic; they're all in the asset column of life and music."