Steve Vai Reveals How He Owes Everything To Joe Satriani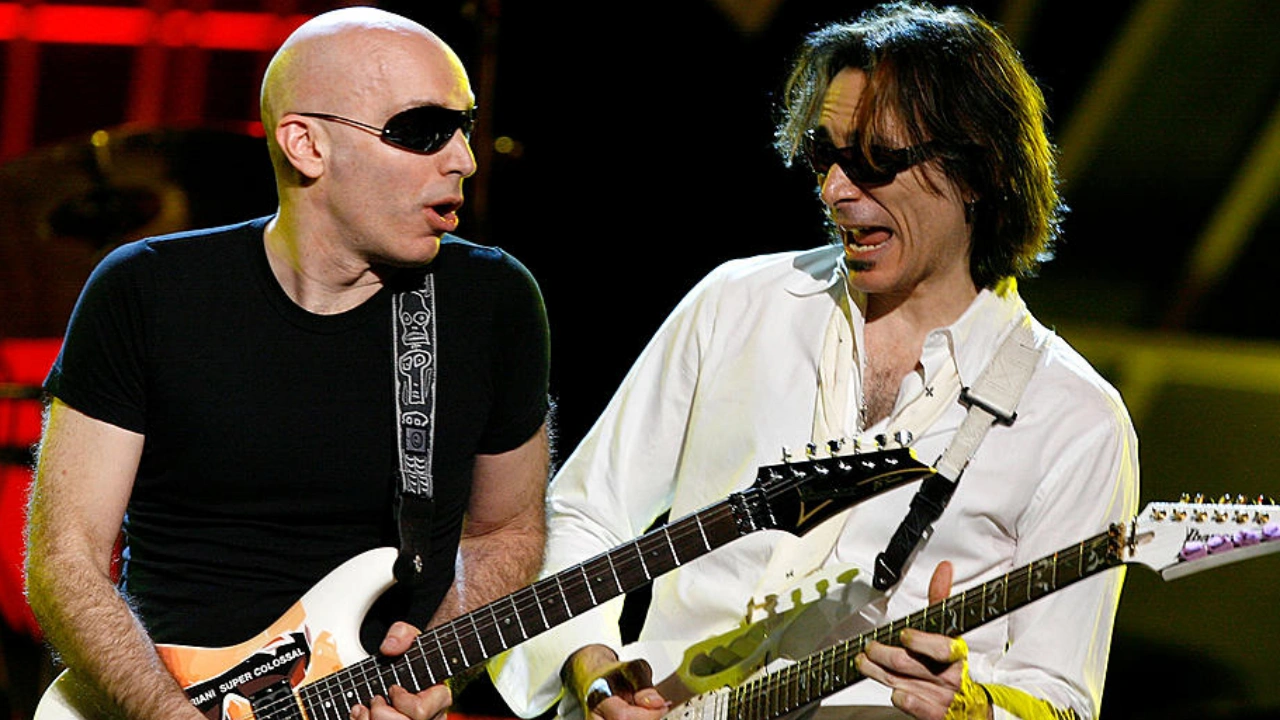 The guitar mastermind Steve Vai respected another guitar mastermind, Joe Satriani, his teacher who taught him everything about guitar playing.
It won't be surprised if a musician like Steve Vai comes to mind when something related to guitar is talked about in any environment. Having devoted himself to every rhythm of the music at a young age, Vai was only five years old when he first witnessed a musical note live. The boy who was walking around to play when he hit the piano note, the spark in him was ignited, and Steve Vai was born again.
Steve Vai, who was mesmerized when he saw a nine-year-old child who did play guitar at school, started taking his first guitar lesson at the age of 13. In 1973, a friend named John introduced him to Joe Satriani. This moment was life-changing for him. Having become more experienced with each lesson, Vai was now ready for professional music.
It was 1984 when the guitarist released his debut studio album, named Flex-Able. During his nearly 40-year career, the guitarist released albums every few years. As of 2022, he has nine studio albums, and one more is on the way, named Vai/Gash, and set to release in 2023.
However, during an appearance on LifeMinute, Vai recalled the first time he was introduced to Joe Satriani. According to him, he had good vibes for his friend John's guitar playing. When he shared his thoughts with him, John gave him Satriani's number, and everything started.
"I can't even fathom what my life would be like without him," Vai says. "Joe was always cool. He was always solid, sharing and strict. And it was the best thing because he was great, and that's what you want in a teacher; you're inspired by seeing."
Steve Vai Adds Joe Satriani Has Continued To Be An Inspiration For His Life
In the continuation, Vai sent heartwarming words for his teacher Joe Satriani, as always. Saying that he has always been grateful for what he learned from him, Vai stated that he enjoys every time he watches him.
"To this day, the thing that I got most… There's so many things," he continues. "And we're so fortunate that all through these years we've been joined at the hips.
"When I would watch him play, when I was 12, 13, 14, 15, 16, everything he touched on the instrument sounded like music. When it came out of his fingers, it just sounded good; it sounded like there was a soul in it.
"It wasn't just noodly nothingness, the kind of academic exercises and stuff like that. I mean, we did some of that; that's part of the training. So I always appreciated that. And still, he's so solid and he's so musical. His inner musical ear is inspired, that he's continued to be an inspiration my whole life."
In 2021, Steve Vai once again took fans back to the first moment he got Satriani's phone for guitar lessons. He has always been getting excited when he ever mentioned the first moment he got Satriani's phone.
"I went to see John Sergio, and he was listening to all this incredible progressive rock music, he turned me on to Queen and Jethro Tull, Emerson, Lake & Palmer, and he had a guitar, and he started playing it, and I couldn't believe that he could actually play 'Aqualung' or something," Vai says.
"And I said, 'You must be the best guitar player in town!' And he said, 'If you think I'm good, you should see my teacher, Joe Satriani.' And there I was, 12 years old, and John gave me Joe's number and I started taking lessons."