Steve Vai Admits It Was 'Challenging' To Play 'Black Star' Alongside Yngwie Malmsteen: "Nobody Can Play Like Him"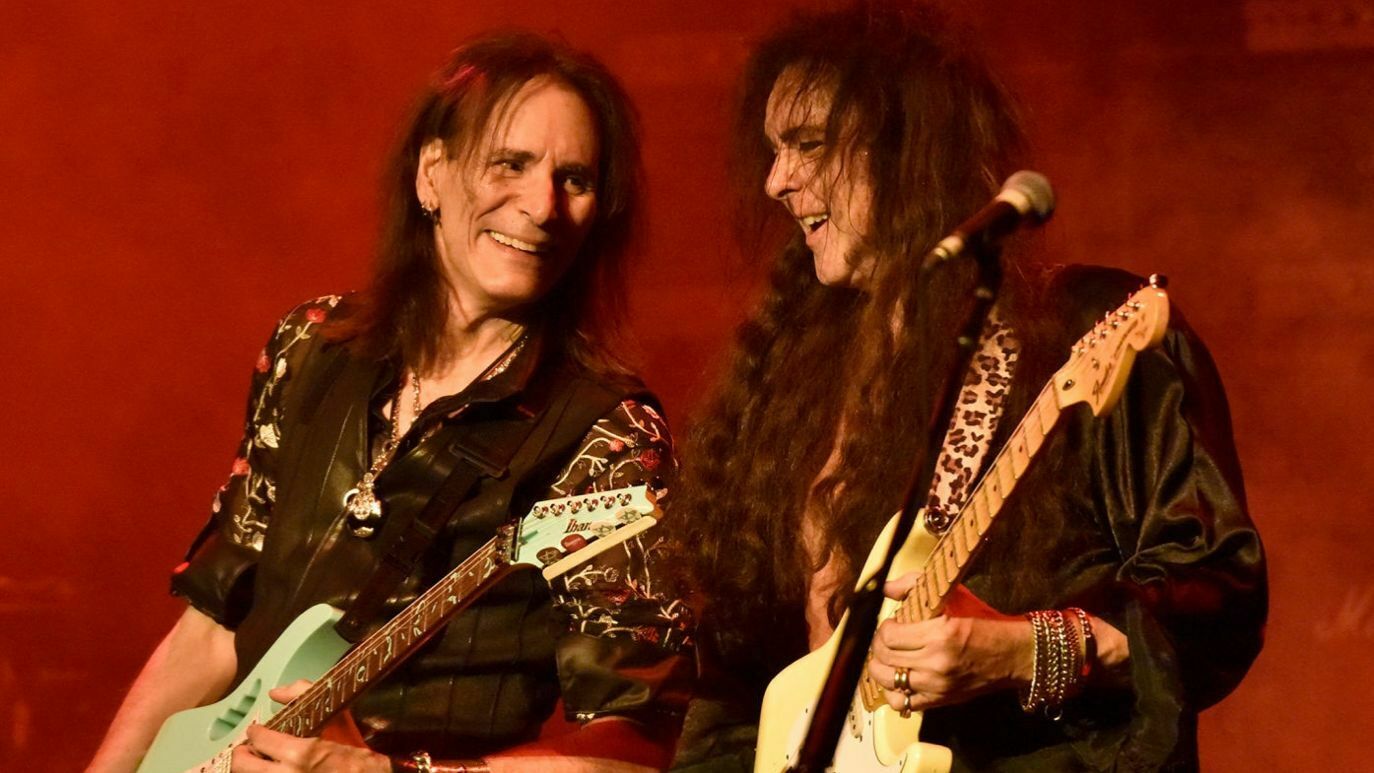 Steve Vai has sent praising words for Yngwie Malmsteen while interviewing with Myglobalmind and admitted that it was challenging to play Black Star alongside him because of his huge talent.
The three-time Grammy Awards-winner rock musician Steve Vai is regarded as one of the most important musicians for music. Debuted in 1984 with his Flex-Able, Steve Vai has released 9 studio albums so far. During his ongoing successful career, the guitar mastermind Steve Vai played alongside great artists such as Billy Sheehan, Paul Gilbert, Eric Johnson, Joe Satriani, Frank Zappa, Whitesnake, and Yngwie Malmsteen.
Yngwie Malmsteen is one of those guitar masters who has been influencing musicians since his first day. At press time, he performed several times alongside Steve Vai during his more than 4-decade career. Debuted in 1984 with Rising Force, Yngwie Malmsteen has released 22 studio albums to date.
Yngwie Malmsteen's sharing stage with Steve Vai happened during the Generation Axe tour, which took place over several shows from 2016 to 2019. At the show, both musicians had performed Malmsteen's classic song Black Star and rocked the audience who went to see them live.
However, in his recent appearance, Steve Vai mentioned the time he shared the stage with Yngwie Malmsteen back in the Generation Axe tour. When the interviewer said, "You took the second harmony, and I expected you to mimic his neoclassical playing style, but you had your own interruption. Was that by choice?", Vai praised Malmsteen and said it was challenging to play alongside him.
"I can't play like Yngwie [Malmsteen]; nobody can play like him," Steve admits. "Nobody can play like me. Nobody can play like anybody.
"What I did was take the harmony or melody of the song and play it the way I would do it. It was challenging because there were a lot of little fast runs with his fingerings and his tonal center, which is different than mine.
"I had to work on it. I could do it, but when it came time as to playing against each other, I'm Steve, and he is Yngwie."
Steve Vai Adds Their Talent 'Forces Them To Compete With Themselves To Be The Best They Can Be'
In the continuation of his words, Steve referenced the rest of the tour, which included Zakk Wylde, Pete Griffin, Tosin Abasi, Nuno Bettencourt, and many more. Touching on each musician's talents, Steve Vai claimed that it forces them to compete with themselves to create the best they can do, which is good for themselves.
"That is one of the greatest things about that tour; they are all extremely confident in what they do," he continued. "They don't compete with you at what you do.
"What happens is it forces us to compete with ourselves to be the best we can be. Zakk [Wylde] is being Zakk as best as he ever can be.
"We are all helping each other to push all sorts of aspects of being professional to stage appearance to communication to playing to off-stage etiquette."
Elsewhere in the interview, Steve Vai was asked how he never ran out of inspiration for exciting and impactful songs. Revealing his secret, Vai recalled the time he started doing these things. According to him, he has been creating tons of new ideas since his 13.
"I don't know. It just shows up when it is needed," Vai said. "I'm not always inspired, but I can sit down and write something. When inspiration comes, I try and capture a thread of it and document it somehow.
"I started doing this when I was 13 years old with cassettes, and now I have what I call the 'Infinity Shelf.' It's 1000s of little snippets of ideas. I'm never going to ever tap those out. If I stopped writing new ideas today, there is enough music there for five lifetimes of songs.
"For this new record, Inviolate, which comes out in January, many songs were culled from those little moments of inspiration that I captured on my iPhone. It might be a simple riff, yet it has the DNA of an entire piece of music in it."
Back in December 2021, Steve Vai had shared his reaction to Van Halen fans who asked him to join the band replacing the late Eddie Van Halen. At the time, he had said about the issue that he has a different position about that.
"Well, I'm not unlike the average Edward fan in that," Vai said. "He really had an effect. For Edward fans that really were touched by him – it's inexplicable, obviously.
"You can try to use words but it doesn't really work, as with many things. So I have a different position in that.
"Yeah, one might say that I replaced the guitar behind the voice. But that's just academics to me. When it comes to the way I felt about Edward and the mourning of his loss…
"I'm a fan like everybody else, and I feel the way they do. But I know also – like many people – that everything in this world is coming and going and coming and going and coming and going.
"And if it doesn't go, it only means you went before it. And we just don't know when!
"So that's something that helps me to get through loss because it's just going to happen. But it was a beautiful, beautiful, amazing ride that he had. He just delivered so much – he had a great run!
"And it's not like he died at 27. We don't want to see anybody like that, we want to squeeze every note out of them."