Steve Vai Comments On Van Halen Fans' Asking Him Eddie Van Halen Replacement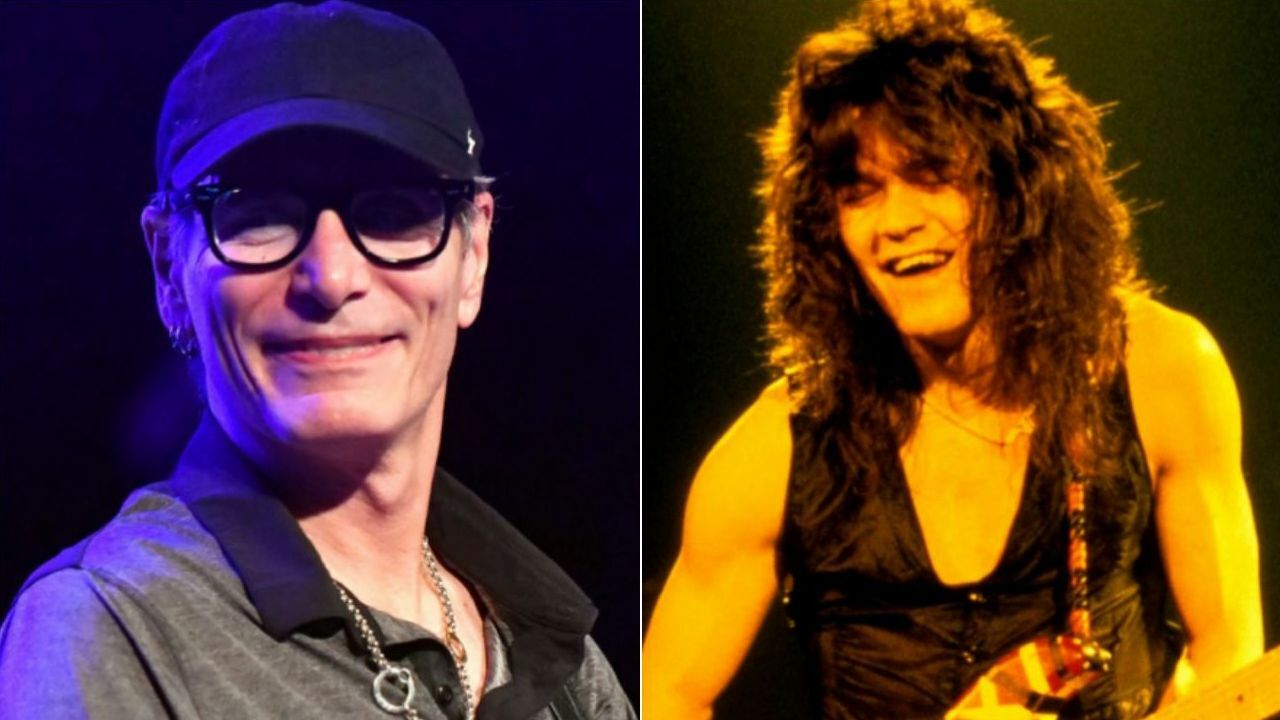 In a new appearance on The CMS Network, the guitar mastermind Steve Vai has commented on people calling him Eddie Van Halen replacement in Van Halen and admitted that he is not unlike the average Eddie fan in that.
Steve Vai is the three-time Grammy Awards-winner American guitarist who performed alongside greatest artists such as Billy Sheehan, Paul Gilbert, Eric Johnson, Joe Satriani, Frank Zappa, Whitesnake, and many more. Debuted in 1984 with his Flex-Able, Steve Vai has released nine studio albums at press time. His latest solo studio album was 2016's Modern Primitive.
In 1985, Steve Vai had joined David Lee Roth's post-Van Halen solo band. He played guitar alongside the bassist Billy Sheehan and the drummer Gregg Bissonette. Throughout his tenure with Roth, Vai had performed the musician's second and third solo album, Skyscraper and Eat 'Em and Smile.
The late Van Halen guitarist and co-founder Eddie Van Halen, who passed away in October 2020, was one of those inspirational guitarists of the rock and roll community. He is regarded as one of the greatest guitarists of all time with his Van Halen career. The late guitarist's musical style and legacy have been continuing to be an inspiration for generations.
However, recently, Vai shared his comment about the issue when the interviewer asked, "A lot of people were like, 'This is the Eddie Van Halen replacement. For you, how did his passing affect you, and what was it about Eddie's playing, if anything, that was so special to you as a contemporary?"
"Well, I'm not unlike the average Edward fan in that," Vai said. "He really had an effect. For Edward fans that really were touched by him – it's inexplicable, obviously.
"You can try to use words but it doesn't really work, as with many things. So I have a different position in that.
"Yeah, one might say that I replaced the guitar behind the voice. But that's just academics to me. When it comes to the way I felt about Edward and the mourning of his loss…
"I'm a fan like everybody else, and I feel the way they do. But I know also – like many people – that everything in this world is coming and going and coming and going and coming and going.
"And if it doesn't go, it only means you went before it. And we just don't know when!
"So that's something that helps me to get through loss because it's just going to happen. But it was a beautiful, beautiful, amazing ride that he had. He just delivered so much – he had a great run!
"And it's not like he died at 27. We don't want to see anybody like that, we want to squeeze every note out of them."
Steve Vai Admits It Was Honor To Play Eddie Van Halen Parts With David Lee Roth
Steve then recalled his tenure with David Lee Roth. Saying that it was an honor to play Eddie's parts with Roth, the guitarist added that those parts have been the coolest guitar parts in rock 'n' roll music.
"For me, it was a complete honor to be able to play those parts," Vai adds.
"If you're a guitar player and you're a fan of that band, you know that those are some of the coolest guitar parts written in rock 'n' roll because they're perfect little arrangements.
"They fall so well on your hands. They'll never sound like Edward but they're great songs to play on the guitar because they're complete.
"And you become a better player, especially like a position that I was in where I was playing his parts to his fans.
"I had to pay deep respect to those parts, and in so doing, I discovered a really great ride there because you have to focus, it has to improve your play. So I was really lucky in all that."
Back in June 2020, Steve Vai had recalled his rarely-known jam with Eddie Van Halen. According to him, those times were interesting.
"Yeah, well, it was kind of interesting. I went to see Allan Holdsworth at The Roxy and this was right at the peak of the Van Halen craze, and Edward came out on stage because he was a big Holdsworth fan and started jamming and we were all like, 'Holy shit! There's Edward!'
"Somehow, I weaseled my way backstage because, at the time, I had pretty much just arrived in LA; I was working with Frank, but I wasn't known by anybody.
"I had an opportunity to talk with Edward backstage at The Roxy and I told him I worked with Frank, and he was a fan, so I told him if he ever wanted to meet Frank to let me know and I gave him my number.
"I thought, 'Edward Van Halen isn't going to call me,' and I went out the next day and came home and my roommate says, 'Edward Van Halen called and wanted to meet Frank so I gave him Frank's phone number,' and I was like, 'Oh no! You can't be giving out Frank Zappa's phone number!'
"The moment he says that – the phone rings and it's Frank, and he says, 'Hey sport…' I go, 'What's up Frank?' He says, 'Come on up, Eddie Van Halen is here.' So I hung up the phone and went over to his house – Edward was there and it was fantastic.
"Oddly enough, he lived like a mile away from Frank and while we were there, Edward ran out, ran home, and came back with the new Van Halen record – I think it was 'Diver Down.'
"So we listened to it and, of course, at Frank's studio there are just tons of instruments, so Edward started playing and then Frank started playing and then I started playing. It wasn't a song, it was just jamming. It was a lot of fun, it went on for a while."