Steve Perry Comments On Appearing With Journey At Rock Hall Induction: "It Was One Of The Most Fun Things I've Ever Done"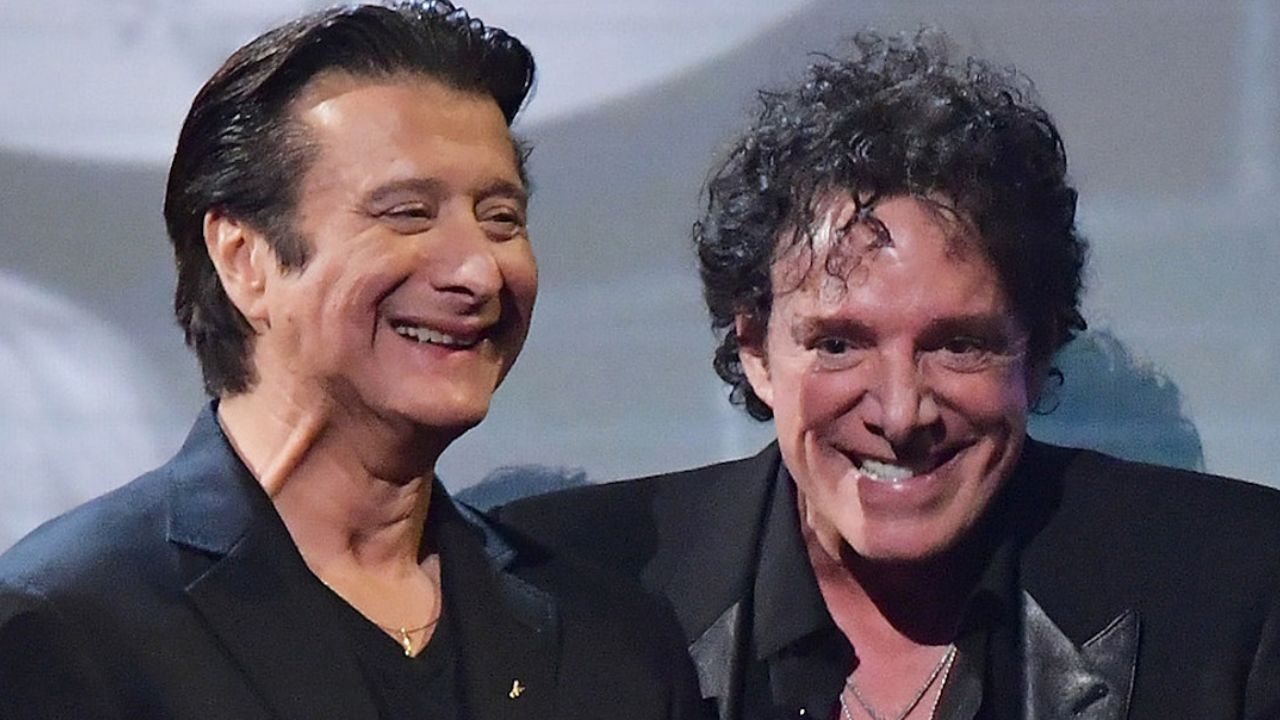 In a new conversation with ABC Audio, Steve Perry has looked back on his appearance with his former band Journey at their Rock and Roll Hall of Fame induction ceremony in 2017 and said that it was funny to appear with them.
Steve Perry was a member of the rock band Journey from 1977 to 1998. Throughout his 21-year tenure with the band, the musician had debuted with the band's fourth studio album, Infinity. His latest album with the band was their tenth studio album, named Trial By Fire, which was released in 1996.
Outside of Journey, Steve Perry has a successful solo career. Debuted in 1984 with Street Talk, Perry had released his fourth and latest solo album on November 4, 2021, The Season, which is a Christmas album of him.
In 2017, Steve Perry had reunited with his former band Journey for the first time after his departure in 1998. He was surprisingly inducted into the Rock and Roll Hall of Fame as a member of the band. Eventhough he appear alongside his former bandmates during the induction ceremony, the musician did not perform with them later in the event.
At first, Perry hadn't wanted to attend the ceremony because he thought that it would be a disrespectful act for the band's current singer, Arnel Pineda, who joined the band in 2007. Later then, he had decided to join his former bandmates on stage.
Recently, the musician has discussed what it was like to appear with his former bandmates during the Rock and Roll Hall of Fame induction ceremony. Opening up about the experience, the singer admitted that it was the funniest thing he's ever done.
"It turned out to be one of the most fun things I've ever done," the singer admits. "It had been so many years and the band's moved on.
"I love Arnel and I thought, y'know, out of respect for him and just where they'd gone, I thought I would just leave it alone. Then I had a friend of mine telling me, 'Look, you deserve to be there — you should be there too.' One thing led to another, and I went."
Steve Perry Says He Sketched Some Words To Describe His Feelings
In the continuation of his words, Steve Perry stated that he sketched some words on a paper to describe how he felt at the moment. According to him, the time they gave would not be enough for what he wanted to say. So, he had improvised the things he wanted to say about his former band Journey and finished by thanking everyone.
"Backstage, it became clear to me what I was doing there, and what I needed to say," the singer adds. "I sketched some stuff on a paper, and when I got out there, I pulled the paper out and said, 'I got some things to say.'
"They gave us all about five to six minutes…and I thought, 'That's not going to cut it for me.' So I went ahead and took the moment, and thanked everybody."
Back in his induction ceremony speech, Steve Perry had praised each Journey member, including the band's current singer Arnel Pineda, who was not being inducted into the Rock and Roll Hall of Fame. He also mentioned the band's fans and said they're rock.
"I must give a shoutout to a man who sings his heart out every night, Arnel Pineda," Perry says.
"I'm crediting you [fans] put[ting] us here. You're the rock and roll hall of fame! From my heart, I must tell you, I've been gone a long time, [but] you've never not been in my heart. Thank you so very much."
This past April, Steve Perry had revealed one of his musical heroes while paying his tribute to the late producer Al Schmitt. Saying that Schmitt was a great producer, he added that he was one of his musical heroes.
"One of my biggest heroes in my life passed last night at 91," Steve said in his social media statement. "Al Schmitt was an amazing recording engineer and mixer. He recorded many of Sam Cooke's hits. Over the years we became friends.
"One day I was hanging at one of Al's sessions, and I met composer Patrick Williams. I asked if there were any words to these amazing strings I was listening to. I was told Patrick had just written the composition and simply wanted to record it.
"Al and Patrick gave me an 'end of day' stereo board mix and some weeks later at Patrick's home, he and his composer assistant Jason Lee and I used that stereo music track to write and record 'October In New York'. That music track Al recorded is on my 'Traces' LP.
"Al was a huge fan of music and was always reaching for all emotional aspects of sincere music. He is missed."
One day I was hanging at one of Al's sessions, and I met composer Patrick Williams. I asked if there were any words to these amazing strings I was listening to. I was told Patrick had just written the composition and simply wanted to record it.

— Steve Perry (@StevePerryMusic) April 27, 2021
Al was a huge fan of music and was always reaching for all emotional aspects of sincere music. 

He is missed…
Steve Perry

— Steve Perry (@StevePerryMusic) April 27, 2021