Rush's Alex Lifeson Recalls 'Shaking And Stuttering' Jimmy Page Meeting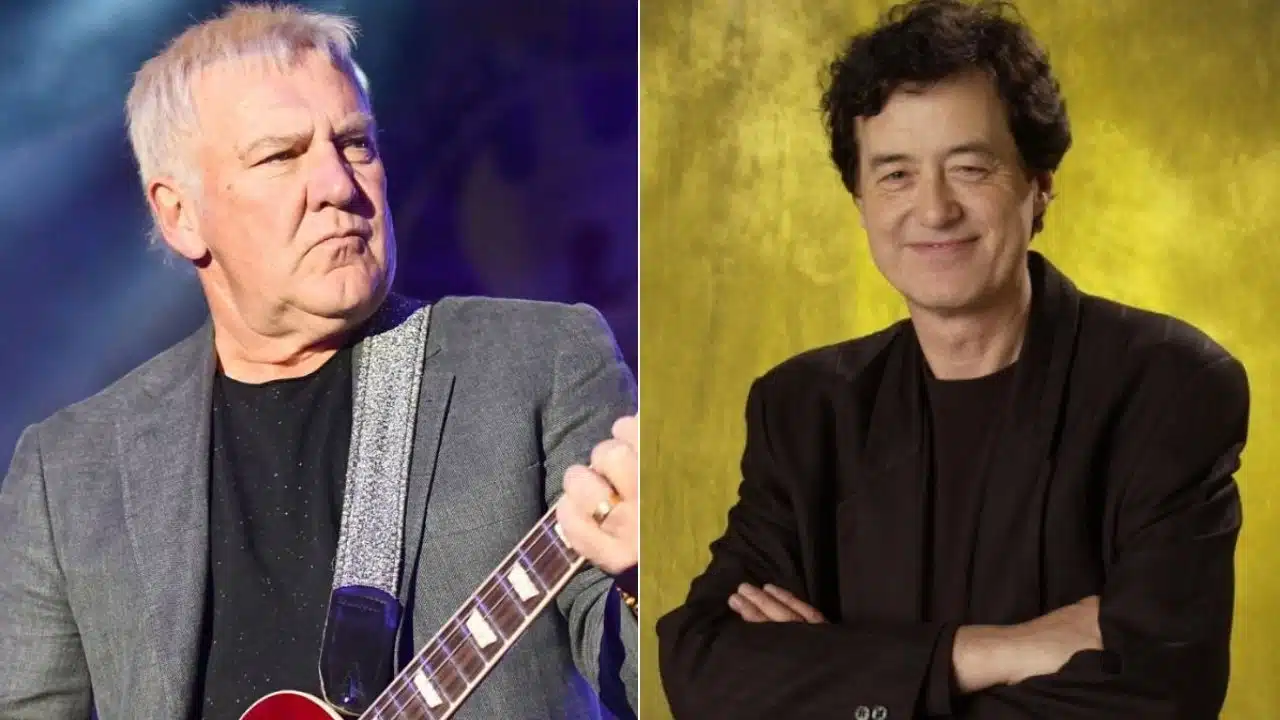 Rush guitarist Alex Lifeson recalled the time he first met with Led Zeppelin founder Jimmy Page and admitted that he shook and stuttered when he heard he was coming to say hello to him.
Jimmy Page is a world-renowned rock musician known for his career with Led Zeppelin. Although the band's career was short-lived, Jimmy Page developed himself and, adding to his perseverance in working on his talent, became one of the best artists in rock music. Contributed to Led Zeppelin's entire discography, which includes the band's 8 studio albums, the musician was the key member of the band who helped them to reach world success.
Out of his Zeppelin journey, Jimmy Page has a great solo career as well. In 1985, he was one of the artists who contributed to the album named Whatever Happened To Jugula?. In 1988, the singer continued to thrill fans with Outrider. Five years later, in 1993, he collaborated with David Coverdale for an album named Coverdale & Page. He added one more album to his catalog, collaborating with his former bandmate Robert Plant, named Walking into Clarksdale.
In music, there are numerous great moments happened so far. One of those moments was Alex Lifeson's meeting with Jimmy Page, no doubt. We are saying this because Lifeson got excited when he heard Page was around him to say hello to him. That moment happened back in 1998 when Geddy Lee brought Alex to Robert Plant and Jimmy Page's show. It was one of the most iconical moments for Alex Lifeson, as he said.
During his recent interview with Guitar.com, Alex Lifeson was asked to reveal one of his biggest fanboy moments involving another guitarist. He detailed those moments, also revealing Geddy Lee's first meeting with Robert Plant. He met with Jimmy Page thanks to his friend Geddy Lee.
"There were many times," Lifeson says. "But one that really stands out for me was in 1998. Geddy was on a trip to Morocco and he met Robert Plant, as they were staying in the same hotel. But it wasn't until the last day that they acknowledged each other; they'd sorta pass each other in the hall and kinda smile and nod their heads.
"On that last day, Geddy said to his wife, 'I've gotta go over and just thank him for what a great inspiration he was for me growing up as a musician'. He went over to his table, you know we're always uncomfortable to do something like that, and he said, 'Excuse me, Robert, I just wanted to say…', and he said, 'Oh, Geddy! Do sit down, let's have a glass of wine! Finally, I was waiting for you to come round!'"
Alex Lifeson Admits He 'Shook And Stuttered' When Jimmy Page Approached Him
He then mentioned the next day that Geddy and Plant met with each other. During their speech, Plant told Geddy that he could bring Alex Lifeson to their show in Toronto. However, when Alex and Plant were chatting with each other, Plant brought Page. At that moment, Lifeson shook and stuttered.
"The following day when they saw each other, Robert said, 'We're going to be in Toronto later this summer, bring Alex down to the show, it would be great to see you'," he continued.
"So we went down. We went up to the elevator, up to the dressing-room floor, and we were chatting with Robert. He's such a wonderful person. During the conversation he says, 'Hang on, I'm just gonna go get Jimmy to come in and say hi,' and I was like [gasping, shaking and stuttering] '… Jimmy Page? You mean Jimmy Page?' I couldn't believe it!
"He came in the room – I was so nervous! But he was so gracious and so nice. This is when I discovered it's always a bigger deal in your own mind than it is when you meet somebody."
On April 1, Chad Smith detailed the upcoming Ozzy Osbourne album. During the interview, he revealed an exciting act. According to him, Ozzy Osbourne tried to get Led Zeppelin's Jimmy Page to the album.
"Tony Iommi and Ozzy have never collaborated outside of Black Sabbath," he says. "Tony sent us a bunch of riffs and we took what we thought was the best of 'em, which was fucking great. So Andy's on the bass doing fucking great — the bass on the song is amazing.
"And Tony sent us the riffs — files; he's in England — and we played to it. It's fucking got everything. It's got all the stuff that you would want. Ozzy loves it. And so he's on that track.
"Then Eric Clapton plays a fucking wah-wah Cream-type solo. We're, like, 'Eric, can you solo on this song? Wah-wah, please. Eric, what do you think about this, with the wah-wah?' Because that's his fucking thing. And so he's soloing all over this other track.
"Then Jeff Beck is on two songs. We tried to get Jimmy Page, we tried to get the holy trinity, but I don't think Page plays anymore too much, unfortunately. But Mike McCready's on a track. Josh Homme, my neighbor from Queens, solos on a track.
"And then Zakk Wylde is on the record as well, all over it. So it's like if you're a guitar player, [it's] pretty fucking good."