Bruce Dickinson Claims Iron Maiden Fans Go To Say 'Fuck Me' Every Time They Listen To Senjutsu.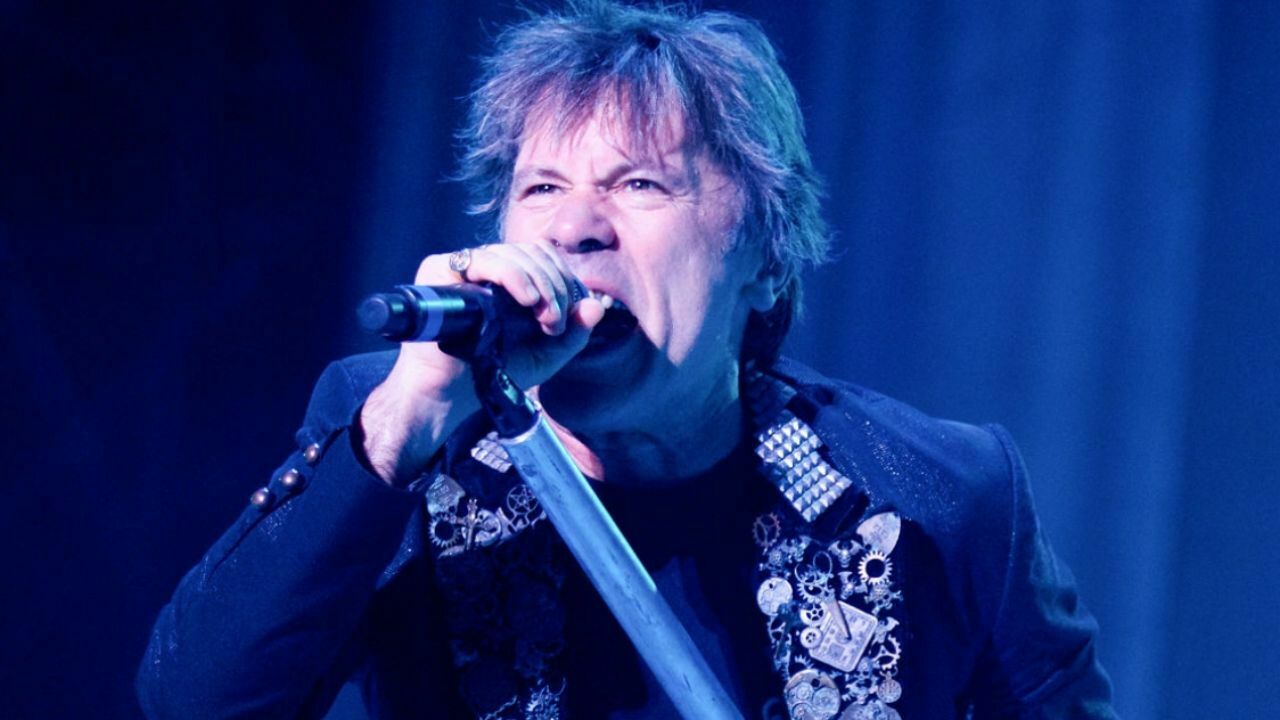 Iron Maiden vocalist Bruce Dickinson has commented on his band Iron Maiden fans' certain reaction to the band's latest album Senjutsu and said that they would say fuck me when they listen to the album.
During its ongoing insane career since 1975, Iron Maiden has released numerous successful efforts that made them one of the greatest heavy metal bands in rock history. Debuted in 1980 with its platinum-certified self-titled album, Iron Maiden's discography includes 17 studio albums, 13 live albums, 4 EPs, and such respectable efforts.
One of the most successful albums of the band was their latest and seventeenth effort, Senjutsu. The band released the album on September 3, 2021, and peaked at number one in several charts, such as Offizielle Top 100 in Germany, Billboard's US Top Hard Rock Albums, and US Top Rock Albums.
Having more than 80-minute listening time, Senjutsu consists of 10 tracks in total. The album marks the first album since 1998's Virtual XI that features multiple songs written by the band's founder and bassist Steve Harris alone.
However, during a new appearance on Classic Rock, Bruce Dickinson discussed the band's latest album's energy, how they decides to make an album over the years, and Iron Maiden fans' certain reactions to the album every time they listen. At first, the vocalist revealed what fans would say when they listened to the album.
"When they hear this album, people are going to go: 'Fuck me!'" Dickinson says.
"Every song is Maiden at the top of our game. Every song could be a live favorite. We haven't played a Maiden album from start to finish since 'A Matter Of Life And Death,' but this album is so good that it could warrant being played in its entirety."
Dickinson Admits Taking Senjutsu On The Road Is Exciting For Iron Maiden
Bruce Dickinson then admitted that taking the band's latest album Senjutsu on the road to play during live shows is exciting for his band Iron Maiden. Also touching on his band's current state of chemistry, Dickinson stated that any band member isn't mellowing with age.
"Obviously we haven't finished the Legacy tour yet, but the thought of taking this album on the road is exciting to all of us," he admits. "Making it come alive on stage, with all its time changes and shifts of tone and mood, is going to be a challenge.
"But if I didn't relish a challenge, I wouldn't have joined this band in the first place. No one is mellowing with age.
"We're all committed to this, and taking on the world again after everything being on pause is going to be one hell of an adventure. We look forward to seeing you there."
Elsewhere, Dickinson revealed how the band decides to make an album and how they act during the creation process of the effort. According to him, all those happen suddenly, and they decide to create something new.
"I love the energy of it," Dickinson reveals. "We turn up to the studio with nothing planned, and look at one another and go: 'Okay, what have you got?' And then Steve or Adrian reaches into their box of toys and pulls out a riff or half a song, and I go: 'Alright! I'm liking that! Let's go!'
"We jiggle and tweak things – it's like a cross between a game of tennis and a juggling match – and we see what comes out. Steve is a lot more controlling about his stuff, it's fair to say.
"He might take a riff from Janick or Adrian and disappear for three or four days, and then he'll resurface and go: 'Right, I've three songs ready to go!' The pressure he puts on himself is phenomenal, and he rises to the = challenge every time."
Back in this past September, Dickinson had revealed the surprising thing the band's bassist Steve Harris did in the album.
"The stuff that we were starting on 'The Number of the Beast,' all that kind of stuff," Dickinson says. "But it's really much more formed now into whole pieces, and double-tracked, and layered.
"And surprisingly, a lot of that came from Steve [Harris, bass], not from me. You expect that from the vocalist, but a lot of that came from Steve. All those Moody Blues things and those layered vocals, that's all Steve, that's all his vision.
"And then, obviously, there are Adrian's songs as well that I've written with him. I should add that whilst there are four tracks that are 10-minutes-plus, which is all fine, but there are some other tracks on there that are really nice and compact.
"'Stratego' is five minutes, 'Days of Future Past' is four minutes, which honestly, that track could have fitted on 'Piece of Mind,' or 'Powerslave,' it's the same kind of energy.
"'Senjutsu,' the opening track, even though I think it's eight minutes or something, it doesn't feel like eight minutes, it's so much on it.
"So there's a real mixture, it's a real journey through the album."