Paul Stanley And More Rockers Reacts To Will Smith Slapping Chris Rock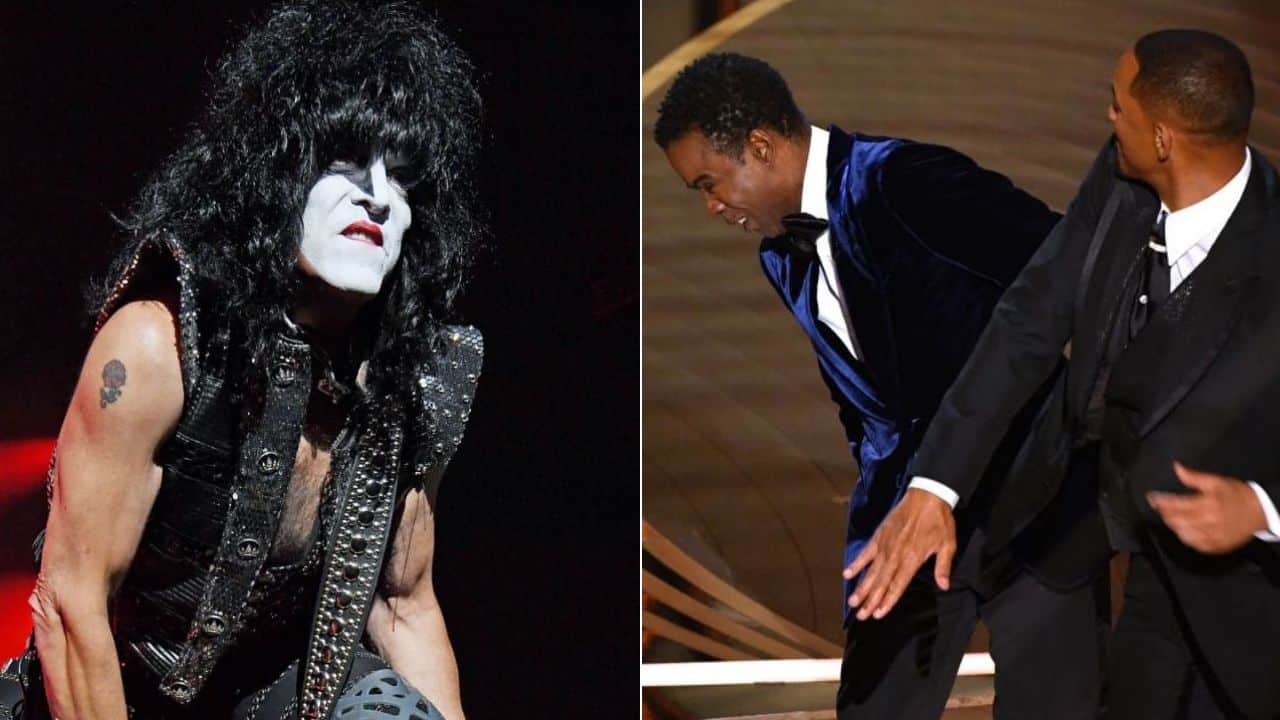 Paul Stanley, Charlie Benante, Alex Skolnick, and other rockers have broken their silence on Will Smith's slapping Chris Rock at the Oscars on Sunday, March 27.
As some of those who watched the Oscars Sunday night, they all have seen and heard the slap Will Smith sent through Chris Rock's face in front of artists. As everyone accepts, it was a humiliating moment for both artists.
If you ask what happened between Chris Rock and Will Smith, Rock, a former Oscar host and worldwide comedian, has come out to present the award who won it. During his speech, he made a few jokes to make people laugh, as he is a comedian. One of those jokes came a little offensive to the Smith family, as the comedian touched on Jada's close-cropped hair, saying that he couldn't wait to see her in G.I. Jane 2, which is a film that famously starred Demi Moore as a military soldier who had shaved her head. But the joke Rock made wasn't a view to amuse Pinkett-Smith, who has been open about having alopecia, a medical condition that leads to hair loss.
Furthermore, even though he laughed at Rock at first, Will Smith appeared on stage, approached the comedian Chris Rock and slapped his face heavily. Just after he walked off the stage and sat down in his chair, Will Smith yelled at Rock, "Keep my wife's name out your fucking mouth." In the end, Rock showed off his surprise and told the audience that "that was the … greatest night in the history of television."
Will Smith then returned to the stage to accept the Best Actor Oscar award. During his acceptance speech, Smith talked about his loyalty to his own family while speaking of Richard Williams, saying, "Richard Williams was a fierce defender of his family. At this time in my life, at this moment, I am overwhelmed by what God is calling on me to do and be in this world. I'm being called on in my life to love people and protect people. And to be a river to my people. And I know to do what we do, you've got to be able to take abuse, and you've got be able to have people talk crazy about you." He also apologized to the Academy, but not Chris Rock.
However, after that moment, some rockers have taken their social pages to share their opinion on Will Smith's slapping Chris Rock. From Paul Stanley to Charlie Benante, to Doc Coyle, to Vernon Reid, to Alex Skolnick, they have sent memes or blame the moment.
Paul Stanley
Paul Stanley's tweet attracted huge attention from people who saw it. Quoting Smith's words that said "Love makes you do crazy things," Stanley said that was weak.
"Wait," Paul Stanley tweets. "Chris Rock makes a bad joke about Jada Pinkett's appearance. Will Smith walks onstage hits him in the face shouts out obscenities & later in tears accepts an Oscar saying 'Love makes you do crazy things' to a STANDING OVATION?!?
"WTF Hollywood. That's not WOKE. That's WEAK."
Mark Morton
Mark Morton was also one of those rockers who commented about Will Smith's slapping Chris Rock. Sending a piece of words about how the argument could have ended, Morton said Smith should have apologized to Rock.
"You know what would be RAD?" Morton asked.
"Will: I'm sorry Chris. I shouldn't have done that. What you said really hurt her feelings & that made me furious. I lost my cool.
"Chris: I understand. I forgive you. I really didn't mean to hurt y'all like that. I wouldn't have said it if I'd known."
Zach Myers
The Fairwell founder Zach Myers has sent a few tweets to mention Will Smith's crazy moment with Chris Rock. Quoting the video of the moment, Myers said: "How do you get people to watch a show no one has watched in 3 years …. 1,2,3."
And then, he sent more tweets to blast Hollywood, describing it as a joke.
"Hollywood … which is a joke in itself Is now a place where you can't make jokes As a comedian Lol," he adds. "I really wish Chris Rock woulda doubled down 'and that's why everyone fucks your wife.' OK. I'm done."
Alex Skolnick
Alex Skolnick clearly wasn't happy about Will Smith's slapping Chris Rock. Showing off his standing alongside Chris Rock, Skolnick said that there are better ways to express displeasure.
"I missed Oscars2022 & a whole lot apparently," Skolnick said. "Quick thought: Wasn't he the 'nice' rapper? Meanwhile 'scary' rappers have great senses of humor, ie IceT & Snoop (his IG is LOL FUNNY).
"C'mon Will Smith. You don't have to like Chris Rock 's joke but an ugly meltdown? Violence? Wtf?
"Will Smith's overreaction at the Oscars stole the spotlight from Questo, Summer Of Soul & even King Richard (for which he won!)
"There are better ways to express displeasure. Just when it finally gets past #OscarsSoWhite, he turns it into #OscarsYoFight #willsmithchrisrock."
Charlie Benante
Charlie didn't believe what he saw at first, as he was asking in his tweet what Smith did to Rock.
"Wtf," he reacted to the moment. "Did Will Smith just punch Chris Rock ??"
Then he sent a meme about it, which features the possible Pantera's Vulgar Display Of Power album cover.
Doc Coyle
Bad Wolves guitarist Doc Coyle has sent a piece of meaningful words, as you can read below.
"If all those celebs could get blow torched all those years by Rick Gervais at the golden globes without slapping somebody, you'd think Will could control himself," Coyle comments.
"I imagine we will get a lot of takes from those who say people should stop being so sensitive about comedy & mean jokes but who also pro-vengeance & taking matter in your own hands. It will be confusing."