Pantera Tour Dates, Locations And Tickets For 2023 And 2024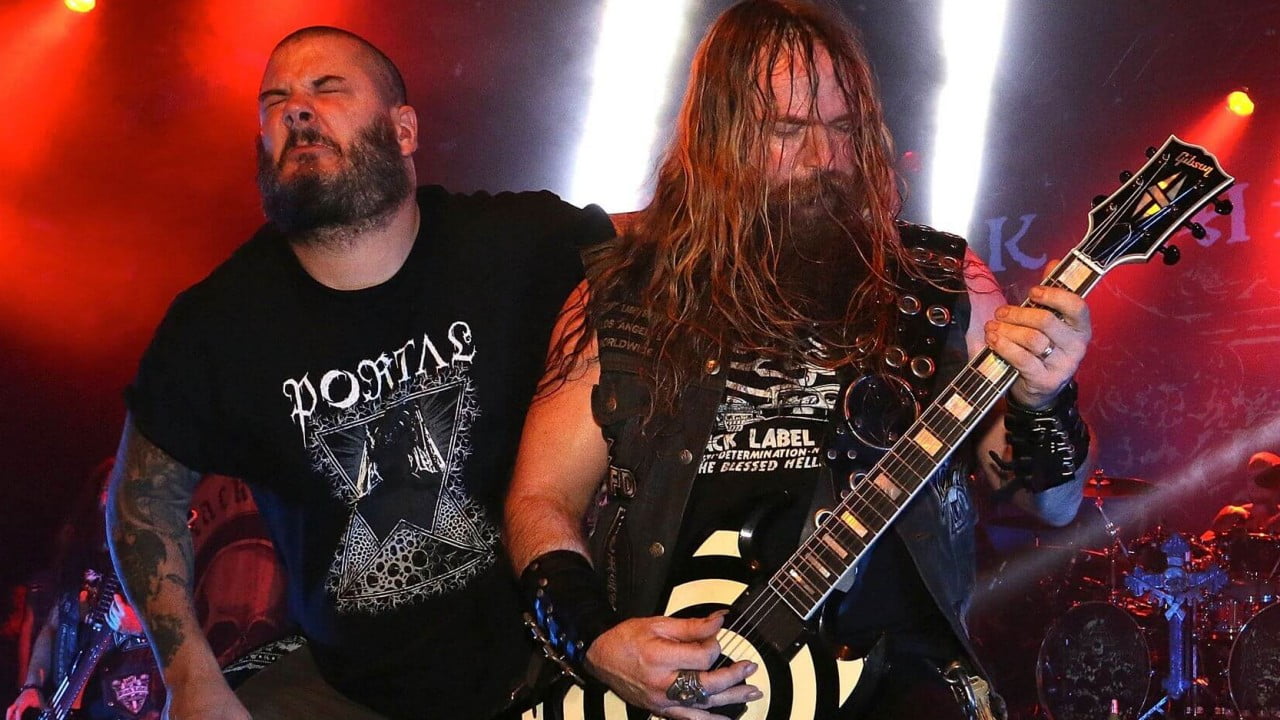 When the rumors of Pantera's reunion first appeared in July, no one wanted to believe it. The reunion became official a few days after the first rumor and shocked the rock and metal world. After that, fans began to wait for the new Pantera shows with the new lineup.
The band signed Zakk Wylde on guitar and Charlie Benante on drums to replace the Abbott brothers. Both musicians were huge fans of Pantera and wanted to fulfill their parts in the best possible way. They have worked hard over the months and contributed to Pantera's legacy in their way.
However, Pantera played its first show at Hell & Heaven Open Air on December 2, 2022, in Mexico for the first time in 21 years. They then visited the Monterrey Metal Fest scene on December 6 to rock Pantera fans in Monterrey, Mexico. Pantera, which will play a total of 7 shows throughout December, will play its last show of 2022 at Knotfest Brasil on December 18, 2022.
This article will answer the questions about Pantera shows in 2023 and 2024 and their locations. Thus, fans will be able to find out what to do about which tour in one article. So, let's get started.
Is Pantera Going To Tour US?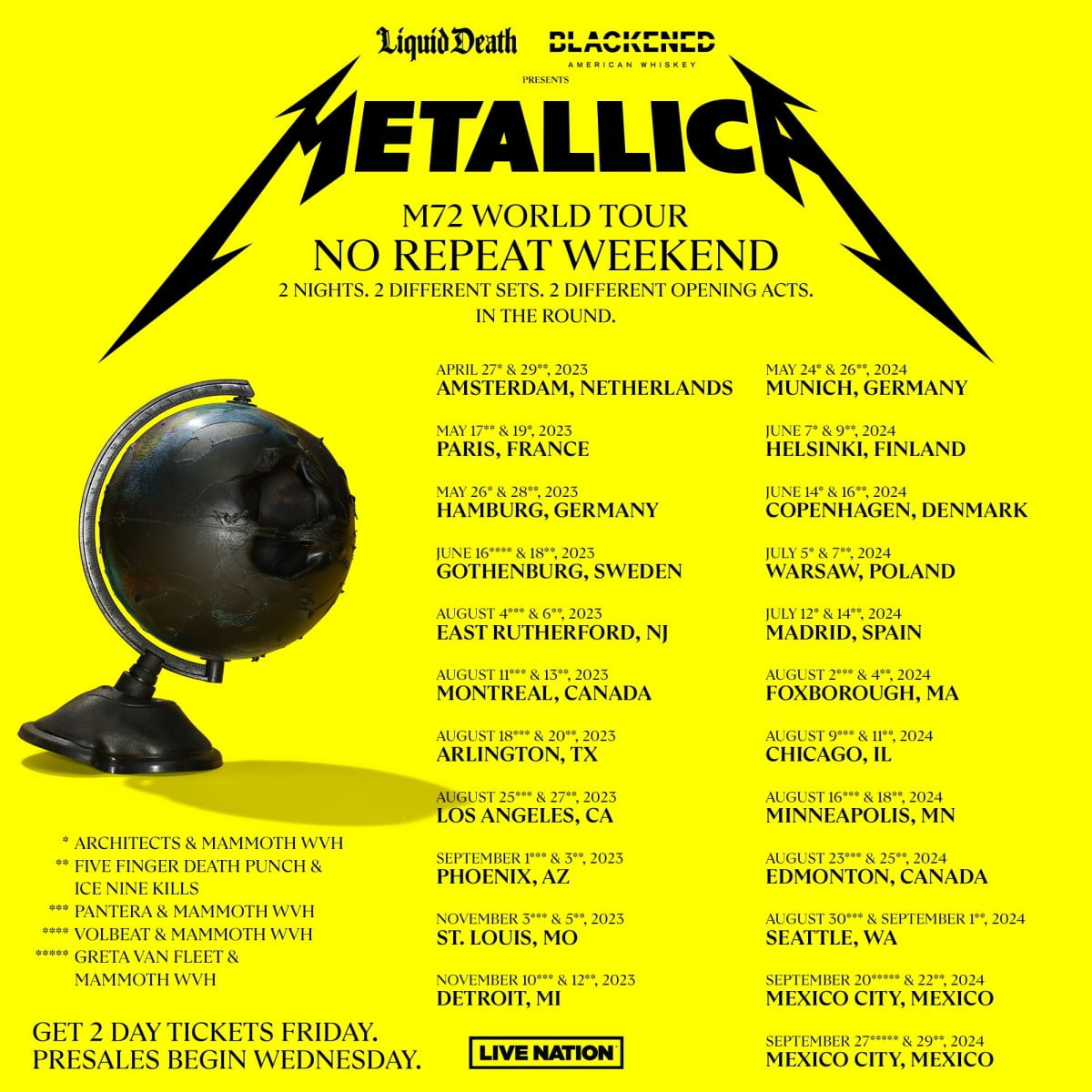 If you ever wonder if Pantera will tour the US in 2023 or 2024, Pantera has plans to tour the US in 2023 and 2024. This late November, Metallica announced a new album called 72 Seasons. At the time, they also announced some tour dates for 2023 and 2024 under the name of the M72 World Tour. Pantera will be joining them for the US trek dates, which also feature Mammoth WVH, besides those two bands.
"Pantera will be joining Metallica for the US dates of their M72 World Tour, No Repeat Weekend," the band went on socials to say that about the announcement. "2 Nights, 2 Different Opening Acts, In The Round at the 50 Yard Line."
Pantera's first appearance on the M72 World Tour will take place at MetLife Stadium on August 4, 2023, in East Rutherford, New Jersey. In Detroit, they will play its last show with Metallica and Mammoth WVH at Ford Field on November 10, 2023. You can see the full dates below.
Pantera 2023 US Tour Dates:
August 4, 2023 – East Rutherford, NJ @ MetLife Stadium
August 11, 2023 – Montreal, QC @ Stade Olympique
August 18, 2023 – Arlington, TX @ AT&T Stadium
August 25, 2023 – Inglewood, CA @ SoFi Stadium
September 1, 2023 – Glendale, AZ @ State Farm Stadium
November 3, 2023 – St. Louis, MO @ The Dome at America's Center
November 10, 2023 – Detroit, MI @ Ford Field
In addition to Pantera's 2023 US tour dates, they will be performing in the US in 2024. The band has announced only five dates for 2024, during which they will be a part of Metallica's M72 World Tour.
Pantera will be one of the headliners of the Blue Ridge Rock Festival on September 7-10, 2023, in Alton, Virginia.
Pantera was announced as one of the headliners of the 2023 edition of the Welcome To Rockville festival, which will be there between May 18-21, 2023. The band will rock the scene on the third day of the festival, May 20.
Pantera 2024 US Tour Dates:
August 2, 2024 – Foxborough, MA @ Gillette Stadium
August 9, 2024 – Chicago, IL @ Soldier Field
August 16, 2024 – Minneapolis, MN @ US Bank Stadium
August 23, 2024 – Edmonton, AB @ Commonwealth Stadium
August 30, 2024 – Seattle, WA @ Lumen Field
Is Pantera Going To Tour Europe?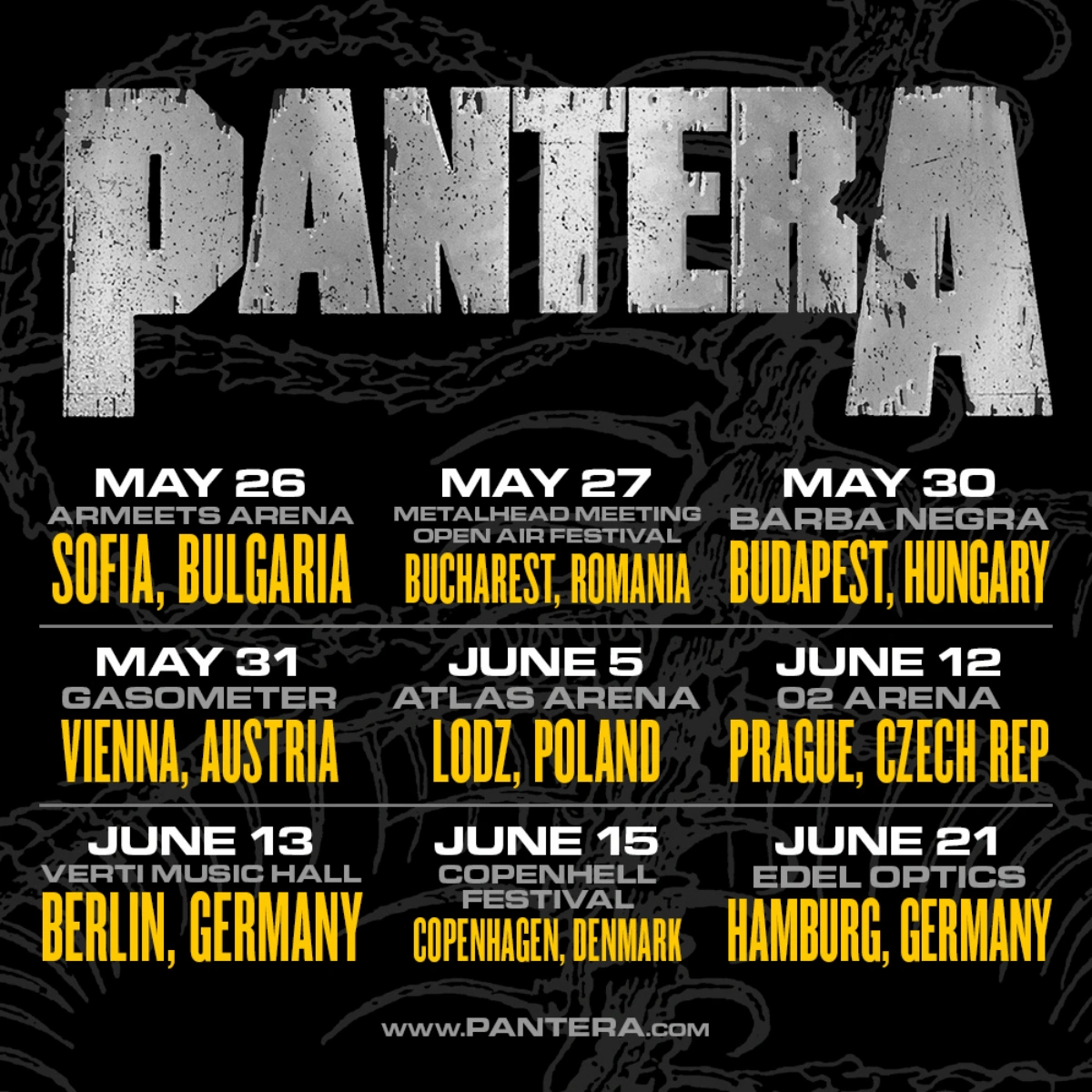 Pantera first announced European tour dates for 2023 back this past November. So, this answers the question that said if Pantera will play in Europe in 2023.
The band will kick off its European trek at Armeets Arena in May 2023 in Sofia, Bulgaria. Having planned to play four shows in total in May 2023, Pantera will visit Romania, Hungary, and Australia for the remaining three dates, with further dates in Germany, Finland, Poland, Sweden, and Denmark for its entire 2023 European tour. It is no doubt that Pantera will bring great tastes to its European fans throughout 2023.
When Pantera announced the latest date for its European tour for 2023, they looked a little bit exciting. The show will take place at The Return of the Gods Festival on July 2, 2023, in Bologna. So, they wrote: "Another European show added to our tour! Who is coming to see us at The Return of the Gods Festival in Bologna, IT, on July 2, 2023?"
However, you can see Pantera's European tour dates in 2023 below.
Pantera European Dates For 2023:
May 26 – Sofia, Bulgaria – Armeets Arena
May 27 – Bucharest, Romania – Metalhead Meeting Open Air Festival
May 30 – Budapest, Hungary – Barba Negra
May 31 – Vienna, Austria – Gasometer
June 2-4 – Nürburgring, Germany – Rock Am Ring
June 2-4 – Nürnberg, Germany – Rock Im Park
June 5 – Lodz, Poland – Atlas Arena
June 8-10 – Hyvinkaa, Finland @ Rock Fest
June 10 – Sölvesborg, Sweden – Sweden Rock Festival
June 12 – Prague, Czech Republic – O2 Arena
June 13 – Berlin, Germany – Verti Music Hall
June 15 – Copenhagen, Denmark – Copenhell
June 20 – Amsterdam, Netherlands @ AFAS LIVE
June 21 – Hamburg, Germany – Edel Optics
June 22-24 – Oslo, Norway – Tons Of Rock
June 29 – Viveiro, Spain @ Resurrection Festival
July 2 – Bologna, Italy @ Return Of The Gods Festival
Pantera Tickets For 2023 And 2024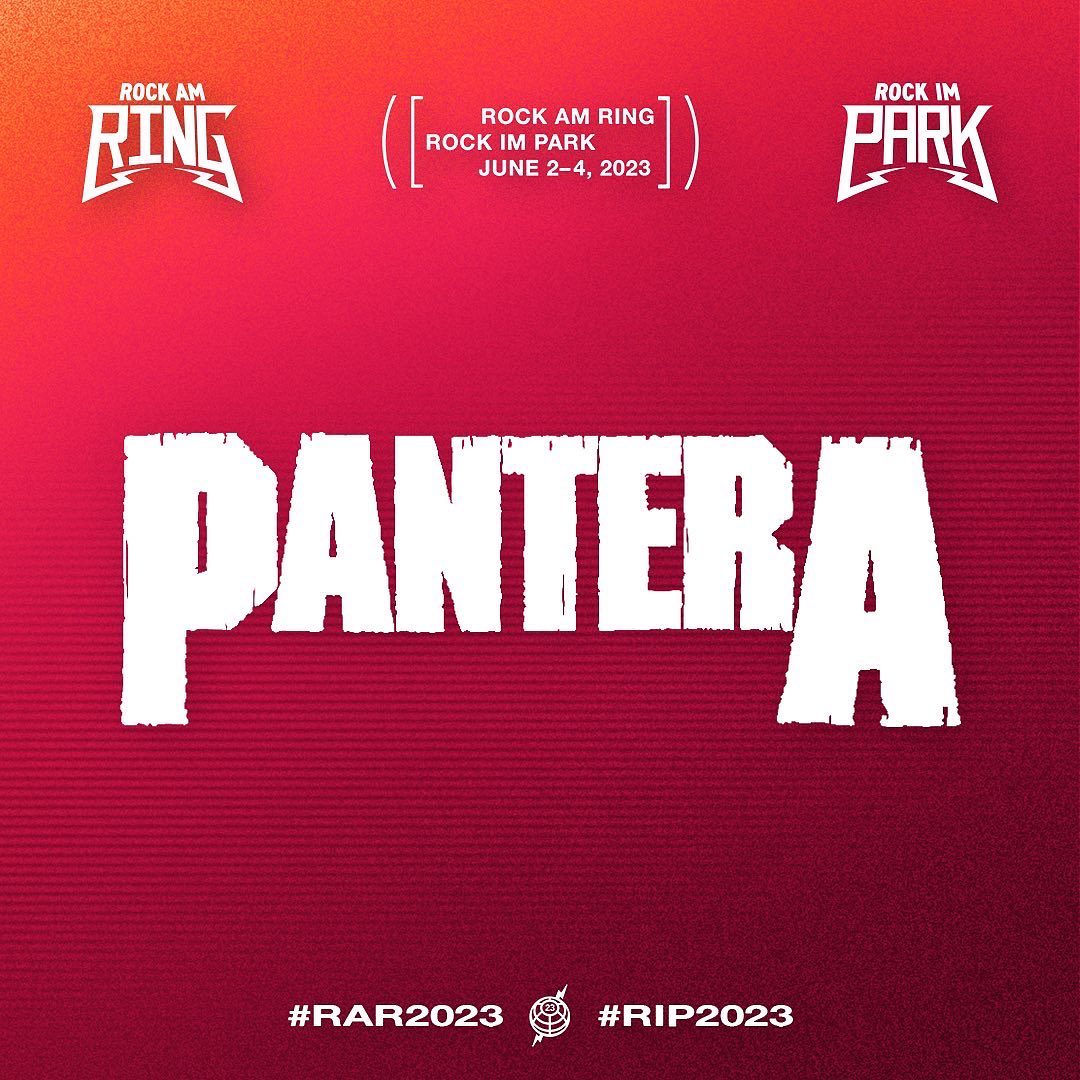 For more information about Pantera's tickets for 2023 and 2024, please keep visiting this article because it will be updated when the band shares an update about the tickets.
Pantera Rock am Ring Concert tickets:
Pantera's 2023 Rock am Ring concert tickets are available here. There are also tickets available for those who go to the festival with camping vehicles or their own vehicles.
Pantera's Tons of Rock 2023 Concert tickets:
Tons Of Rock 2023 tickets are already available here. Pantera will be there between June 22-24, 2023.
About the band's appearance on 2023 Sweden Rock Festival:
When Pantera announced that they would be a part of Sweden Rock Festival in 2023 – which will feature Mötley Crüe, Def Leppard, Iron Maiden, Ghost, and more – they told the fans that they would find the tickets here.
Tickets for Pantera's appearance at Rockfest 2023:
The tickets for Pantera's appearance at Rockfest 2023 are available on Tiketti. The basic ticket prices range between €129 and €209, depending on the privileges provided. While premium tickets are available between €175 and €305, VIP tickets are between €195 and €389. There are too many options for the people who will camp there.
Pantera's show at Graspop Metal Meeting:
Graspop Metal Meeting tickets are available here. Pantera will rock at the concert on its third day, Saturday, June 17, 2023.
The tickets for Pantera's Resurrection Fest 2023:
Pantera announced their headlining Resurrection fest, saying: "We are playing RESURRECTION FEST 2023!" The tickets for Resurrection Fest 2023 went on sale on December 1, 2022.
Head to the band's official website to get more tickets for their upcoming shows in 2023 and 2024.