Nonpoint Frontman Elias Soriano Talks New Music, Touring, and More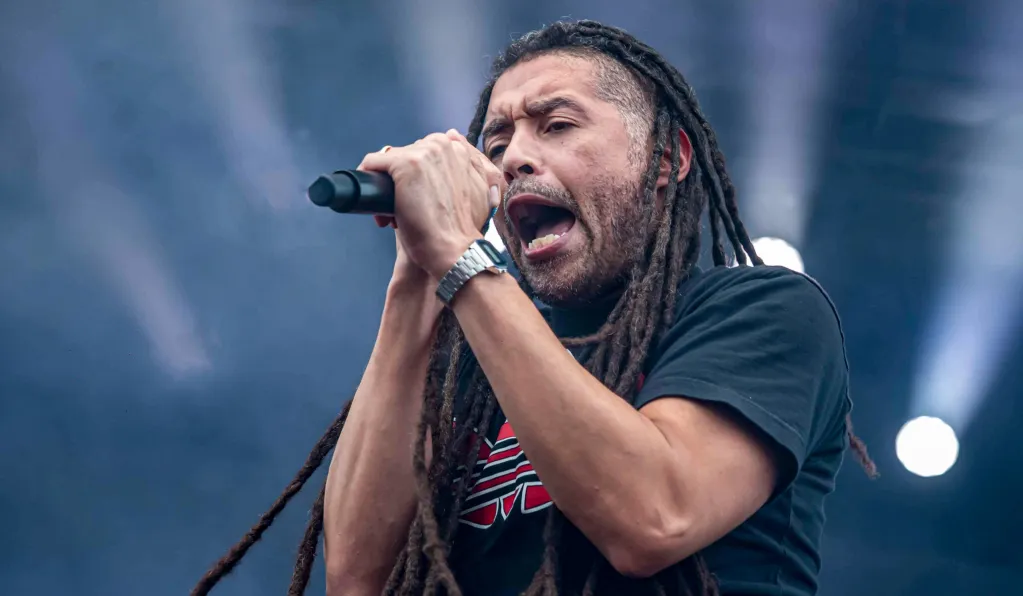 All images courtesy of O'Donnell Media Group
Imagine forming a band in the late 90s era of nu-metal, post-grunge, and hardcore, surrounded by so much talent and inspiration, and making it out of that to go on and create music for twenty-plus years.
Nonpoint has done just that.
In this interview with Nonpoint frontman Elias Soriano, we discuss just that and plenty more, such as what he's up to now with the band and their future plans. If you want to learn more about Nonpoint, or their new EP, Ruthless, you can head over to the band's webpage and dive in.
Andrew: Elias, how have these past couple of years been for you? You've been busy with the new EP Ruthless that came out recently, right?
Elias: Indeed, indeed. It's been a hectic year. I'm getting fitted for in-ear monitors today for the tour and putting together all of the pieces to do the launch. And then, actually doing the launch, of course, is always a big ball of anxiety and fun. The tour leaves in January and goes all the way to February, and then, we come back and continue the writing process.
Andrew: Can you take me through the writing process of the new EP, Ruthless?
Elias: "Ruthless" was the one that launched it all off. We were inspired to write something for our friends at All Elite Wrestling, and then, when we were putting together the EP, at the same time, we were already putting it together. The song took form and became such a contender that we put it on the EP.
All images courtesy of O'Donnell Media Group
Andrew: What were your musical beginnings before Nonpoint? Were you in any other bands beforehand?
Elias: No, Nonpoint was my first band; nothing really before that. It was a luck-of-the-draw chance moment situation. It wasn't planned; I didn't plan on being in a band or being in this band for this long. It just happened, so first one.
Andrew: You've been on the scene since 1997 and doing a lot of touring since then. Do you have any favorite places that you've gone to for your tours?
Elias: Yeah, we've run the gambit. We've played with some of our favorites, who, over the years, have become close, and dear friends. Surprisingly, I just went through it, and I was trying to get our top fifty cities, and it turned into seventy-three cities. So, we have quite a few places that always stand out. People hear me, and I hate to sound like a broken record – Madison, Fort Lauderdale, Hartford, Flint, Chicago. Just pick your place In Australia. We've had the pleasure of playing in front of some pretty amazing crowds, so we definitely return to that shortlist.
Andrew: Speaking of crowds, what's your favorite part about getting on stage? Is it the act itself, the anticipation just before getting on, or something else?
Elias: My favorite part of getting on stage is, well, we have a tradition in our camp called "Power Hour," it's the hour right before the set actually happens. I enjoy that hour. I get some alone time to get my head right, and then I get some group time with the guys to have some fun, amp up and get ready to walk out on stage. So, that's an awesome time for me.
Andrew: As we said earlier, you formed in the late '90s when nu-metal and alternative music took off. You had Korn, Slipknot, Limp Bizkit, Linkin Park, and many more. What was it like forming the band during that time?
Elias: It was exciting. There were still many big significant labels; they were just starting to fall off. But there was still a time of writing monster deals and having big teams in every corner of promotion, delivery, and press. The channels were pretty fast-moving things; they call it "traffic" for a reason, there's a lot of online traffic. So, it's very packed. And though it seems like you consume a lot, it's very slow-moving when it comes to building things, and it's because of the listener, the watcher is put in the position where these are the places where you get to listen. So, unless you've heard that it's happening, it's hard to keep up with everything you want to keep up with, or you let the algorithm know what you like, you know? So that's the hurdle sometimes, I guess.
Andrew: Speaking of hurdles, your first album, Separate Yourself, was self-released, right? What were the challenges trying to self-release at the time?
Elias: Well, it really wasn't that hard because people were looking, and they knew where to look; it's just a different place now; there are lots of places to look. So, there are a lot of different bases to cover now. It seems like you could do it with a little bit more ease, but it's a lot more ground to cover now. Conquering your local town is pretty easy when there are just a couple of clubs you've got to cover, and you just stand in line passing out fliers, and samples of music, so people can wrap their heads around it and then come to your show later. But it was definitely a time when you were mailing fliers and putting fliers in record stores and stuff.
Andrew: And now it's emails and other forms of online advertising.
Elias: And that's just my point. There's no difference between me walking into a record store and looking at a million fliers on the table or me going into Instagram, spinning through my feed, and catching a flier here and there.
All images courtesy of O'Donnell Media Group
Andrew: Nonpoint has been around for roughly twenty-four years now. How would you say your music has evolved over that time?
Elias: You know, the opinions of what we like and new inspiration is always a great tool, and also going backward is also a great tool. So, you try to find a lane that still feels good and natural to you. But you know, at the same time, it challenges the expectations of your average daily Nonpoint listener when they sit down to listen to new Nonpoint.
Andrew: Can you talk a bit about the music you've had featured on soundtracks? You've had music in WWF games and intro music outside of that.
Elias: We definitely have an amazing wrestling community that champions the band. Nonpoint writes aggressive, very high-energy music; you know, the wrestling community is very high-energy, and the sport is very aggressive. So, the marriage is there. And you know, they are always waiting for the next Nonpoint fight song. We got our roots with WWF with one of their video games. Then it grew through UFC. Lots of fighters have come out to our music, and then recently, with AEW and their event on TNT, Blood And Guts.
Andrew: Can you take me through some of the band's equipment? Does it differ from what you record versus what you play live?
Elias: We play live what we play in the studio. For the most part, the guys all play through Kempers. We want to have those same tones when we go out into the live environment. So, you know, those are all things that we work on to make sure that we sound the way that we want to sound for the record. Then Fred, our producer and mixer, always just adds a little punch and whatever he needs to make it what it is for the album.
Andrew: With your upcoming tour, what songs are you most excited to play live?
Elias: As of late, we've been playing "Ruthless" and "When Doves Cry" because those were the only ones that were out. We haven't had a chance to play any of the other new ones, but we are looking forward to playing "Back In The Game," that one seems to be winning the poll today on our Instagram and Facebook stories. We're going to run through a couple of the songs on the EP, see what people like, and put together a setlist for them to get excited about for the January run.
Andrew: With almost twenty-five years' worth of music, is it hard to develop a setlist?
Elias: For the most part, it's not too difficult because we have a handful of songs that we almost feel like we have to play. Then, based on the popularity of our current music and the bands that we're touring with, even sometimes we have a catalog to do that. So, we change it up quite a bit. I would say that having as many songs as we have published, we constantly have to relearn music, and we're always relearning one or two for the next tour.
Andrew: Your most played song on Tidal is "In the Air Tonight." Do you play that one live as well?
Elias: Yeah, on occasion. I believe we added it to the setlist last time we went out with HELLYEAH. So it's been a minute. "When Doves Cry" is getting a lot of love. It's even pushed past some of my daily streams of some of our older songs, so that one for sure is most likely gonna make the setlist.
Andrew: Do you have any passions outside of music?
Elias: As of late, I've been doing a lot of administrative strategy and building when it comes to the infrastructure of the brand and the label. That's been really fun and time-consuming, and I'm definitely passionate about that. That's a hobby. Outside of that, camping with my family is a hobby aside from the Nonpoint stratosphere.
Andrew: Do you collect any music yourself, such as vinyl cassettes, CDs, or tapes? Elias: Yeah, I collect vinyl. I have my small collection of cassette tapes and 8-tracks too. I'd say I have maybe three-hundred vinyl records.
Andrew: After the tour, what does your future look like? How many songs would you say will be on the new EP?
Elias: Yeah, coming off the tour, we're working on the next EP. Probably four. We didn't intend on having "When Doves Cry" on this EP. We were already writing the EP, and it was already written before we had the campaign for our next cover song online. So, based on its popularity, we decided to add it to the Ruthless EP. But the next one will most likely be just the four.
All images courtesy of O'Donnell Media Group
– Andrew Daly (@AJDWriter88) is a contributing writer for Metal Castle and may be reached at andrew@vinylwriter.com