Nita Strauss Says There Were Not A Lot Of Technical Female Guitarists To Inspire Herself During Her Youth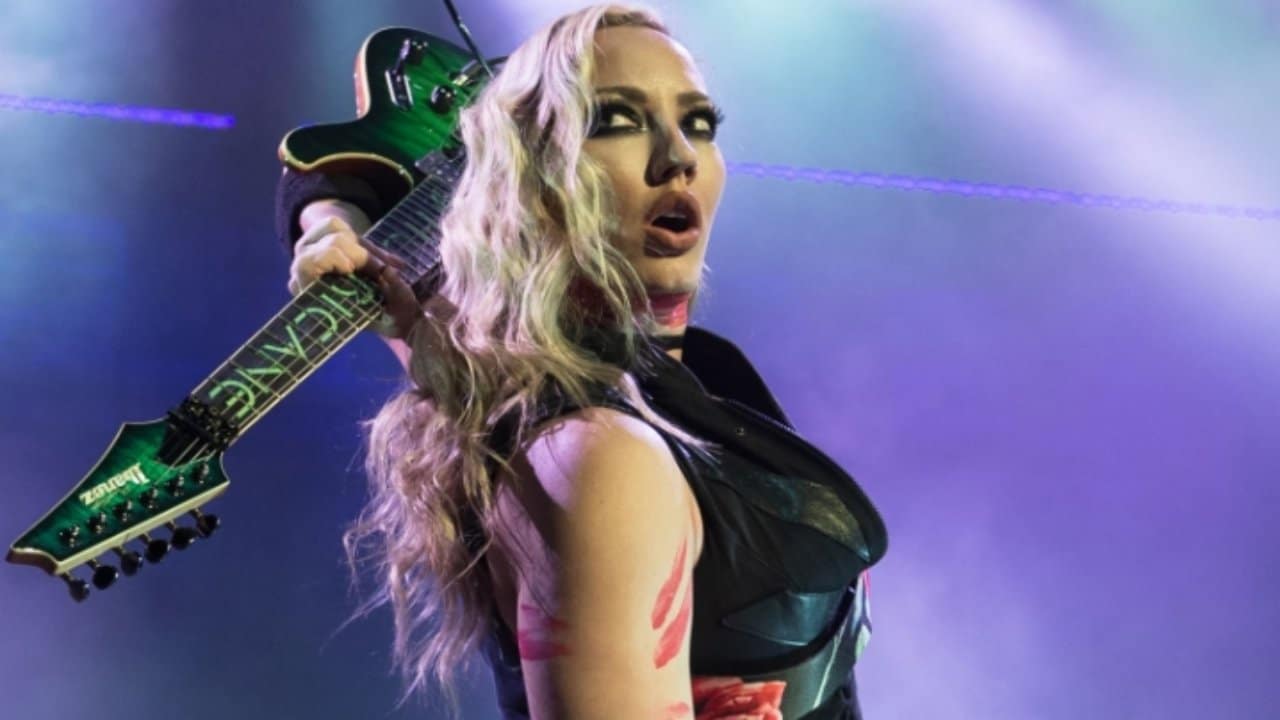 Alice Cooper touring guitarist Nita Strauss revealed how she became a professional musician over the years. Mentioning her parents' attitude to her passion for music, Nita said she was very lucky.
1986-born 35-years-old guitarist Nita Strauss started her musical career with a band called Lia-Fail. The band made her quit high school to pursue music full-time. At the time, her touring musician father and model and dancer mother didn't give her any trouble for leaving school to play music. Thanks to Nita's stability, she became one of the most successful female guitarists of all time.
Detailing Nita's musical career, she has 20 years of musical experience in the community. Starting playing music at her 15, Nita Strauss was the first female guitarist to release a signature model with the huge guitar company Ibanez. Nita's perseverance has brought her to a place where, perhaps, she never expected it. Being one of the members of the Iron Maiden all-female tribute band The Iron Maidens, Strauss was one of the members of the official in-house guitarist for the Los Angeles Kiss in 2014. In the same year, Alice Cooper hired her to replace Orianthi, and she has been playing with him since then.
As she is one of the successful female guitarists in rock, Nita Strauss has influences as well. During her youth, there were a lot of female musicians who reached world success, including Bessie Smith, Sister Rosetta Tharpe, Bonnie Raitt, and Jennifer Batten, who played a Super Bowl show alongside Michael Jackson and was a role model for Nita.
However, during her recent interview with Renee Paquette, Nita Strauss talked about her longevity in rock. Saying that she was very lucky to have her parents, Nita admitted that they supported her in make whatever she wanted.
"I got so lucky, because I started touring really young," Nita says. "I did my first big tour when I was 15. I think if I hadn't had parents that were in the business for as long as they were, they wouldn't have understood that drive.
"That I could go out, take my summer break from high school and go out on tour for two months, in a van, with three other people. And having that support, and having that sort of blessing, like, 'Hey, you want to go do this? Go do it.'
"It went so far for me, really, to just being able to pursue it without fear of judgment, without fear of you know, not without fear of rejection, because we all get rejected billions of times in this industry.
"Bring it, bring all the doors on, because you know what? If that door slams, move to the next door, move the next door, kicking that same door, sneak on it through that window. Find your way in and just say, 'I'm here, see me, hear me."
Nita Strauss Claims There Were Not A Lot Of Female Guitarists To Look Up To When She Started Music
Nita is very clear that her 20 years of experience is huge, as it is. She always tried to be an inspiration for those young and new people. In the continuation of her words, she defended that there were no musicians who technically inspired her. According to her, there are a lot of great female musicians now, unlike in the past.
"And throughout the last, I'm 35 now, so it's 20 years that I've been touring," she continued. "Longer than a lot of people's careers in any field, which is fucking weird, weird thing to say out loud.
"Throughout that time, I have always wanted to inspire the next generation, especially of young girls, to do what I do. And It's so cool to see the parallels between music and wrestling.
"Because, when I was growing up as a young guitar player, there were not a lot of female guitar players to look up to. There were a few, but there were not a lot of really technical, really incredible, like musicianship-wise.
"You know, there were trailblazers, there were amazing songwriters. But there wasn't really anybody that I was like, 'This is technically inspiring for me.' I looked up to the technicians, you know, the technique guys. And now, in the world of music, there's this incredible surge of amazing female guitar players."
Nita Reacts To Fans' Reactions To Her Solo Music
Back this past March, Nita Strauss talked about her upcoming album during an interview with IheartRadio. When the host asked her about the fans' reaction to her recent single featuring Disturbed's David Draiman, Dead Inside, she admitted that the reaction was amazing.
"It's been amazing," she said. "It's exciting 'cause I think a lot of my fans are not necessarily the typical instrumental guitar fans; they're rock fans who happen to like the way that I play guitar.
"So I think people were excited to get a song that's a little more accessible — something that's not just shred all the time but something that you can listen to alongside other kind of Active Rock songs.
"It's gonna be half [instrumental songs] and half [tracks with vocals]. My first album was all instrumental. The second one, I didn't wanna stray completely from my roots as an instrumental guitar player, so there will definitely be what you guys expect from me, like a lot of the fun instrumental guitar stuff, but there are some collabs as well. Some of my very favorite singers are on this record with me."
"And I have incredible female vocalists; I have incredible male vocalists. And it's just an exciting time — it's just an exciting time to be out there and collaborate with different artists. 'Cause all these different artists are wanting to work. Everybody had so much creativity to express over the last year and a half."