Myles Kennedy Opens Up On His Harmony With Slash: "He Has Passion To Create"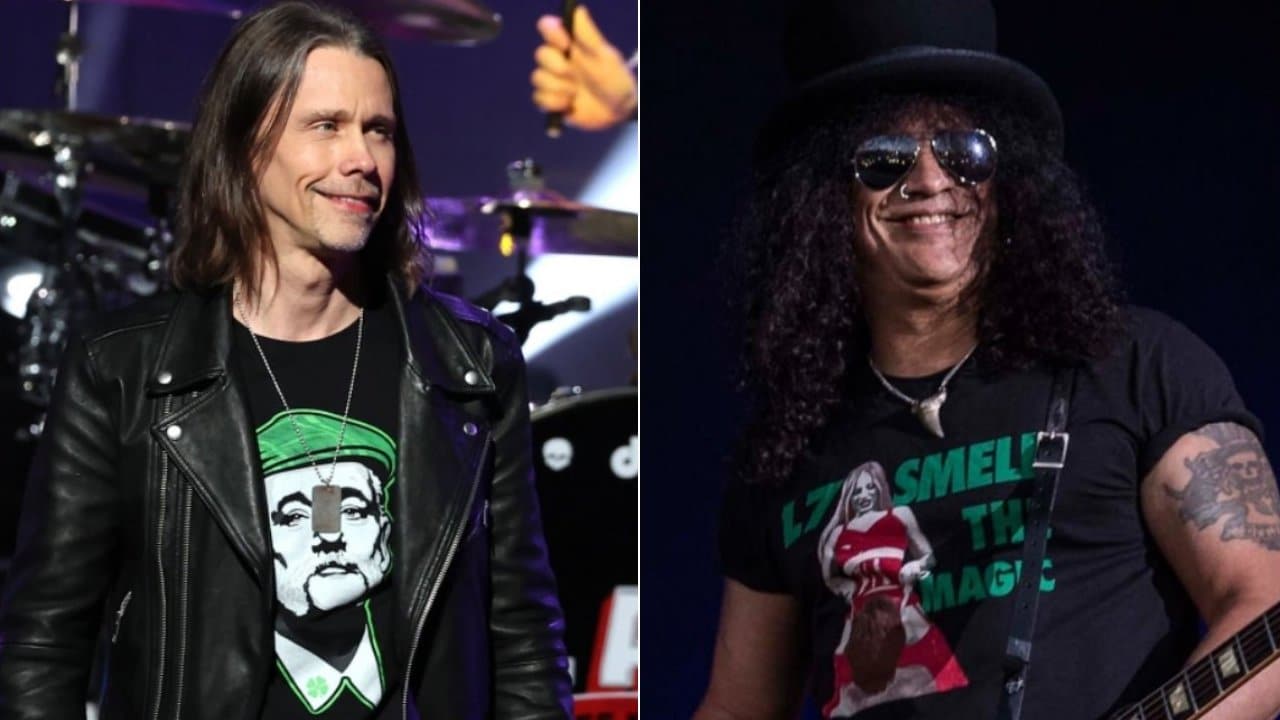 Myles Kennedy has opened up about the current relationship between band members in Slash Featuring Myles Kennedy And The Conspirators and said that they have no ego in making music. He also touched on his harmony with Slash.
Slash is one of the most active musicians in rock music. Considered one of the greatest guitarists around the world, he came to world prominence with his unique contributions to the American rock band Guns N' Roses. Throughout his tenure with Guns, Slash appeared in the band's every one of its releases, except for the last one, Chinese Democracy, because he was not a member of the band when they released the album.
Slash focused on his solo career after he parted ways with Guns N' Roses in 1996. At first, he added one more studio album to his supergroup, Slash's Snakepit, released in 2000. He then worked under the name of Velvet Revolver and released two studio albums with the band in 2004 and 2007, respectively. In 2010, Slash officially released his self-titled debut solo album. In late-2011, the guitarist met with Myles Kennedy and began to work for his side-project, Slash feat. Myles Kennedy & The Conspirators.
During his ongoing work with Slash feat. Myles Kennedy & The Conspirators, Slash and the band has released four different studio albums in total. Slash's second studio album 2012-released Another Love was billed to the band in the end and became the first release of the supergroup. In 2014, the band released its second studio album, named World On Fire. And then, Slash rejoined Guns N' Roses in 2016 and is still a member of the band. During that period, he added one more album for his side-project Slash feat. Myles Kennedy & The Conspirators, which named 4.
Recently, Myles Kennedy commented on his harmony with Slash during his appearance on Consequence. Sharing the secret behind the band's positiveness, Myles first admitted that there is no ego in the band. He was very clear on that the ego never existed between them.
"There's not a bad apple in the bunch," Myles says. "Everybody really is there for the common cause, which is just to play great music, have a great time and there's no ego and none of that. It never existed in this camp. There's no inkling of it.
"So, that's good, and I think having that fun is really … maybe that's part of what people gravitate towards with these records."
Myles Mentions His Harmony With Slash
Myles then detailed the band's longevity. Mentioning his harmony with Slash, he revealed that Slash is very passionate about creating new music. Adding that he has the same view as Slash, Myles stated that making music is like a drug for them.
"He does have this mystique, right?" Myles says. "As the years have gone on, you get more and more of a glimpse into who he is and how he operates.
"The thing for me that I did start to recognize really early on and continues to be a theme is just how passionate he is about continuing to make music and play music. He's at a point in his career where he doesn't have to do it. He can do whatever he wants… I think that's why it works.
"I have that same drive and passion to create, and that's our purpose. That's why we're on this planet. For those of us who find that passion, it's like a drug. You get addicted to it.
"So, it's a lot of fun to see that and see that fire and see someone who still after all these years and all that success is still just as passionate about it as I'm sure as he was when he started 35 years ago."
During his interview with Guitar.com on April 13, Slash shared his honest opinion on that whether his main band Guns N' Roses is now a side project. Confirming that he had been thinking about the same question for a while, Slash had denied the rumors and said Guns N' Roses is not his side project.
"No, I've been thinking about this," Slash says. "I think one of the great things about Guns N' Roses and why there's such longevity is that I don't wanna jinx it, but it's because we don't take it too seriously.
"Guns N' Roses was obviously my entire life, and that's where I come from. I'll always be part of it, and I don't mind being recognized as 'that guy from that band.' At this point, I'll probably do it till I'm pushing daisies."