Michael Schenker Says K.K. Downing Lies Over Flying V Guitar Issue: "They Are So Desperate For Fame"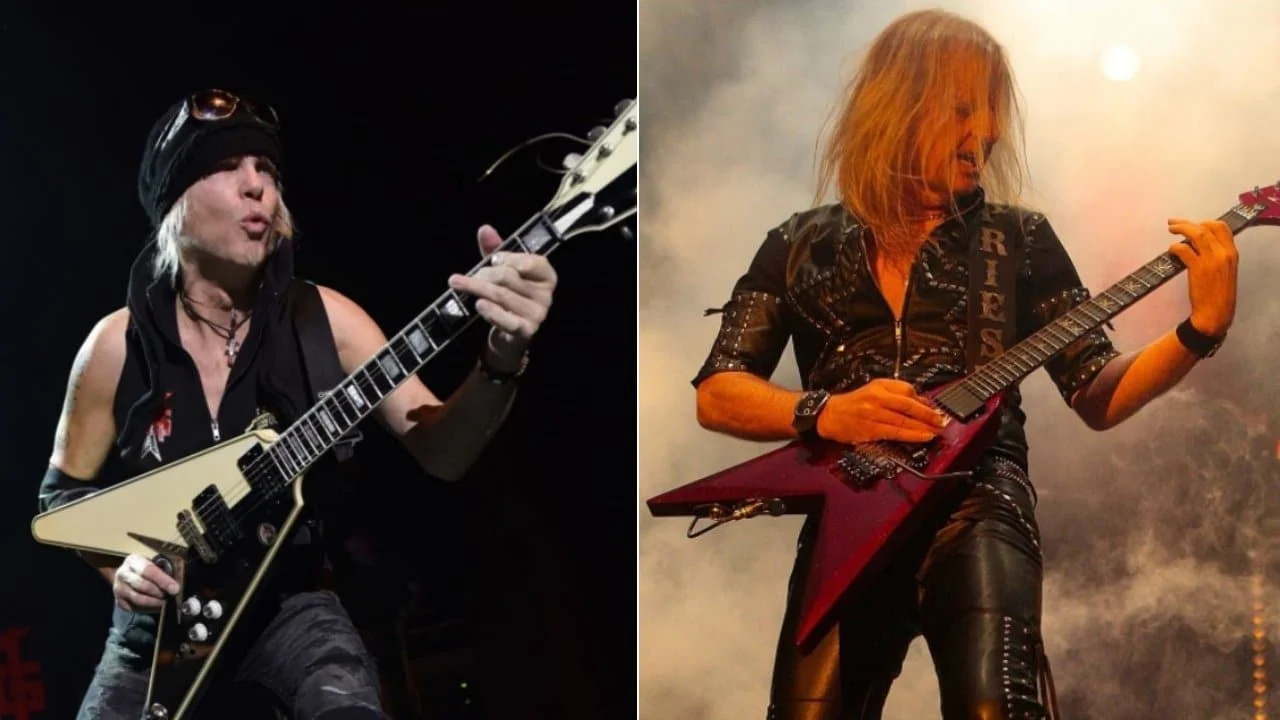 The iconic rocker Michael Schenker has broken his silence on K.K. Downing claims that he was the first guitarist who brought the Gibson Flying V guitar to heavy metal. Schenker blasted Downing and said he was lying.
Michael Schenker is a German rocker who played in a couple of great bands throughout his ongoing musical career. Although he is known for being the early member of the German rock pioneer Scorpions, which was formed by his brother, he was also rocked the stage as a member of another rock pioneer UFO. Appearing in three Scorpions albums, he also took parts in thirteen different albums of UFO. Currently, he has been leading his self-titled band Michael Schenker Group since 1979. He has made a lot of great things with his band during that ongoing period.
Being one of the greatest guitarists in rock, Schenker has influenced numerous artists. Thanks to his successes in music, he has been called a legendary figure in the history of metal guitar. As he contributed to people growing their talents, he had influences as well, including Jimmy Page, Jeff Beck, Eric Clapton, Leslie West, Johnny Winter and Rory Gallagher.
However, Schenker received his first guitar from his brother Rudolf Schenker at an early age. It was a great Gibson Flying V guitar and was a special birthday gift given by his brother. With that guitar, he kept working to increase his playing style and proved himself, performing his first gig when he was 11. In addition to that, he debuted with Scorpions' Lonesome Crow at the age of 16.
Recently, Schenker appeared on Rock Of Nations With Dave Kinchen & Shane McEachern and talked about Downing's claims that he was the person who brought the Gibson Flying V to metal. He also touched on Metallica guitarists' claiming that they did the gallop rhythm and said they looked so desperate for fame.
"Those people out there, they are so desperate for recognition and for being the first and taking all the bloody credit, like my brother," Schenker says. "It is unbelievable. I have no expectation, and because of that people think they can walk all over me and rip me off and take the credit.
"I heard even Metallica saying, the guitarists, that they invented the gallop [rhythm]. I had the gallop on 'Rock Bottom' — well before [they did].
"These people are crazy. They are so desperate for fame."
Michael Schenker Admits He Was Shocked When He Saw K.K. Downing Looked Like Him
Michael then claimed that Judas Priest guitarists were a fan of UFO and himself. He also recalled his first concert that also featured Judas Priest at Whisky A Go Go and admitted that he was shocked a bit when he saw Downing was looking like him. Saying that Downing copied him, he also showed his surprise by asking why would Downing tell a lie about this.
"First of all, Judas Priest and UFO was recording at the same studio," he continues. "And Judas Priest guitarists are Michael Schenker fans. That's number one. So if they're Michael Schenker fans, it's most likely that K.K. Downing ripped me off rather than the other way around.
"Then, when I went to the Whisky A Go Go when I had my first American tour, with my girlfriend, when I was 19 years old — somewhere '74 or so, '75 — we saw Judas Priest at the Whisky A Go Go. When they came onstage, I looked at my girlfriend and she looked at me. He was a double of me — he was an absolute double. He had the curly hair, he had the Flying V, he had my stage outfit as close as you can get it. It was unbelievable.
"And the fact is everybody knows that he's a fan of Michael Schenker, so why would he lie about this in the first place? That's just crazy."
Back in February 2020, Michael Schenker talked about his older brother Rudolf Schenker and stated that he doesn't have much talent as a guitarist. Saying that he didn't look for fame, the guitarists added that he was born to make him successful.
"As the younger brother, I probably ended up wearing his underpants and school uniform, and riding his bike," he said. "He was the oldest and I got the hand-me-downs. I didn't look for fame and success, but I became successful.
"I didn't look to become an icon, but I became one, it became me. Rudolf focused on those things, but he couldn't get it. It's a strange message – that existence of two brothers who made such a weird success in their own way. The puzzle is not completed yet between us.
"I know there is a reason for this peculiar journey through life between Rudolf and me. I hope I will understand it if I can get another 10 years on the planet. I'm not bitter about the stupid games he played. He was probably very frustrated that everything he wanted was coming to his much younger brother without even trying for it.
"I believe I was born to make him successful. Rudolf doesn't have much talent as a guitarist. Without direction, he is lost. He copied everything I did. [Laughs] I needed to pave the path for him.
"I'm not saying that competitively, but with an open heart. I jumpstarted the Scorpions. They should be happy instead of acting like I'm some little shit. [Laughs]"