Kirk Hammett says Kurt Cobain's main reason to refuse playing with Metallica was Guns N' Roses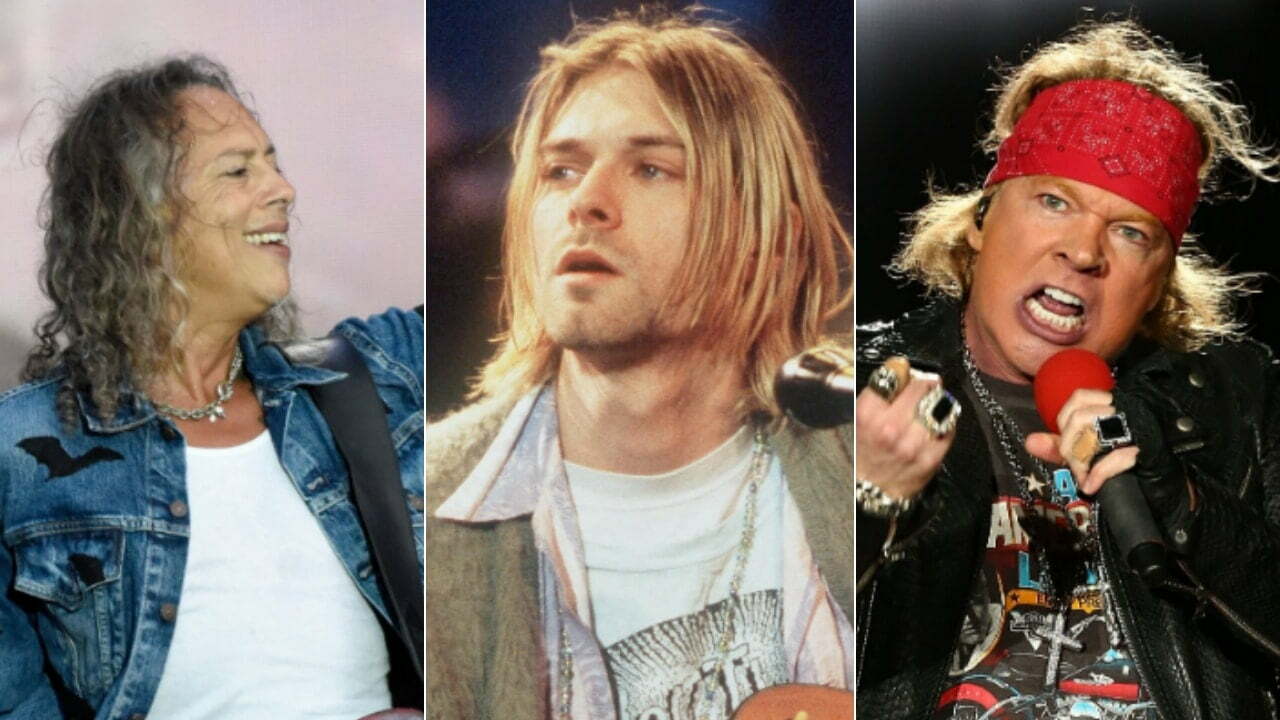 Metallica guitarist Kirk Hammett appeared on NME. In the interview, legendary guitarist Hammett recalls their tour with Guns N' Roses in the early '90s and reveals why late Nirvana frontman Kurt Cobain turned it down when Hammett invited Nirvana to join the tour.
The GNR/METALLICA STADIUM TOUR, performed by two legendary rock and metal bands Metallica and Guns N' Roses in 1992, has not been forgotten for many years due to the magnificent performances and the situations experienced during the tour.
In their tour to promote Metallica's self-titled fifth studio album and Guns N' Roses' Use Your Illusion albums, the bands took the stage in twenty-six different cities during the tour, which lasted about three months, and most of the concerts sold out.
According to the statements made so far, Nirvana was also invited to the tour. Metallica drummer Lars Ulrich confirmed in 2004 that Kurt Cobain said he would play anywhere, anytime for Metallica, but not for Guns N' Roses. On the other hand, the nerves between Cobain and GNR frontman Axl Rose were quite strained at the MTV VMA that took place the same year.
Anyway, in his brand new interview with NME, Kirk Hammett reveals his phone call with Nirvana frontman Kurt Cobain to get them on the tour. Admitting that he told him to go out and represent Nirvana, Hammett explained why Cobain didn't want to make the tour.
"I had to make the phone call to Kurt to talk to him about the possibility of joining our tour and he just went on and on about how he just didn't like what Guns N' Roses stood for and I said to him: 'Just go out there and represent Nirvana – just play the show and then that's it'.
"I pleaded with him, but he just wasn't having it. So there you have it. It would have been great if Nirvana was part of that tour – but you know [the actual opening act] Faith No More were great as well."
Cobain's favorite Metallica song was Whiplash
Revealing that he was deeply saddened by the death of his close friend Cobain, who all he wanted was to play the guitar and make music, Hammet recalls the phone call he invited Kurt Cobain to the show during The Black Album Tour.
"When we played Seattle on the 'The Black Album' tour, I remember calling Kurt to invite him to the show and he said to me: 'Are you guys going to play 'Whiplash'? That's my favorite Metallica song!'. When he came to the show, he was in the snakepit [an area onstage] with Courtney Love and every time he walked by, he tried to get my attention but my head was somewhere else."
"He was great. I became friends with him right when the first Nirvana album [1989's 'Bleach'] came out before people were even calling it grunge, and it's so sad when I think back to all the guy wanted to do was play guitar and write songs and sing and somehow that all got destroyed for him."
Back in 2004, Metallica drummer Lars Ulrich spoke to NME on the 10th anniversary of Kurt Cobain's death. In the interview, Lars Ulrich said that Cobain's songs reflect his true character and that few people have this talent.
"In 1991 there was a kind of shift in rock music in America — it was shifting away from all the hair bands in L.A. And with Kurt Cobain you felt you were connecting to the real person, not to a perception of who he was — you were not connecting to an image or a manufactured cut-out. You felt that between you and him there was nothing — it was heart-to-heart. There are very few people who have that ability"
Lars Ulrich said that Kirk Hammett also made an offer to Cobain for his Metallica/Guns N' Roses tour in 1992, but Cobain turned down the offer because of his relationship with Axl Rose. Ulrich, who admitted that perhaps the only name he wanted to meet in rock and roll but could not meet, was Kurt Cobain, also said that it was sad not to be able to listen to the fourth Nirvana album.
"I never met him but our guitarist Kirk Hammett had a relationship with him. We were doing this tour with GUNS N' ROSES in the US in 1992 and we wanted NIRVANA to come out and join us. Kirk asked Kurt, but while Cobain said he would play with METALLICA anywhere in the world, at any time, on any stage, he would not step up on the same stage as GUNS N' ROSES — obviously he felt that Axl was the antithesis to what he was.
"As I said, I never met Kurt, and he's probably the only guy in rock'n'roll that I have never met that I really wanted to — other than Bon Scott maybe. What a sad thing we can't hear the fourth NIRVANA album. It would have been so great to be able to see how that would have evolved."