Kirk Hammett Recalls Cliff Burton's Reaction To Geddy Lee's Attending A Metallica Show: "He Just Freaked Out And Started Smoking Pot"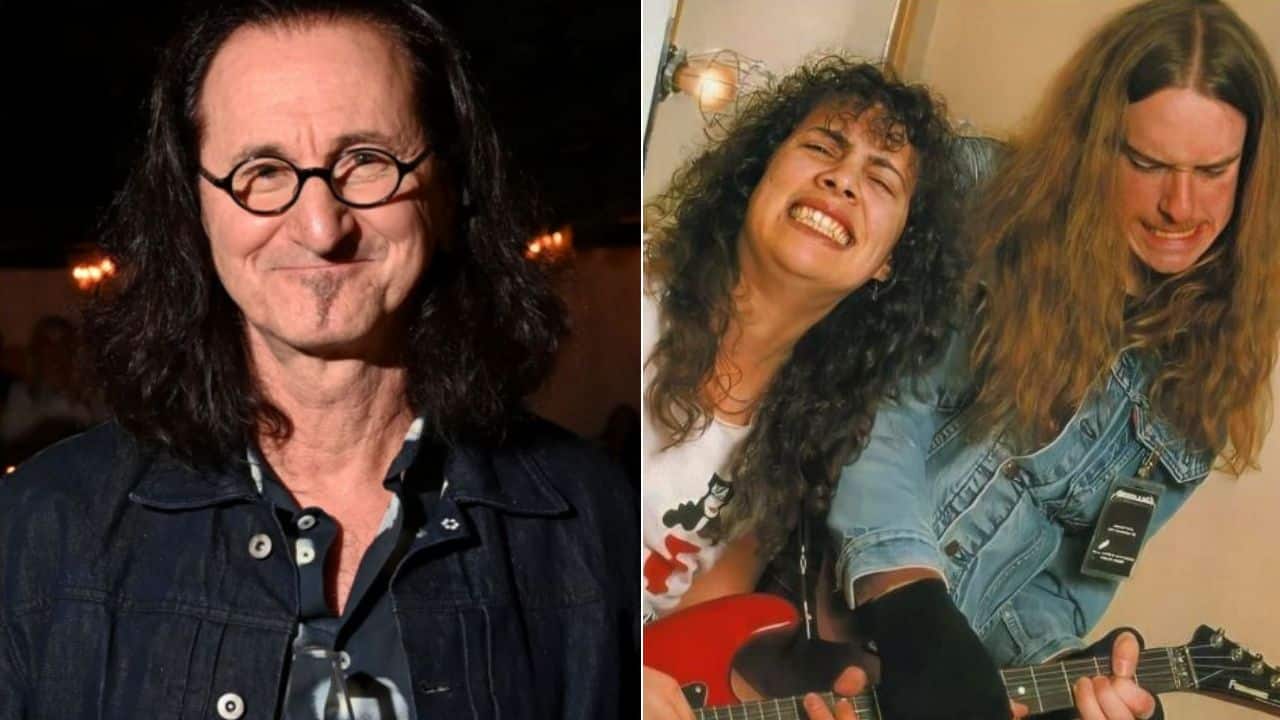 Metallica guitarist Kirk Hammett recalled his band's Ride The Lightning tour and said that the band's late bassist Cliff Burton felt nervous when he heard that Black Sabbath's Geezer Butler and Rush's Geddy Lee were in the audience.
The American musician Kirk Hammett is known for being the lead guitarist of the Grammy Awards-winner heavy metal band Metallica, which is a band he gained international fame. Joining the band in 1983 after the firing of Dave Mustaine, Kirk Hammett is still rocking with them since then. Debuted in 1983 with the band's Kill 'Em All album, Kirk Hammett appeared in every one of Metallica's albums.
On the other hand, Cliff Burton's joining the band is a completely different story. While the band's founders Lars Ulrich and James Hetfield were at the Whiskey A Go-Go venue for a night of fun, they discovered the late musician Cliff Burton. Admiring Cliff, Ulrich and Hetfield offered him to join the band. Although Cliff initially rejected the offer, he then accepted it on the request that the band would relocate to San Francisco.
Appearing on the band's first three studio albums, Metallica's second studio album, Ride The Lightning, was one of the albums that featured Cliff Burton. In the album, Cliff Burton was the co-writer of all songs, except for Trapped Under Ice and Escape. He had helped the band to gain massive successes during his tenure with the band.
However, as part of Metallica's 40th-anniversary celebrations, the band's long-time photographer Ross Halfin was guested the band's newest podcast to discuss his memories with Metallica. During the 90-minute question-and-answer session, Metallica's legendary guitarist Kirk Hammett was also the guest of the event and talked about his good memories with the band. Recalling Cliff's reaction to the message that Geddy Lee and Geezer Butler were in the audience while Metallica was doing the Ride The Lightning tour, Hammett said Cliff Burton felt so nervous when he heard it.
"Geddy Lee showed up at one of our shows on the 'Ride The Lightning' tour," Kirk recalls. "We played Toronto, and all of a sudden we got a message backstage that Geddy Lee was in the audience. And Cliff Burton just freaked out. He started pacing, he started smoking pot, and he was, like, 'Oh my God! Geddy! Geddy Lee!' He could not settle down; he was so nervous and just happy at the same time that Geddy Lee was there.
"And then Ross tells him that Geezer Butler is out there one night. Same thing — he starts pacing around, super nervous, grab[s] a beer."
Back in May 2020, Kirk Hammett had said that his and Cliff Burton's joining Metallica took them to the high levels. He also recalled the making of the Ride The Lightning's classic The Call of Ktulu and said that they got better playing with each other.
"That's another song [The Call of Ktulu] I remember hearing on the 'Kill 'Em All' tour," Kirk said. "Was there any resistance to playing something as complex as this? No. We were getting better as musicians, getting better playing with each other.
"I think the infusion of new blood – Cliff and I – probably helped. It was inspiring for the other two guys. Everyone was had respect for each other, we were moving forward, we could see it happening in front of our eyes.
"It was a time of discovery. We were doing things that sounded like they came from us. On a real gut level, we knew what was right for us and we knew what wasn't, what was working and what wasn't."
Metallica Icon Kirk Hammett Describes Cliff Burton As 'One Of My Closest Friends'
Kirk Hammett's memory took us back to his beautiful words about Cliff Burton years ago. On his official Instagram account, he had shared Cliff Burton's influence on him, his closeness, and his sadness about Burton's untimely death. According to Kirk, Cliff was one of his closest friends, and he was a very smart person.
"Cliff was one of my closest friends," Kirk said. "He was really smart and funny too. We shared a love for horror, HP Lovecraft, and The Velvet Underground. He constantly pushed me to be a better person and musician. One of his favorite quotes he would say to me often was 'There is power in Truth, never back down.'
"It was so unexpected when he left us. The sadness remains, I will always remember him. I am not sure who took this photo – but it's a great one."