Kirk Hammett Explains Why Metallica Was Against Jason Newsted On Side-Project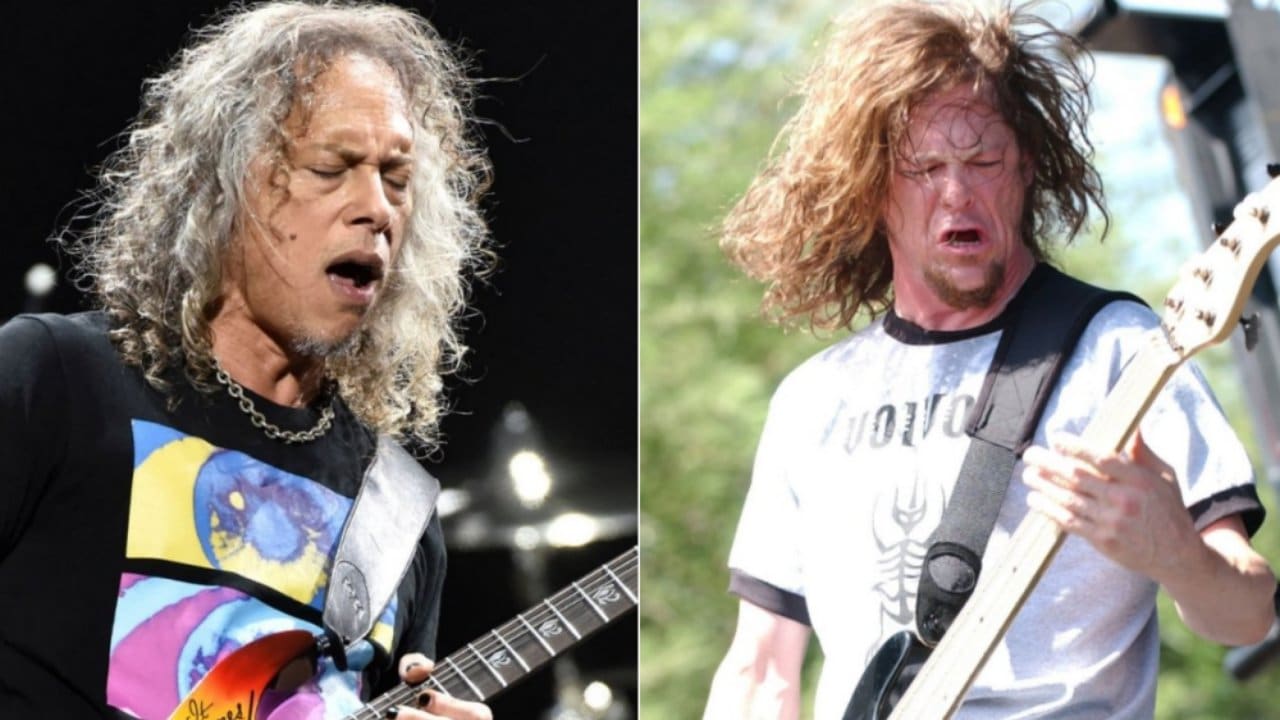 Kirk Hammett has just talked about Metallica's views on side-projects and touched on Jason Newsted's desire to make a side-project back in the 90s, explaining why Metallica didn't want him to make it happen.
Metallica is widely considered one of the biggest heavy metal bands in the world. The band was formed in 1981 by the band's key members, the drummer Lars Ulrich and the vocalist/frontman James Hetfield. In this huge career, which has reached 40 years, Metallica has shared a total of 10 studio albums with its fans. This number was enough to make them the best.
When the first time Metallica came out, they just blew people's minds with their extraordinary style. Metallica, which has been on the rise since its inception, has shown an upward momentum in its first 10-year period, as they released their highest-selling album in 1991, named The Black Album. At the time, Metallica's mission was to be the best in the world, as they already are.
In recent days, Kirk Hammett just released his first-ever solo EP, named Portals. After that, people started to think that Metallica didn't let Jason Newsted do a side-project back in the 90s, as Jason recalled Lars and James' being mad at him for playing without Metallica. The reason offered to Jason at that time was, perhaps, acceptable to some, but Jason was not thinking like his former band.
However, during his recent interview on Loudwire, Kirk Hammett opened up about why Metallica was right on doing a side-project was not right back in the day. Describing his band Metallica's current situation by saying they are the biggest, Kirk pointed out the band's career in the 90s, stating they were not as bigger as they are now at the time. He also claimed that if someone wants to stop them, they need huge things to do it.
"We're a lot more mature, more grown-up, wiser," Kirk described the band's current situation. He also sounded satisfied with his solo EP, Portals, even though he admitted to some nerves in promoting it.
"You know, at this point, we're freaking one of the biggest bands in the world. You need something the fucking size of a Mack truck to fucking try and screw up our career!"
Kirk Hammett Details Why Metallica Was Against Jason Newsted On Side-Project
Kirk then repeated Metallica was not as bigger as they are now when Jason wanted to do a side-project. Saying that they didn't want to dilute the band's line, Kirk revealed how they are seeing each other now. At the end of his words, the guitarist shared how he decided to expand his EP, even though he had two tracks at first.
"Back then, with Jason, the excuse was that we didn't want it to dilute the effect of Metallica or whatever," Kirk explains. "Bro, at this point, nothing can dilute what we have. Nothing can. It would have to be so big, you know?
"I mean, nothing but our mortality. And so we all now realize that, and see each other as just four guys who are artists, musicians that want to express themselves. And why shouldn't we, you know?"
"The timing is right. And the weird thing is I didn't plan this. I ended up with one track, two tracks until it felt like, 'Wow, I think the universe is trying to tell me something.' It actually felt like that.
"And it was weird because it was during COVID, and then suddenly I had four tracks, and I was thinking, 'Well, I guess I have to make a choice.' And the choice is that I want to share this with people because I think it's good enough to share, and it would be a bit of a crime not to."
Back this April 22, Kirk Hammett had interviewed with Rolling Stone magazine to discuss doing a side-project while already a member of Metallica. When the interviewer mentioned James' those words that doing a side-project is the same as with a cheating wife, Kirk stated that they are artists and it is wrong to disallow someone who has opportunities to express themselves.
"Well, we kind of see it like this: We're not musicians, we're artists," Kirk said. "Ethically, morally, and creatively, it's wrong to deny someone the opportunities to express themselves and create. And I think that's kind of where everyone is sitting right now.
"Also, now we're so much more accepting of what happens in our lives because so much stuff has happened to us in the last 20 years — so much stuff has happened in the last five years."