Judas Priest's Rob Halford On Robert Plant: "His Voice Was A Great Springboard For Me, I Emulated His Expressions"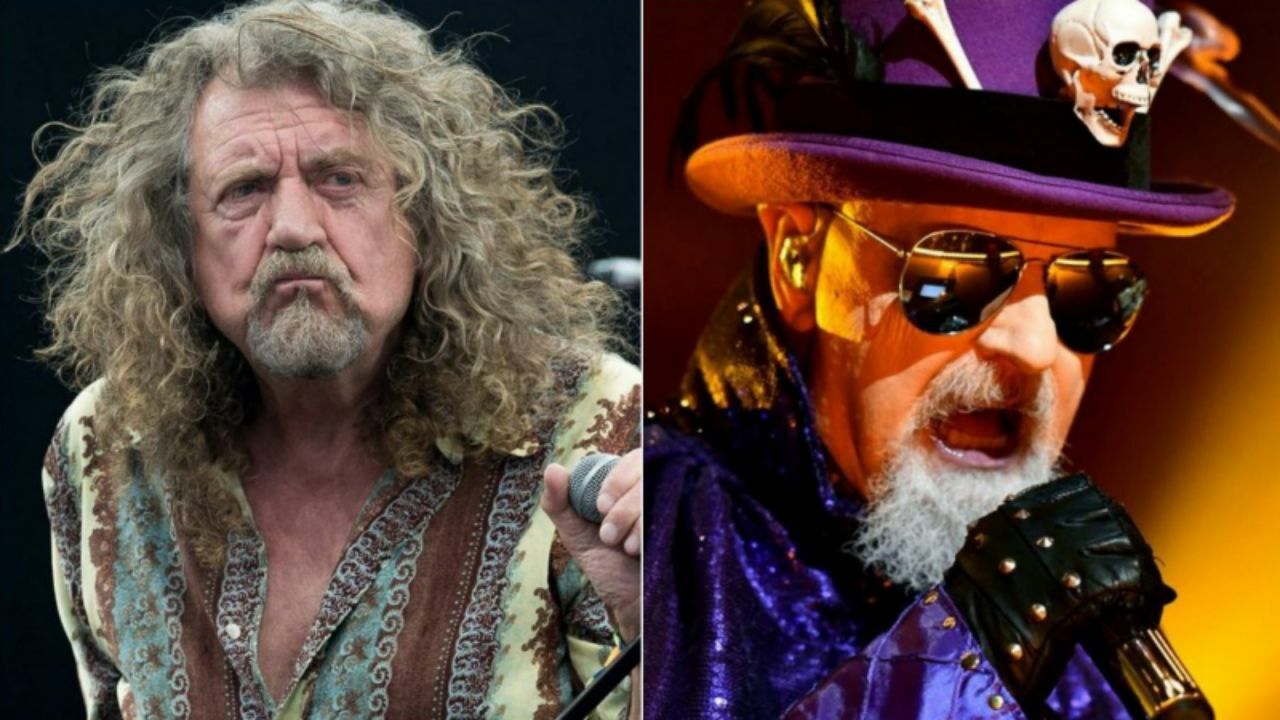 In a new appearance on Fan First, Judas Priest singer Rob Halford has sent his respects for the successful singer Robert Plant and said that his voice was a great springboard for him.
Rob Halford is known as the lead vocalist of the heavy metal band Judas Priest. At first, the singer had joined the band in 1973 and performed with them until his departure in 1992. Later then, Halford rejoined the band in 2003 and released twenty studio albums throughout his career with the band.
Robert Plant came to international success as a member of the Led Zeppelin from 1968 to 1980. During his Zeppelin career, Robert Plant was one of those members who performed in each of Led Zeppelin albums. He released 11 studio albums, 2 compilation albums, 42 singles, 1 live album, 3 video albums, and 3 collaborative albums with Zeppelin since 1965.
However, during the interview, the interviewer mentioned Halford's quote from his book that said Led Zeppelin blew Halford away. In his book, Halford was also saying that he was mesmerized by Whole Lotta Love when he listened to the song for the first time ever. According to him, Robert Plant's voice inspired him heavily.
"All musicians are inspired by fellow musicians, it's what we do," Halford says. "That's the great thing about rock 'n' roll.
"We've all got our heroes, and it's great that you've referenced that moment because I didn't have a stereo record player, it sounds nuts, but I got an amplifier and I somehow figured out how to do stereo left and right.
"And it was just mesmerizing, that stereo was being used by Jimmy [Page] that way for Led Zeppelin, and that was one of my first loves of that musical experience, that metal magic that we can have.
"But Robert's voice particularly, then and now, was a great springboard for me as a singer because I realized that the human voice has so many different possibilities."
Rob Halford Confirms He Emulated Robert Plant
When the singer continued to his words, he once again touched on Plant's inspiration and admitted that he emulated Plant's expressions. He also mentioned the powerful thing about watching Robert Plant.
"I don't think I was singing that way when I heard Robert [Plant] sing," Halford continues. "Obviously, I was in my early metal years but I'm sure in jams, rehearsals, and whatever else I was doing, I emulated his expressions.
"Robert loves the blues, and if you go way back to Bessie Smith, Muddy Waters, Little Richard, where everybody was screaming and wailing…
"I think also you're never old enough for new memory or a new thought, and what I realized from those particular performers was that you've just got to let your inhibitions go.
"You've just got to show it off in the purest emotional sense and not be afraid. And there's something very powerful about watching either Robert Plant then or Janis Joplin screaming her heart out at Monterey."
Earlier this month, Rob Halford had compared himself to musicians who retired at their 50. He also revealed what he thinks about whether he is fortunate because he can still perform at a high level.
"Most people in England are retired at 50," Halford says. "You put your feet up; it's the end.
"You start puttering around your garden and sitting in your deck chair with a cup of tea. It's true that you thought back then that rock 'n' roll was a young man's adventure, that even 50 is a stretch."
About his high-level voice, Halford said: "I am blessed. I've always said that once I start to sound like a British pub singer, just grab the mic from me. I might end up on the Las Vegas strip in some dive bar. [Laughs]
"I love to get on stage. We all do, all of us in Priest. It's a genuine desire to make that final part, complete the journey I spoke of before, when you're playing live.
"That's what it's all about. That's when it all makes sense."